Lessons in Slow Food and Savoring the Moment
With the holiday season in full-swing, slowing down may seem counterintuitive during this busy time. But if we want to live full, happy, healthy lives, this is exactly what we should consider doing — particularly during the holidays.
Many of you have most likely heard about the Slow Food Movement that began in Italy to defend regional traditions, good food, gastronomic pleasure and a slow pace of life. Since then, the grassroots movement has spread around the globe to more than 150 countries. People are interested, now more than ever, in real, wholesome, local food shared with family and friends. What began as a protest against fast food has since evolved into a way of life. And people are happier (and healthier) because of it.
Interested in having more of this in your own life? Here's how you can carve out and savor these slow moments, even during the busiest of holiday seasons.
Getting Back to Basics
The main idea behind the Slow Food Movement is a focus on local, organic food that taps into our food heritage. Think about the food your grandparents ate made with fresh local ingredients. Farmer's markets and community gardens are a wonderful way to get in touch with what your area provides. If you feel strapped for time over the holidays, how about organizing a Slow Food potluck with friends and family? It will ease the burden of having to prepare a full meal without having to sacrifice getting together with those we love. Simplicity is key.
Rediscovering the joy of cooking is an important element of Slow Food. In our age of convenience, we can lose sight of the happiness it brings to prepare a meal from scratch. Or consider a cookie baking group where each friend brings their favorite cookie recipe and supplies. After the cookies are out of the oven, everyone trades a portion so that they have a variety to give as gifts. Of course, tea, hot chocolate, and samplings of the baked goods follows with good conversation and connection.
Need additional inspiration for embracing slow food during the holidays and beyond? Consider the French. They are known for their robust health and long lifespan, even though they eat butter, drink wine, and heartily enjoy their pastries. It's known as "The French Paradox". The secret to their famous health? They take the time to truly savor their meal. This, in turn, leads to less food consumption and slimmer waistlines. Instead of rushing through a meal, eating while working on the computer, scrolling on your phone, or while driving, take the time to sit down and fully enjoy your meal with family or friends. Even taking a small break from the madness of the season and enjoying a hot cup of coffee or tea with a friend is enough to appreciate the moment.
Unplugging
If you find there just aren't enough hours in the day to get everything done on your Christmas list, consider unplugging for a few hours or a day or two. Set-up an auto responder for email, forgo scrolling through your newsfeed, switch off the television, and mute your cell phone. As I wrote in, Unplugging: Why a Device and Media Detox is Good Medicine:
…researchers have found that when we take a step away from our devices we experience not only a profound shift in perception, but also an improved capacity to learn, increased focus, and lowered stress and anxiety. On top of that, we can reap the significant health benefits of deeper sleep, weight loss, better blood sugar control, and reduced symptoms of multiple sclerosis.
In other words, not only will we experience better health and less stress, we will also be more efficient in tackling our holiday to-do list. You will be amazed at how much more time you have in any given day when you limit your screen time. You may even find you now have time to take a stroll through a natural space, meet a friend for coffee, stargaze, take a bath, or read a novel!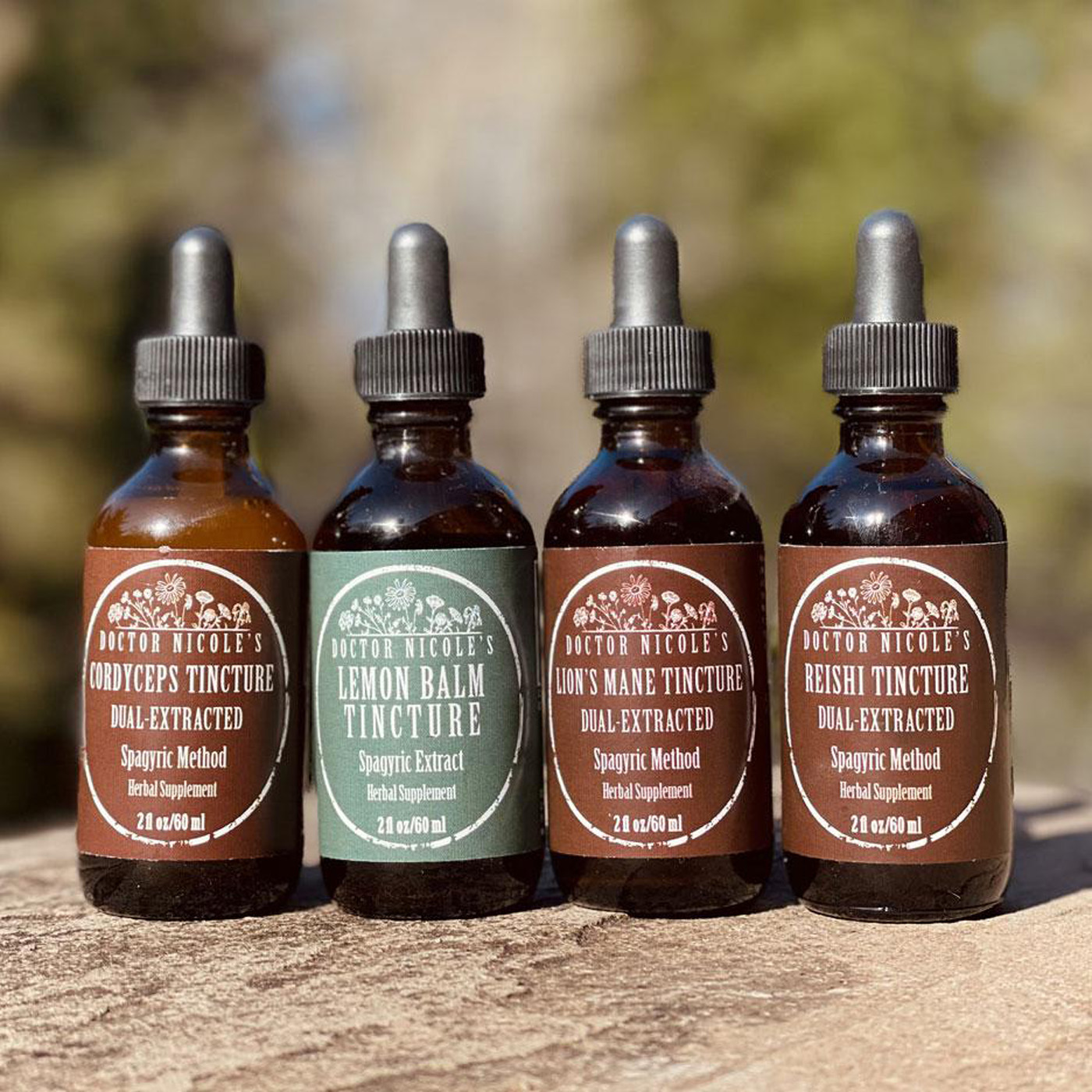 Herbal Support for Holiday Mental Wellbeing
Granted, it can be a challenge shifting from non-stop activity to savoring the moment. Medicinal herbs can help ease the transition while also creating a firm foundation of cognitive health. Lemon balm quiets the mind and soothes anxiety. Cordyceps, lion's mane, and reishi mushrooms all improve brain health and performance. Just make sure these medicinal mushrooms are dual-extracted — like the ones in my apothecary — to enjoy the full-spectrum of brain-boosting benefits. Each of these powerful herbal tinctures are included in my Brain Bundle. Visit the apothecary today to learn more!
Wishing you a bright and beautiful holiday season with plenty of slow, joyful moments!