We worked in an intensive camp with Dr. Nicole Apelian, she was the engine and heart of this film. She taught Tom, Debra, our crew and myself that touching nature in some small way every day is healing. She reminded all of us that connection to the eternal makes everything else just a little less loud and might I say and not just a little bit funny… we laughed a lot while we learned. Her simple prescription, "Life is better when trees, mountains, water, deserts or sky can be touched." So if at all possible, make contact with nature every day. a walk. a sit. a moment to breathe. look up and away from our phones and screens… to let breath in and then out… This is a good life.

Ben Foster, Actor, Leave No Trace
Director Debra Granik and producer Anne Rossellini ("Winter's Bone") approached me in the summer of 2016 about working with them on an exciting new project, something unlike anything else I'd ever worked on as a survival and wilderness living skills instructor: consulting on the film "Leave No Trace". Over dinner at a local Portland restaurant, we discussed the real-life story of a father and his young daughter who had lived in Portland's Forest Park, completely undetected, for three full years.
Debra and Anne wanted to turn this story into a film, and they already had a script written, based on Peter Rock's book titled "My Abandonment." We talked about the project late into the evening, with Debra and Anne scribbling down notes while I spoke, all with the goal of achieving total authenticity in their film. Two weeks later, after I'd had a chance to spend more time with the content and read the whole story, I sent them another 15 full pages of my own detailed notes about the script, all of which were incorporated into the plan for the film.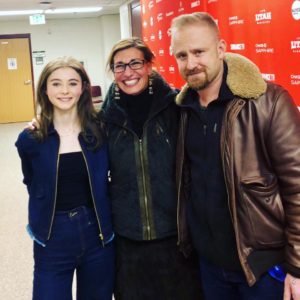 Fast forward to Spring of 2017. Funding for the film is secured, the actors and the crew are in place, and I was brought on board to train the actors, Ben Foster and Thomasin McKenzie, in the art of survival skills, to help them more thoroughly tell this unique story. The training started on my 22-acre property in the Oregon coastal range, Soapstone Retreat. Ben arrived in the morning and we started immediately with the art of fire, shelter, water, and food. Ben was a quick study and learned how to build an A-Frame debris shelter. When his young costar, Thomasin, arrived at noon he got to work teaching her how to build the same. The father-daughter bonding had begun.
I taught both of them how to make fire with a metal match/ferro rod, and how to find dry tinder in the Pacific NW's rainy environment. Both actors carefully practiced making feather sticks, both during the training and almost every evening before filming began (they were into it!).
I assigned Thomasin some "homework" to help her learn more about the local plants the film's characters could have used for food and for medicine. As we wandered through the woods she learned how to spot and collect whatever was edible, and how to avoid what was dangerous. Thomasin and Ben were both eager to learn, and I could see that their interest extended not only for the sake of the film but on a personal level.
The next day we moved our training to Forest Park where I taught them how to blend in in plain sight (or, how to be a "grey man" in the city) and how to literally hide in the woods that surrounded them. With practice, they learned to do this flawlessly. Eventually, we tested their stealth and hiding skills on people strolling down the trail.
Next, I taught Ben about hypothermia and how to treat it. And while my students were learning how to survive in the woods, even more so they were learning about the art of nature connection and bonding with the natural world around us, as well as each other, and even our inner-self. The survival skills I was teaching not only added to the actors' authenticity on screen but also connected them more deeply to themselves, to each other, and to the natural world around them in new and profound ways. That was the real training… and that was also how the father-daughter bond, seen so clearly in this exceptional film, was formed.
With their eyes freshly opened to their surroundings, while shopping for props on Portland's Eastside a week later we all talked about the food and medicine present in the parking strip next to where we had parked our car. So different from the food and medicine the actors had learned to recognize in the wild. I describe this awareness it as "a light that gets switched on that you didn't even realize was off". Practicing and learning ancestral skills is a reconnective process that reawakens your primal brain and causes a positive and irreversible internal shift. You cannot un-learn these truths. You cannot forget what you now know.
Yes, I taught these actors how to use their tools, how to live gracefully in the woods, how to cover their tracks, and what to eat in the wild so that they could bring this authenticity to their film: Leave No Trace. Yes, I taught, and they learned, all of the right techniques. But more importantly, I provided a means of connection, and they accepted the invitation and dove right in to learn and embrace this new bond.
If any director wants their actors to bond the way Ben and Thomasin did for Leave No Trace, it doesn't matter if the film involves the outdoors or not – these exercises I teach will bond the people behind the characters together faster than any other means I know. These tools have far-reaching implications in our lives, even for corporations who wish to provide a new, healthy avenue of connection to bond their work teams. Families can also grow closer and more connective through this work. Deep nature connection work done with others allows you all to access the primal side, and better understand yourself. This type of guided nature connection is the work that will reawaken you to your true self and bond you to your team, whoever they may be.
To learn more about my work on the movie, read this interview at Bleecker Street Media.
To watch the "Leave No Trace" movie trailer, as well as a behind the scenes "Featurette" with me, Debra, Ben, and Thomasin, click here.