Beautiful Skin, Naturally!
With summer now in full-swing, we may begin to notice the telltale signs of sun damage — fine lines, stressed skin, reduced elasticity, and uneven skin tone. This is particularly true as we age. I've certainly noticed my skin doesn't bounce back quite as quickly now that I am in my fifties. But I have found that lifestyle, diet, and natural skincare have made a tremendous difference in reversing the signs of aging and skin damage — and protecting against future harm. If you feel as though your skin could use a reboot, here is what has worked for me and can work for you as well!
Stress, Sleep, & Diet
When we think about anti-aging skincare, we may associate this with wide-brimmed hats and plenty of sunscreen, along with effective serums and creams. But we often forget that it is also an inside job. Chronic stress is one of the top reasons our skin ages before its time. Stress promotes wrinkles because it impacts the proteins in your skin, which reduces elasticity.1 Moreover, ongoing stress impairs the barrier function of the skin. This causes moisture loss and dry skin.2 Stress also contributes to those dreaded bags under the eyes that tend to increase as we become older because of the natural muscle weakening around the eyes.
Poor sleep also ages your skin rapidly. Sleep deprivation and the subsequent stress it triggers are closely linked to aging — including fine lines, reduced elasticity, and uneven skin tone.2 For anyone who has had less than ideal sleep, you can attest to the fact that your skin the next day is far from glowing and fresh.
For the sake of your skin and overall health, it is important to manage stress and establish a consistent sleep-promoting nightly routine. In addition to these practices, our Anxiety & Stress and Sleep Blend formulations are also powerful allies in lowering stress and supporting rejuvenating sleep.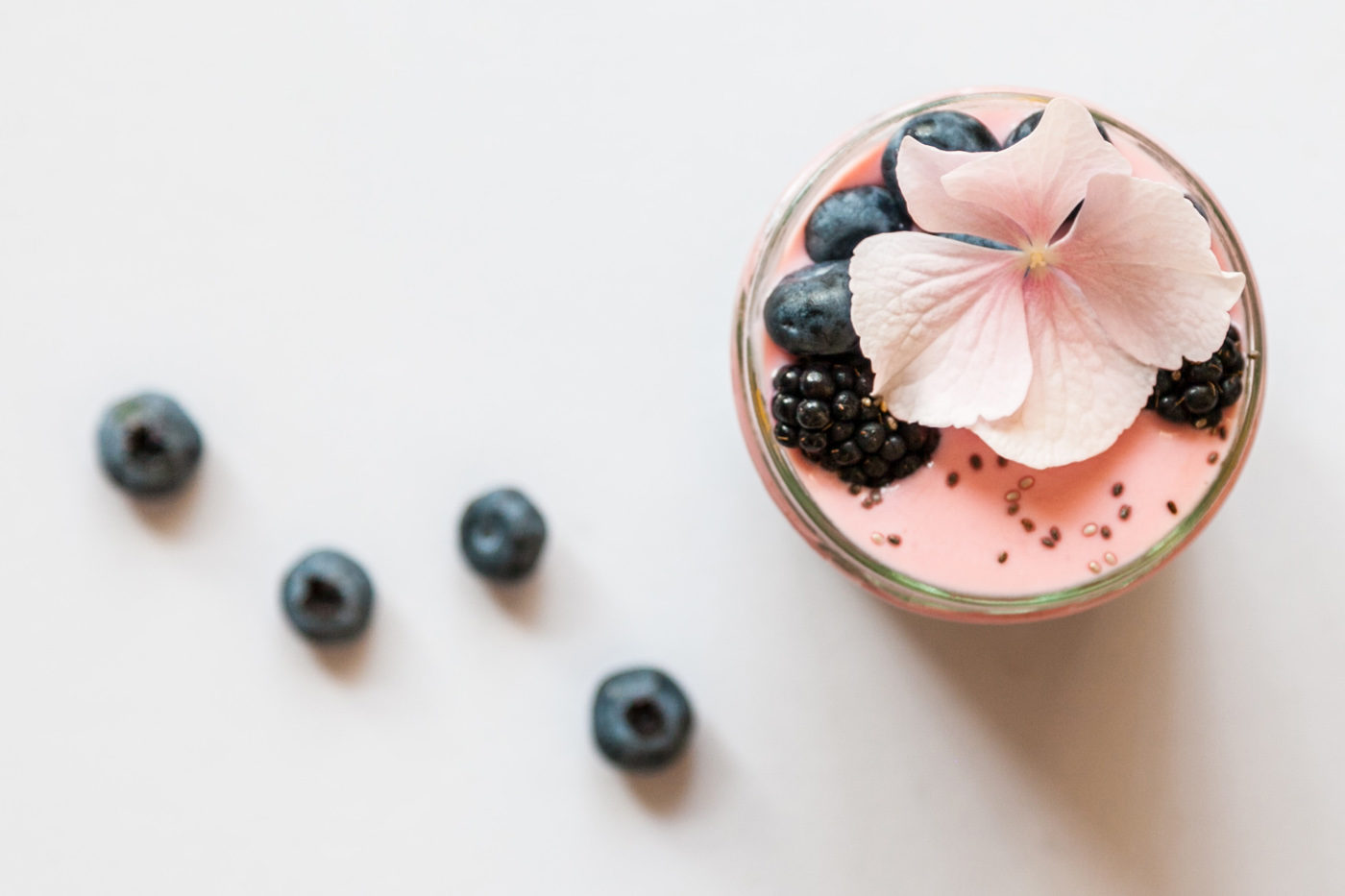 Next we come to food. An antioxidant-rich diet is crucial for protecting and healing your skin from the inside out. Think: pomegranates, açaí berry, amla, blueberries, strawberries, aronia berries, raspberries, and tomatoes. Vitamins and minerals — particularly vitamin A and C, along with calcium, magnesium, and zinc — are important for skin health as well. Focus on leafy green vegetables, broccoli, yams, chia and flaxseed, sweet bell peppers, citrus, winter squash, whole grains, and raw dairy products. Cold-water, wild-caught fish such as salmon is also a skin-healthy addition due to beneficial fats and protein, which help to encourage collagen production and reduce inflammation. Additionally, you can also incorporate bone broth and/or collagen powders into your meals. Both will help to support the structure of your skin for increased elasticity, strength, and firmness. And don't forget to drink plenty of water to stay hydrated and flush out toxins.
Of course, it is important to also protect and nourish your skin from the outside because of damaging pollution, toxins, and UV rays. For this purpose, I use Herbal Face Food skin care products.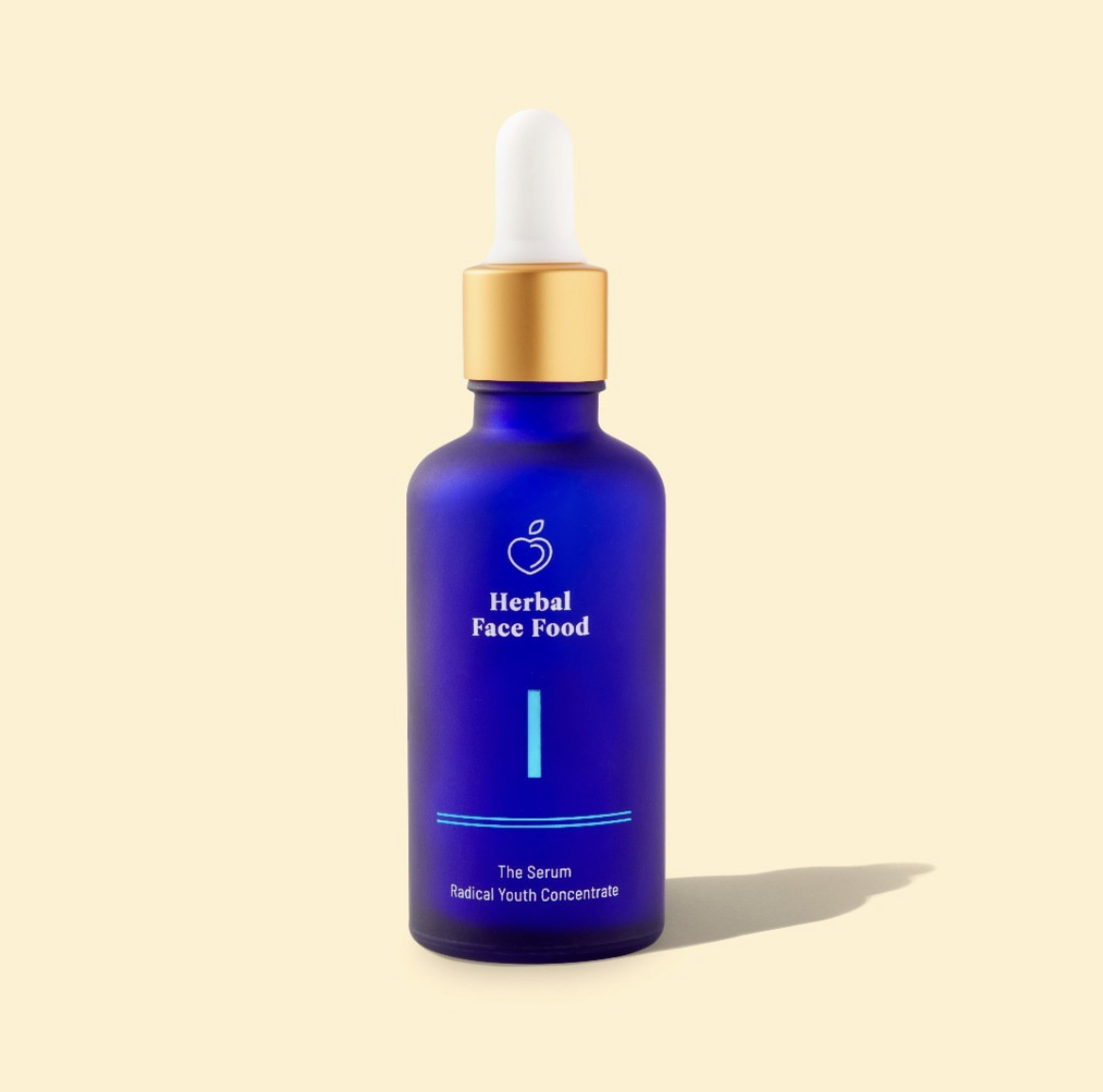 Natural Skincare From Plants
Hydration, decreased wrinkles, improved elasticity, and a youthful glow are the top reasons why Herbal Face Food is my favorite serum and moisturizing cream. Remember, 70% of what you put on your skin absorbs into your bloodstream. These serums are 100% plants with no synthetic ingredients (they're even safe to eat!).
Great for all skin types and sensitive skin, skin tightens after the very first treatment. Powerful enzymes and antioxidants are activated and infused into the tissues to hydrate and increase resiliency and plump up the skin.
These impressive anti-aging products are 100% plant derived, anti-bacterial, anti-fungal, and anti-inflammatory. Herbal Face Food serum and cream are outstanding for the following:
oily and/or dry skin
wrinkles
acne
dullness
fine lines
skin tone
firmness
large pores
redness
sun protection
The potent serum is packed with antioxidants and phytonutrients that heal your skin at the cellular level and address the top signs of aging in three days or less (no kidding!). The cream is the most powerful moisturizer ever tested and contains 102 of the planet's top anti-aging botanicals. It is 100% plant-powered with 50+ SPF. I use both daily! Find yours today — your face is worth it! Use the code "NICOLEA20" for 20% off.
Nicole's Apothecary Products in this Post
References
"What Are the Effects of Stress on Your Face?" Daniel Yetman, medically reviewed by Debra Sullivan, Ph.D., MSN, R.N., Healthline, June 25, 2020. https://www.healthline.com/health/stress-on-face#effects

Chen, Y., & Lyga, J. (2014). Brain-skin connection: stress, inflammation and skin aging. Inflammation & allergy drug targets, 13(3), 177–190. https://doi.org/10.2174/1871528113666140522104422