Is it Psoriasis or Eczema?
Skin disorders are on the rise as an increasing number of people struggle with toxicity, sensitivity to chemicals, leaky gut syndrome, and autoimmune conditions. If you find you have developed a patch of skin that is red, inflamed, or scaly, there is a good chance it may be either eczema or psoriasis. Here's how to distinguish between the two.
Eczema is a skin reaction that has a number of triggers, including: soaps, shampoos, dyes, fabrics, animals, or other irritants. It is very common in young children, but they typically outgrow their hypersensitivity. The skin tends to become inflamed and red. It may also crack or peel. Eczema does not normally involve scaly dead skin. It is itchy and can develop anywhere on the body. Topical treatments generally take care of the issue.
With psoriasis, you are contending with a chronic autoimmune condition that causes an overabundance of skin cells. As they build up, they form whitish scales on the skin. Like eczema, psoriasis can erupt anywhere on the body and is extremely itchy. There is no known cure. However, people have had great success with addressing the underlying inflammation and autoimmunity.
Eczema and psoriasis respond well to natural remedies — especially those that tackle inflammation and help to heal a leaky gut, both of which are at the root of many autoimmune and skin disorders. Below we will explore five outstanding botanicals that can help to reduce the symptoms of these uncomfortable conditions.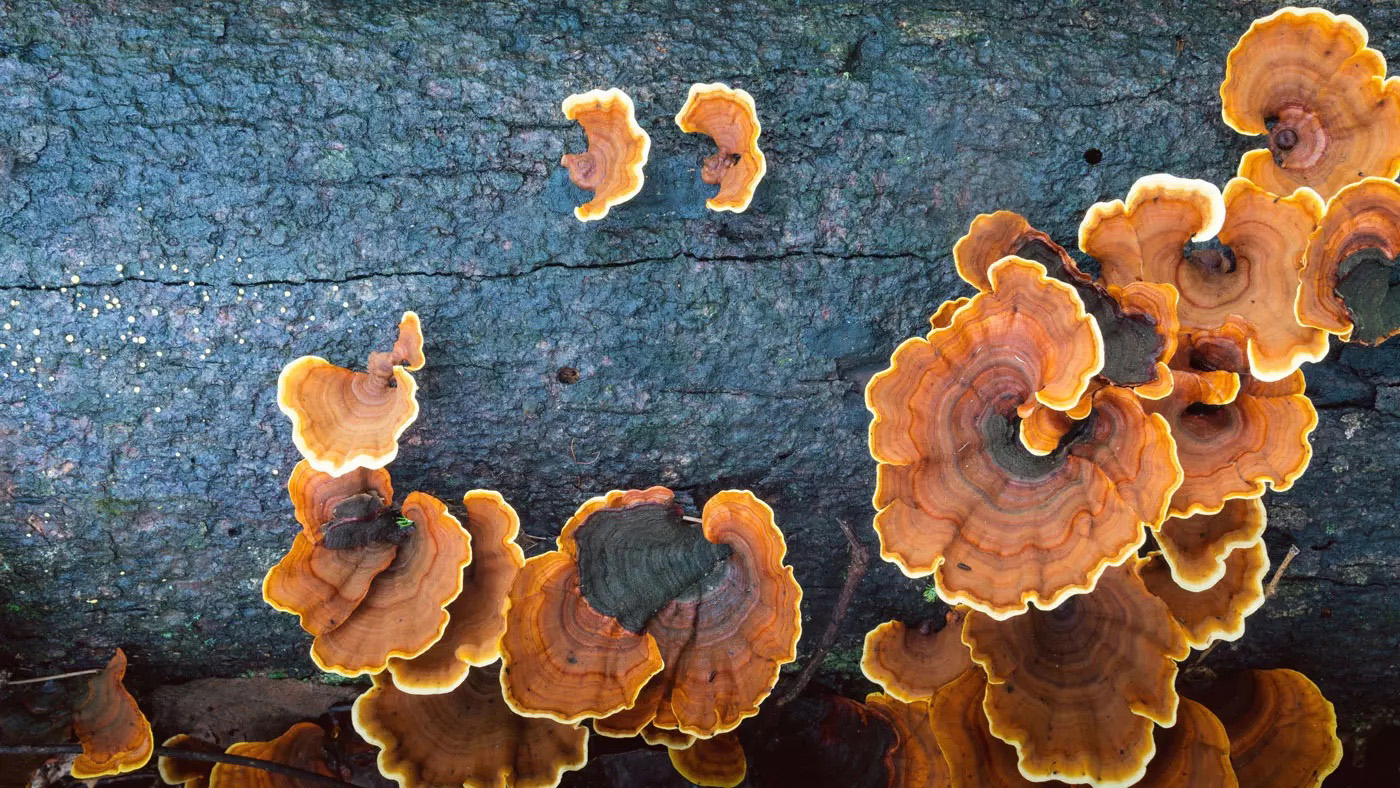 Internal Use
Stinging Nettle — To help calm allergic reactions and the inflammation of eczema and psoriasis, take stinging nettle tincture internally on a daily basis. Traditionally used in Germany as a treatment for rheumatoid arthritis, it works by inhibiting the cascade of inflammation commonly found in autoimmune and allergic reactions. For best results, take stinging nettle tincture consistently to prevent future flares.
Reishi — This powerful medicinal mushroom is an exceptional anti-inflammatory, calms autoimmunity, and helps to heal a leaky gut. It also has immune-modulating effects, which is an important consideration for minimizing psoriasis flares. Since reishi assists with healing a leaky gut and cools inflammation, both psoriasis and eczema benefit from consistent daily internal use of the mushroom. For full potency and effectiveness, it's crucial to only use dual-extracted mushroom tinctures — like the one in my apothecary.
Turkey Tail — Similar to reishi, turkey tail mushroom is an excellent botanical for addressing out-of-control inflammation in the body — including that which is associated with psoriasis and eczema. It also helps to soothe the symptoms of psoriasis by modulating the immune system. Learn more about my dual-extracted turkey tail mushroom tincture here.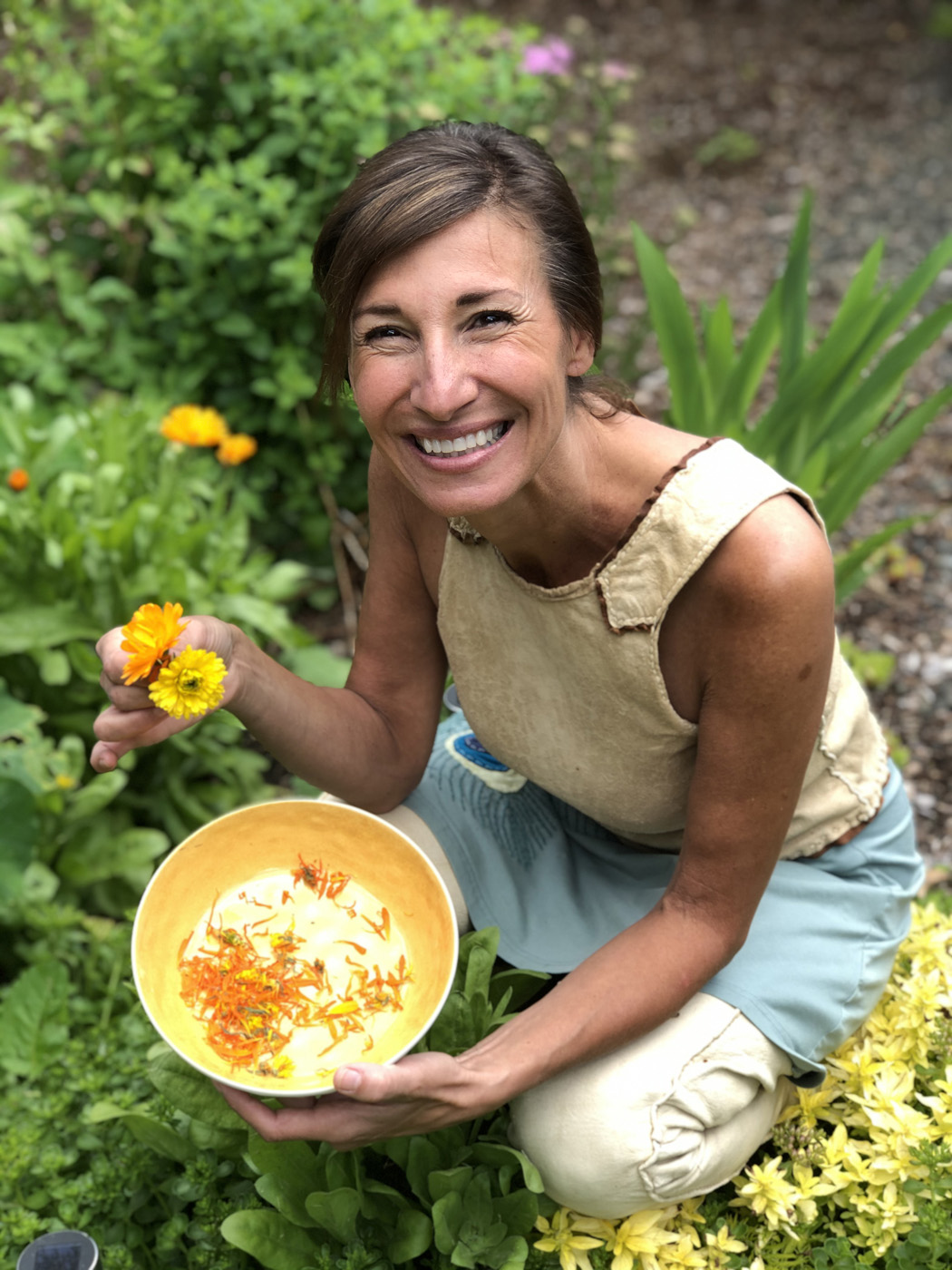 External Use
Calendula — Used topically, calendula helps to improve blood flow to areas of inflammation, hydrates the skin, and lowers the risk of infection. While there isn't hard and fast research on the effectiveness of calendula for eczema, many have found it helps to greatly improve their condition. See the recipe below for an easy, do-it-yourself calendula salve. You can also find my convenient All-Purpose (First Aid) Salve that contains calendula and other healing herbs in the apothecary.
Recipe: Soothing Calendula Salve (Fast Method). Ingredients: half a cup of organic olive oil, 1/3 cup solid organic coconut oil, 3 tablespoons dried calendula flowers, 1 1/2 tablespoons dried chamomile flowers, 1 to 2 ounces (28g to 56g) beeswax. In a double boiler, melt the olive oil and the coconut oil together.
Add the flower petals and allow the mixture to steep for 2 to 3 hours making sure it does not get too hot. Strain out the flower petals. Return the pan to the heat and add the beeswax, stirring. Once the wax melts, pour into your containers (adjust the amount of beeswax to get the consistency you want). Allow the salve to cool completely before use.
St. John's Wort — Known as an excellent anti-inflammatory for over 2,000 years, St. John's wort is outstanding for skin conditions like eczema and psoriasis when applied topically.
The Importance of Healing a Leaky Gut
Addressing a leaky gut is crucial for calming the symptoms of eczema and psoriasis. My Balanced Gut Blend Tincture can help. It contains six outstanding herbal remedies that soothe and repair the gut. As I wrote in "Fertilize Your Gut? You Bet! Here's How."
"An excellent anti-inflammatory, reishi is known as the "mushroom of immortality" for its wide range of healing attributes — and taming inflammation is a crucial step to healing a leaky gut. Next is lion's mane, which is high in antioxidants that cool the inflammatory response. Another outstanding medicinal mushroom, turkey tail is a terrific source of prebiotics for encouraging a healthy microbiome by controlling the overgrowth of candida, while also feeding the "good" bacteria in the gut.

Traditionally known as an all-around tonic for the digestive tract, plantain is an exceptional anti-inflammatory. It also soothes mucous membranes to help alleviate the symptoms of a leaky gut. Lastly, two additional herbs that support gut healing are slippery elm and marshmallow because each forms a protective layer that helps the gut to regenerate."
Visit the apothecary today to learn more about stinging nettle, my Balanced Gut Blend Tincture, and All-Purpose (First Aid) Salve as well as Reishi, Turkey Tail, and Lion's Mane mushrooms.
Safety
Reishi mushrooms are considered to be very safe, however it is possible to ingest too much. Use reishi mushrooms from a reputable source or consult an expert. Think about avoiding reishi mushrooms if you are pregnant or breastfeeding, since there is no information on their safety. Consult a doctor before using reishi mushrooms if you have a bleeding disorder. Do not use it before surgery, as reishi is a vasodilator.
Turkey tail mushrooms are considered to be very safe. There are no known negative side effects but it is always a good idea to consult with a medical professional before use.
Some people are allergic to calendula. Do not use it if you are allergic to marigold, ragweed, daisies, chrysanthemums, chamomile, echinacea and other plants in the Aster/Daisy family. If you are not sure, start with a small test patch on the skin and increase use gradually if you have no reactions. Do not use calendula internally if you are pregnant or breast-feeding, since safety is unknown. Do not take calendula internally if you are taking prescription medications without the advice of your doctor.
St John's wort interacts with a lot of modern medicines. It should not be taken by people already on an SSRI medication and may cause sun sensitivity to very fair-skinned people. It may interact with Warfarin, Digitoxin, and HIV medications. Do not take it for 2 weeks prior to surgery. Check with your physician before using.