A Powerhouse of Taste and Nutrition
If you have ever eaten a chanterelle mushroom, you know it is a delicious (and mildly peppery!) addition to your meal, especially when enjoyed in a sauce, soup, or with eggs. One of my favorite ways to delight in this mushroom is to sauté it with butter, garlic, and greens, then toss with a keto-friendly noodle — more on this with the recipe below. Not only are chanterelles tasty, they are also nutritious. And as luck would have it, autumn is the perfect time to forage these glorious golden mushrooms. In this post, we'll not only have a look at the nutritional and medicinal value of chanterelles, but also how to preserve all their outstanding goodness for future use.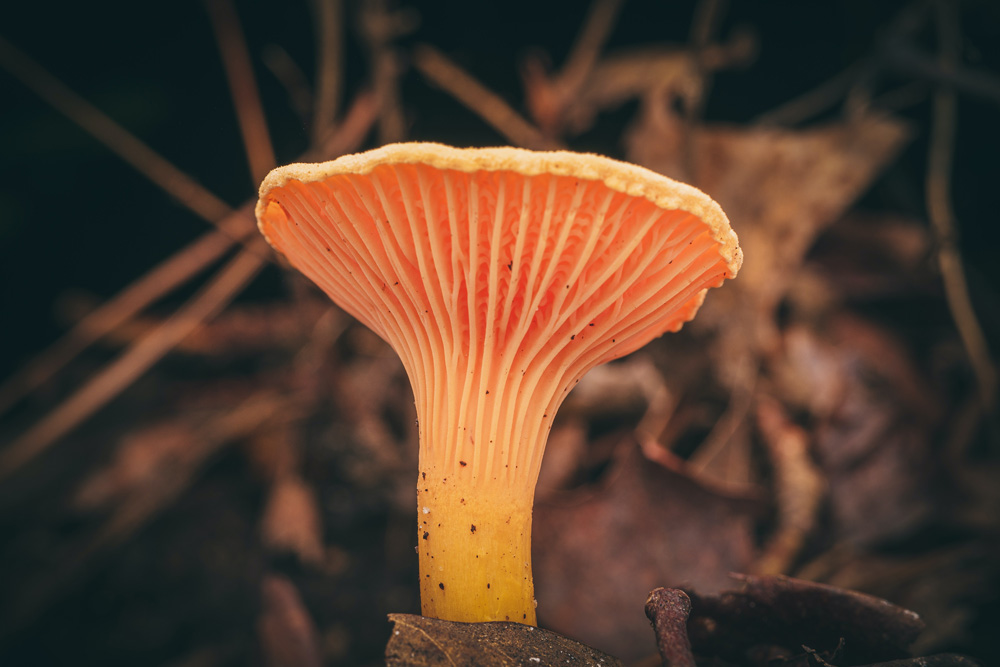 Identification
Golden chanterelles (Cantharellus cibarius) are widely distributed throughout North America and tend to favor coniferous and hardwood forests. They are bright yellow, orangish-yellow or pale yellow in color and grow in a flat, vase-like shape with wavy margins. Chanterelles have a mild apricot fruity odor and the flesh is firm. The cap measures 1.2-6.3 inches (3-16cm) wide and the stem is 0.8-4 inches (2-10cm) long. The blunt false gills on the underside are shallow and close to the sub-distant, often forking and developing cross veins.
Medicinal Uses
Researchers are studying chanterelles for their potential therapeutic value as an anti-inflammatory, immunomodulatory, and antibacterial botanical. Rich in antioxidants and copper, chanterelles are also a rare source of plant-based vitamin D. Studies have found that extracts of the mushroom may help to reduce inflammation markers and possess compounds that slow the growth of cancer cells.1,2 Chanterelles may also support bone health and immunity by supplying essential vitamin D.3,4 Additionally, they are high in immune-boosting copper and provide 21 percent of your recommended daily requirement. Chanterelles are a significant source of niacin, pantothenic acid, riboflavin, manganese, and iron as well.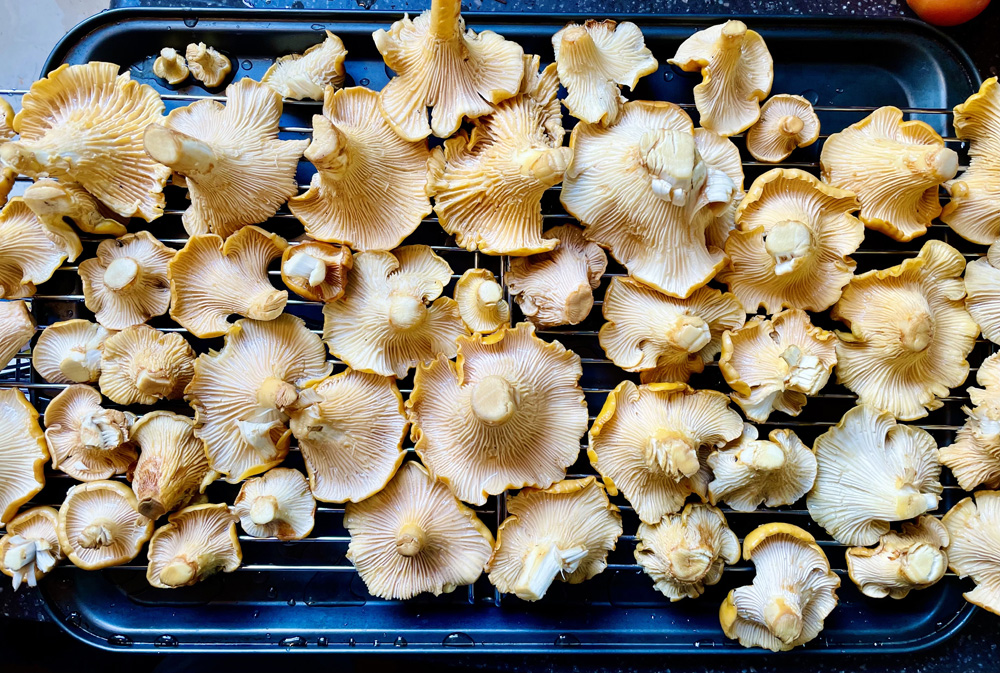 How to Harvest and Eat
As with all wild mushroom foraging, I strongly recommend working with a knowledgeable local expert when first starting out. You can learn more about foraging safety in this post.
When harvesting, look for mushrooms that are firm and fresh. When you spot a chanterelle, many times there will be more under the surrounding debris. You will need to clean the mushroom thoroughly before use to remove insects, soil, and rough ends. The best way to enjoy chanterelles is to keep it simple, as seen in the following recipe:
Recipe. Simple Sautéed Chanterelles. Ingredients: 1 tbsp. olive oil, 1 shallot (diced), 2 garlic cloves (minced), 1 lb. (0.5 kg) mushrooms (quartered), 1 tbsp. butter, 1⁄4 tsp. salt, pepper. Sauté shallots in olive oil until translucent. Add garlic (cook 1-2 min). Set aside. Wipe pan and add mushrooms. Cook for 4 minutes. Add butter and cook for an additional two minutes. Toss with shallots, garlic, salt, and pepper. Enjoy as is, alongside your favorite egg dish, or tossed with wilted greens and pasta.
Safety
Poisonous Look-Alikes: Jack-O-Lantern, Omphalotus illudens have a bright orange or yellow thin flesh; unforked, blade-like true gills, and grows on wood; False spores: 8-11 x 4-5.5 μm, elliptical, smooth; Spore Chanterelle, Hygrophoropsis aurantiaca — true gill.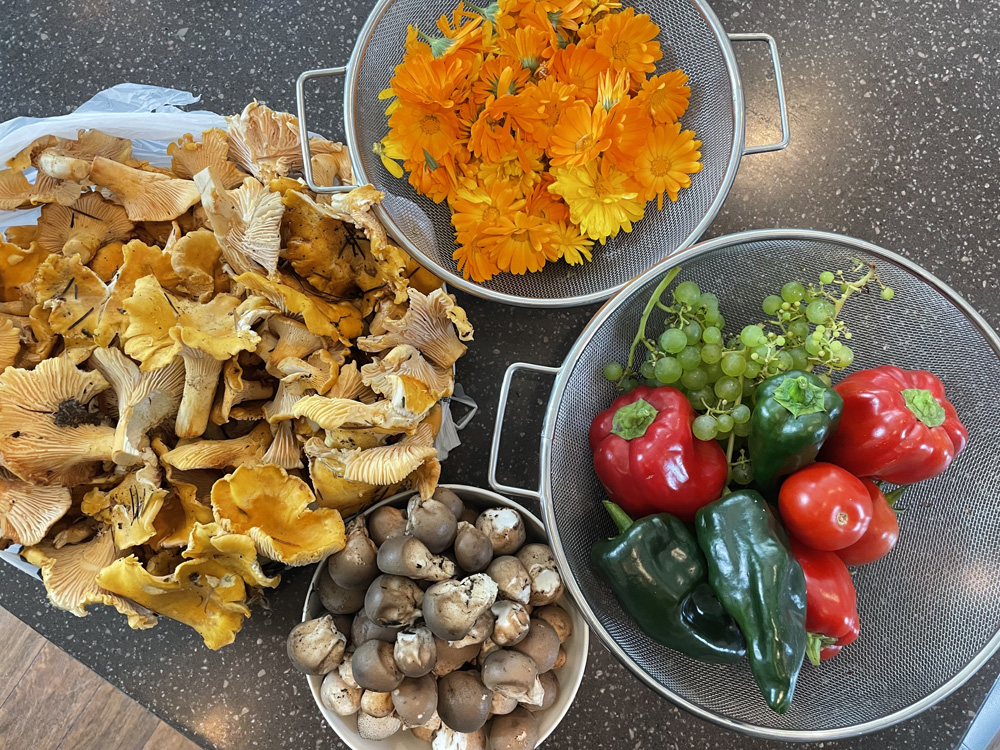 Food Preservation Tips
After a bountiful harvest of chanterelles, you will want to dehydrate whatever you do not use within a day or two to retain the important nutrients and minerals. Once the mushrooms are cleaned, you can dip them into a bath of lemon juice or ascorbic acid to increase shelf life. Blanching is also an option. Next, remove the moisture to around 10 percent by following the instructions for your dehydrator or air-dry them on a raised rack. Once dehydrated, store in an airtight container and place in a cool, dry location. A pantry or root cellar is ideal. The same process can be used to preserve vegetables, roots, and bulbs — just make sure you cut them into smaller pieces before dehydrating. For fruit, dehydrate slowly to about 20 percent moisture content. When preserved in this way and stored properly, food will last around 6 months.
Alternatively, some root vegetables and bulbs do not need to be actively preserved. Instead, you can hang them in string bags or submerged in dry sand and stored in a basement or cellar for several months — as long as the temperature remains between 40–50°F (4.5-10°C) and there is good air ventilation. Brush any dirt off before storing — do not wash the produce until you are ready to use it.
To store leafy greens, vegetables, and roots in your freezer, briefly blanch, drain, and dry before placing in a freezer bag or airtight container. A salad spinner is helpful for removing excess water. The produce will keep for about 6-9 months in the freezer. Berries can be easily frozen without blanching or drying. Simply place a single layer of berries on a baking sheet lined with parchment paper and cover the tray with foil before freezing. This will help to keep the berries from sticking together. Once the berries are frozen, you can transfer them to an airtight container before returning it to the freezer.
I highly recommend using vacuum sealed bags for dried, blanched, or frozen food to help protect against moisture, bacteria, and oxidation.
For food canned at home, it will last about a year when stored in a cool, dark location and the seal remains intact. If the food is acidic, you can submerge the canning jars in boiling water for at least 10 minutes. If the produce has low acidity, you will need to pressure can it.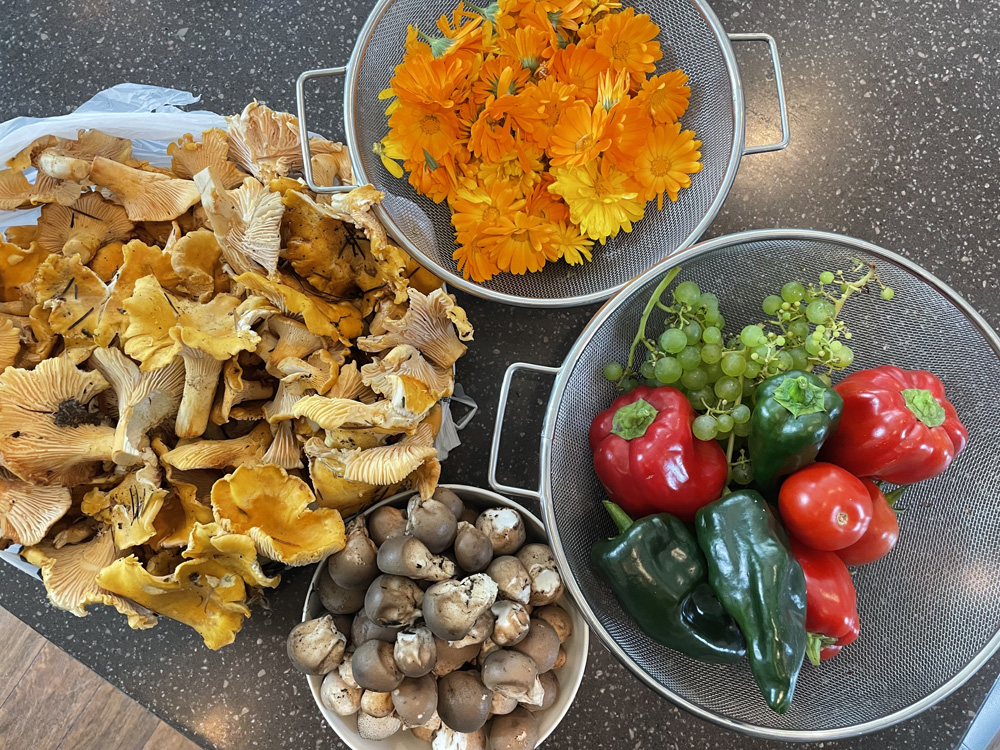 References
BIO Web Conf., "Results and Prospects of Geobotanical Research in Siberia". Volume 16, 2019. https://doi.org/10.1051/bioconf/20191600039

Nowacka-Jechalke, N., Nowak, R., Juda, M., Malm, A., Lemieszek, M., Rzeski, W., & Kaczyński, Z. (2018). New biological activity of the polysaccharide fraction from Cantharellus cibarius and its structural characterization. Food chemistry, 268, 355–361. https://doi.org/10.1016/j.foodchem.2018.06.106

Sizar, O., Khare, S., Goyal, A., & Givler, A. (2022). Vitamin D Deficiency. In StatPearls. StatPearls Publishing.

Siddiqui, M., Manansala, J. S., Abdulrahman, H. A., Nasrallah, G. K., Smatti, M. K., Younes, N., Althani, A. A., & Yassine, H. M. (2020). Immune Modulatory Effects of Vitamin D on Viral Infections. Nutrients, 12(9), 2879. https://doi.org/10.3390/nu12092879
BIO Web Conf., "Results and Prospects of Geobotanical Research in Siberia". Volume 16, 2019. https://doi.org/10.1051/bioconf/20191600039