The Many Causes of Poor Cognitive Function
Brain fog is a common condition that involves memory lapses, difficulty in concentrating and processing information, fatigue, and scattered thoughts. It often impacts those with fibromyalgia, anxiety, Hashimoto's thyroiditis and other autoimmune disorders, depression, autism, celiac disease, and chronic fatigue syndrome. Physicians and researchers are also finding an uptick in brain fog with people who have recovered from pandemic-related severe respiratory illness.8 Many times, it is linked with nutritional deficiencies and neuro-inflammation. If you find yourself suffering from more than the occasional instance of brain fog, here are several recommendations that can help you regain clarity and sharpness.
Lifestyle
Needless to say, our lifestyle choices make a big impact on brain health, clarity, memory, and attention span. Lack of sleep, a diet high in processed foods, and consuming excessive amounts of refined sugar or alcohol will lead to poor cognitive function. Instead, focus on an anti-inflammatory, whole-foods diet, cultivate solid relaxing bedtime routines, exercise regularly, and take steps to minimize stress in your life. See "My Top 5 Tips for Keeping Your Brain Healthy, Clear, and Sharp" for additional inspiration.
Need a little extra help?
Have a look at my powerful Anxiety & Stress and Sleep Blend formulations in the apothecary!
Important Nutrients for Clarity and Brain Health
Vitamin D. If you aren't getting enough of this crucial vitamin, brain fog can follow. Low levels are also associated with depression and anxiety, both of which can aggravate mental fuzziness.1 Studies have shown adequate vitamin D improves mood disorders and negative thinking in some people, thereby helping to reduce brain fog.2,3
Omega-3 Fatty Acids. Well-known for improving memory, attention, and mood, omega-3's are an important aspect of overall brain health. Several studies have found that supplementing with omega-3 fatty acids improves memory and attention while also reducing depression and anxiety, leading to better focus and clarity.4,5,6
B-Complex Vitamins. Low levels of B-vitamins are also linked to brain fog.7 This can happen through not getting enough in the diet or absorption issues in the case of celiac disease or a leaky gut. If you decide to supplement, make sure to choose a high-quality, methylated B-complex. If you are struggling with a leaky gut, my Balanced Gut Blend tincture is a convenient way to address this common condition.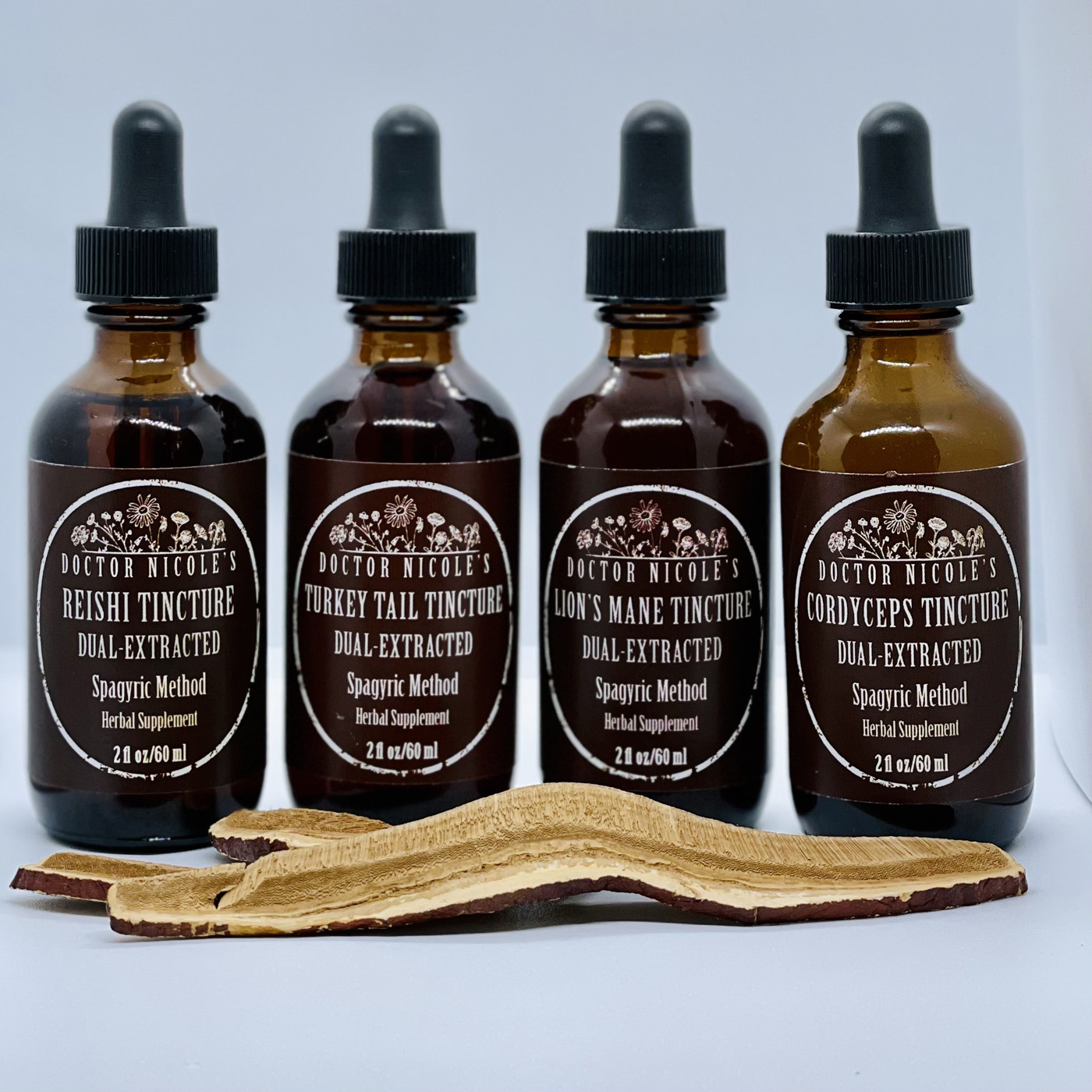 Herbal Support
Several medicinal herbs are helpful for promoting sharp thinking and memory. These include:
Bacopa monnieri
Rhodiola rosea root
Ashwagandha
Cat's claw
Ginkgo biloba
Artichoke leaf extract
Moreover, reishi, lion's mane, turkey tail, and cordyceps medicinal mushrooms can assist in clearing brain fog through anti-inflammatory and adaptogenic effects that help us to deal with stress more effectively, combat fatigue, and boost overall cognitive function. Additionally, these mushrooms help to lessen insomnia, anxiety, and depression — all of which contribute to poor cognitive function. What's more, lion's mane stimulates Nerve Growth Factor (NGF), which is particularly important if you suffer from a neurological condition such as multiple sclerosis, Alzheimer's or Parkinson's.
You can find all four of these powerful botanicals in my Mushroom FOURtress bundle. My Anxiety & Stress and Sleep Blend formulations are also helpful for promoting a clear and sharp mind. If you are suffering from viral-induced brain fog, have a look at my Eastern Blend tincture. Visit the apothecary today to learn more!
References
Menon, V., Kar, S. K., Suthar, N., & Nebhinani, N. (2020). Vitamin D and Depression: A Critical Appraisal of the Evidence and Future Directions. Indian journal of psychological medicine, 42(1), 11–21. https://doi.org/10.4103/IJPSYM.IJPSYM_160_19. https://www.ncbi.nlm.nih.gov/pmc/articles/PMC6970300/ 
Penckofer, S., Byrn, M., Adams, W., Emanuele, M. A., Mumby, P., Kouba, J., & Wallis, D. E. (2017). Vitamin D Supplementation Improves Mood in Women with Type 2 Diabetes. Journal of diabetes research, 2017, 8232863. https://doi.org/10.1155/2017/8232863. https://www.ncbi.nlm.nih.gov/pmc/articles/PMC5610883/

Cheng, Y. C., Huang, Y. C., & Huang, W. L. (2020). The effect of vitamin D supplement on negative emotions: A systematic review and meta-analysis. Depression and anxiety, 37(6), 549–564. https://doi.org/10.1002/da.23025. https://pubmed.ncbi.nlm.nih.gov/32365423/

Bauer, I., Hughes, M., Rowsell, R., Cockerell, R., Pipingas, A., Crewther, S., & Crewther, D. (2014). Omega-3 supplementation improves cognition and modifies brain activation in young adults. Human psychopharmacology, 29(2), 133–144. https://doi.org/10.1002/hup.2379. https://pubmed.ncbi.nlm.nih.gov/24470182/

Stonehouse, W., Conlon, C. A., Podd, J., Hill, S. R., Minihane, A. M., Haskell, C., & Kennedy, D. (2013). DHA supplementation improved both memory and reaction time in healthy young adults: a randomized controlled trial. The American journal of clinical nutrition, 97(5), 1134–1143. https://doi.org/10.3945/ajcn.112.053371. https://pubmed.ncbi.nlm.nih.gov/23515006/

Larrieu, T., & Layé, S. (2018). Food for Mood: Relevance of Nutritional Omega-3 Fatty Acids for Depression and Anxiety. Frontiers in physiology, 9, 1047. https://doi.org/10.3389/fphys.2018.01047. https://www.ncbi.nlm.nih.gov/pmc/articles/PMC6087749

Jatoi, S., Hafeez, A., Riaz, S. U., Ali, A., Ghauri, M. I., & Zehra, M. (2020). Low Vitamin B12 Levels: An Underestimated Cause Of Minimal Cognitive Impairment And Dementia. Cureus, 12(2), e6976. https://doi.org/10.7759/cureus.6976. https://www.ncbi.nlm.nih.gov/pmc/articles/PMC7077099/

Asadi-Pooya, A. A., Akbari, A., Emami, A., Lotfi, M., Rostamihosseinkhani, M., Nemati, H., Barzegar, Z., Kabiri, M., Zeraatpisheh, Z., Farjoud-Kouhanjani, M., Jafari, A., Sasannia, F., Ashrafi, S., Nazeri, M., Nasiri, S., & Shahisavandi, M. (2021). Long COVID syndrome-associated brain fog. Journal of medical virology, 10.1002/jmv.27404. Advance online publication. https://doi.org/10.1002/jmv.27404. https://pubmed.ncbi.nlm.nih.gov/34672377/