Nurturing Overall Wellbeing
Did you know that gardening is not only a pleasurable activity, it also can improve your overall health and wellbeing? It's true! Numerous studies have found that tending to a garden is one of the best ways to boost happiness and a sense of connection, while also relieving stress, encouraging microbiome diversity, and providing an outstanding opportunity for physical exercise. What's more, researchers have found that gardening plays an important role in preventing cancer, chronic disease, and mental health disorders. Keep reading to learn more about this community-building, health-promoting, joy-inducing activity that is good for the entire family!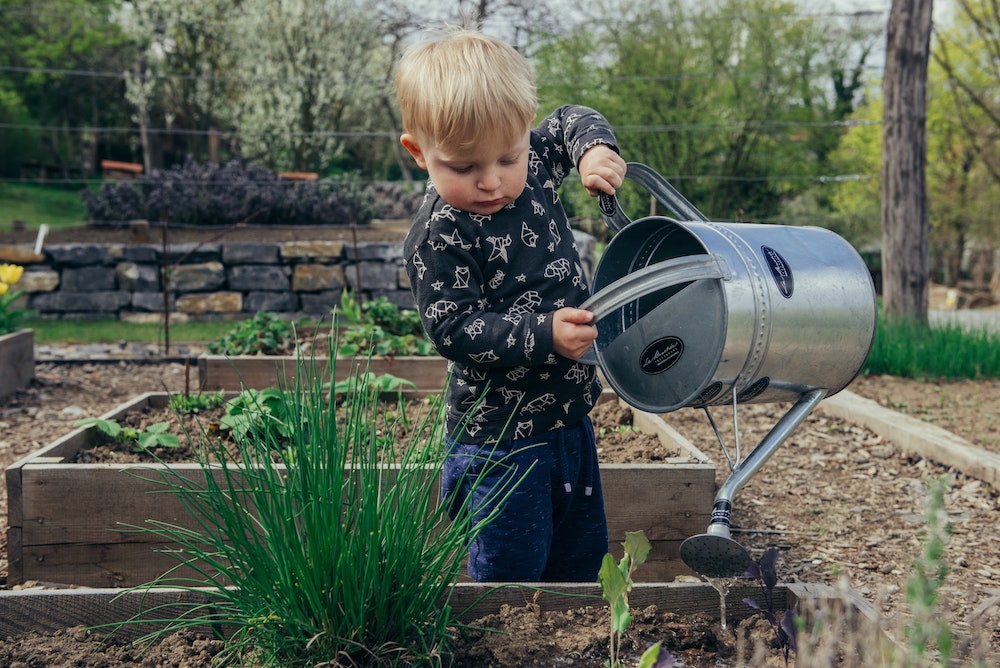 Garden-Based Health Benefits
A 2023 study found that cultivating a garden is a powerful activity for improving physical and mental wellbeing.2 In the randomized controlled trial, researchers examined the impact community gardening had on the participants. The team discovered that "those who started gardening ate more fiber and got more physical activity — two known ways to reduce risk of cancer and chronic diseases. They also saw their levels of stress and anxiety significantly decrease."3 Importantly, it cultivated a sense of connection with others. By participating in a community garden, they were able to forge friendships by sharing techniques, seeds, and recipes, along with a love of being in a natural space together.
"These findings provide concrete evidence that community gardening could play an important role in preventing cancer, chronic diseases and mental health disorders," said senior author Jill Litt, a professor in the Department of Environmental Studies at Colorado University, Boulder. She adds, "No matter where you go, people say there's just something about gardening that makes them feel better."3
As we know, eating more fiber, reducing stress, and regular exercise all give the microbiome a healthy boost, which in turn impacts everything from our heart health and immunity to weight.4,5,6 Not to mention microbes found within the soil help to improve microbiome diversity. You can read more about this fascinating process here.
Need a little extra help in supporting microbiome health?
Have a look at my Balanced Gut Blend in the apothecary!
And don't forget to include your children. A 2019 study found that garden-based activities have the potential to be exceedingly beneficial for your little ones by increasing their intake of fresh fruits and vegetables, boosting outdoor physical fitness, diversifying the gut microbiome, and promoting general wellbeing.1 Plus it's just plain fun!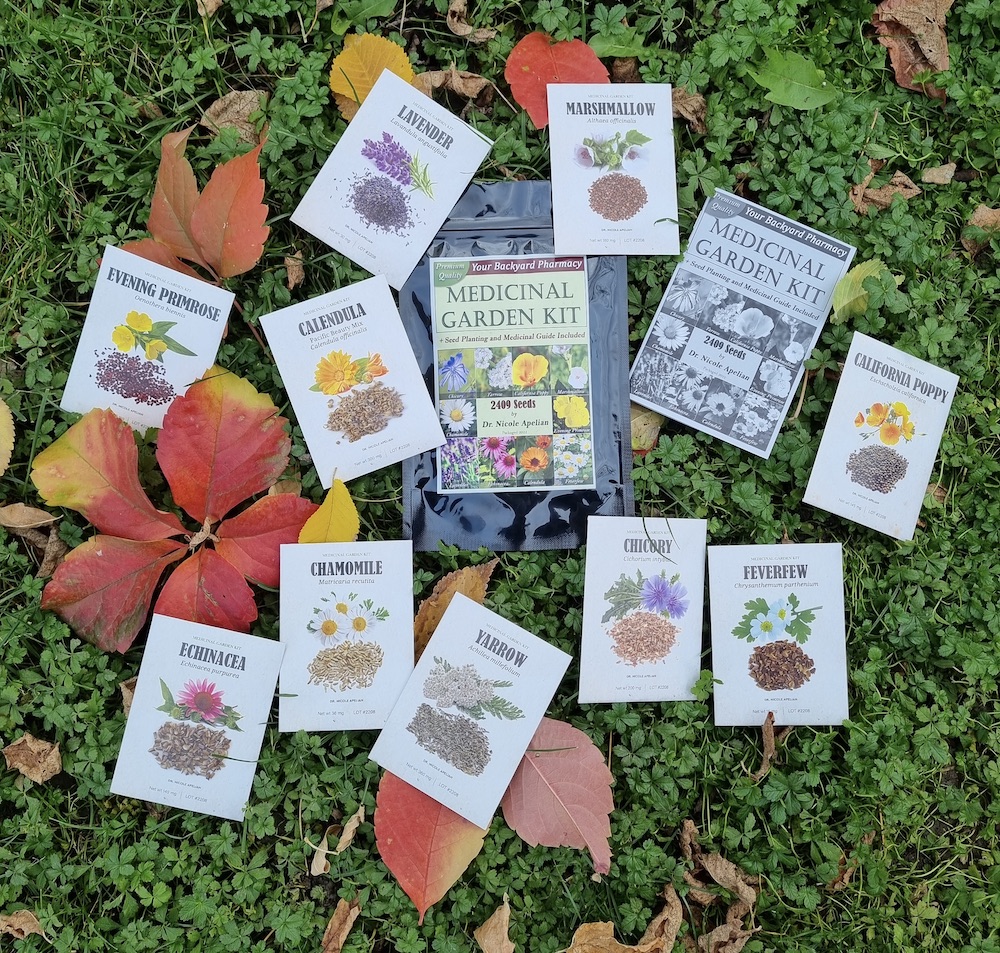 Growing Your Own Backyard Pharmacy
One of my favorite aspects of gardening is growing medicinal plants for my herbal medicine chest. This gives me peace of mind that I will have the herbal remedies I need most during times of uncertainty. My top, easy-to-grow herbs for this purpose include:
Chicory — Pain relief, improved digestion, adrenal fatigue, sinus health, anti-fungal, and liver protecting.
Yarrow — Stops internal and external bleeding, swelling, varicose veins, toothaches, burns, cuts, bruises, insect bites, menstrual cramps, heartburn, and digestive upset.
California Poppy — Sleep, stress-relief, PTSD, insomnia, analgesic.
Marshmallow — Gut inflammation, stomach ulcers, Crohn's disease, antibacterial, irritable bowel syndrome, constipation, indigestion, heartburn.
Chamomile — Sciatica, rheumatic pain, eczema, hemorrhoids, irritated eyes, upset stomach, sore muscles and joints, wounds, nervous tension.
Evening Primrose — Skin health, bruises, digestive upset, mood swings, coughs, sore throat, rashes, hormonal imbalance, nerve pain.
Lavender — Anxiety, depression, hair loss, insomnia, fungal infections, acne, dry skin, psoriasis, cracked skin, insect repellant, calming.
Echinacea — Immune stimulating, antiseptic, inflammation, aches and pains, antimicrobial.
Calendula — Cleanses the lymphatic system, wounds, scars, rashes, sore throat, mouth ulcers, burns, irritated eyes and stomach, skin ulcers, eczema, anti-inflammatory.
Feverfew — Migraines, headaches, anti-inflammatory, painful joints, neuropathy, insect repellant, eczema, rosacea, acne, bruised skin.
Since I would like to share the incredible healing benefits of these plants, I have put together a Medicinal Garden Kit for those living in the United States with high-quality seeds handpicked from the very best stock.
Even if you've never had a garden before, you'll have no trouble growing the plants in this kit.
The seeds are open pollinated, non-GMO, heirloom, and grown/packaged in the USA. Detailed instructions for planting, growing, and harvesting are included. You will also receive a guide that shows you how to turn your medicinal plants into tinctures, ointments, salves, poultices, decoctions, infusions, and essential oils.
If you live in the USA, try it and see. Tap here to learn more!
Nicole's Apothecary Products in this Post
References
Skelton, K., Herbert, A., & Benjamin-Neelon, S. E. (2019). Garden-based interventions and early childhood health: a protocol for an umbrella review. Systematic reviews, 8(1), 310. https://doi.org/10.1186/s13643-019-1229-8

Jill S Litt, Katherine Alaimo, Kylie K Harrall, Richard F Hamman, James R Hébert, Thomas G Hurley, Jenn A Leiferman, Kaigang Li, Angel Villalobos, Eva Coringrato, Jimikaye Beck Courtney, Maya Payton, Deborah H Glueck. Effects of a community gardening intervention on diet, physical activity, and anthropometry outcomes in the USA (CAPS): an observer-blind, randomised controlled trial. The Lancet Planetary Health, 2023; 7 (1): e23 DOI: 10.1016/S2542-5196(22)00303-5

University of Colorado at Boulder. (2023, January 6). Study shows gardening may help reduce cancer risk, boost mental health. ScienceDaily. Retrieved January 9, 2023 from www.sciencedaily.com/releases/2023/01/230106144500.htm

Fu, J., Bonder, M. J., Cenit, M. C., Tigchelaar, E. F., Maatman, A., Dekens, J. A., Brandsma, E., Marczynska, J., Imhann, F., Weersma, R. K., Franke, L., Poon, T. W., Xavier, R. J., Gevers, D., Hofker, M. H., Wijmenga, C., & Zhernakova, A. (2015). The Gut Microbiome Contributes to a Substantial Proportion of the Variation in Blood Lipids.

Circulation research

,

117

(9), 817–824. https://doi.org/10.1161/CIRCRESAHA.115.306807

Rooks, M. G., & Garrett, W. S. (2016). Gut microbiota, metabolites and host immunity.

Nature reviews. Immunology

,

16

(6), 341–352. https://doi.org/10.1038/nri.2016.42

Turnbaugh, P. J., Hamady, M., Yatsunenko, T., Cantarel, B. L., Duncan, A., Ley, R. E., Sogin, M. L., Jones, W. J., Roe, B. A., Affourtit, J. P., Egholm, M., Henrissat, B., Heath, A. C., Knight, R., & Gordon, J. I. (2009). A core gut microbiome in obese and lean twins.

Nature

,

457

(7228), 480–484. https://doi.org/10.1038/nature07540