Herbal Support for Summer Travel and Beyond
With summer in full-swing and more people out and about for group gatherings and traveling, it's a good time to fortify and strengthen your immune function to avoid the latest bug making the rounds. As someone with an autoimmune disorder, I need to be especially careful at all times. This is why I never walk out the door without my medicinal herbal Travel Pack (see below). I also use my Bronchial Blend and new Eastern Blend if I feel as though I need extra support. Each formulation is powerful and effective in keeping me free from illness so that I can fully enjoy all that summer has to offer.
My Top Herbal Formulations for Healthy Immune Function
Usnea Lichen Throat Spray, Elderberry, and my All-Purpose (First-Aid) Salve are all included in my Travel Pack. They are my three favorite herbal remedies for staying healthy. Here's why.
Usnea lichen resembles Spanish Moss with a draping growth pattern from the branches of trees. It has outstanding antibiotic, antifungal, antimicrobial, and antiviral properties. I use usnea lichen for respiratory issues such as bronchitis, sinus infections, strep throat, colds, and influenza. It's also known to help heal urinary tract, bladder, and kidney infections. If you have a skin wound or fungal infection like ringworm, a yeast infection, or athlete's foot, usnea is your go-to herb. It's also highly effective against Epstein Barr, herpes, and HPV viruses.
"If I had to choose one anti-illness tincture to use, it would likely be usnea spray. Whenever I feel a scratchy or sore throat coming on, and I do listen to my body, I use this spray and it has helped to ward off colds, sore throats, etc. When I travel this is always part of my travel kit – just in case. It is easy to use and so effective!"

– Barbara A.
Elderberry is well-known for its usefulness in preventing and lessening the severity of illness during the flu season. This berry is also a tremendous medicinal herb for year-round use as it has exceptional anti-inflammatory and immune-strengthening properties in addition to its antiviral action. My kids and I use it daily when we travel, during the school year, and when we're around people who may be ill.
"The Usnea tincture has become a daily staple in our household too. Just recently I felt a light cold coming on and increased the use of Usnea tincture from 2 to 3 times a day (+Elderberry twice a day), which helped to keep the cold away – I was SO grateful!"

– Tina B.
My All-Purpose (First Aid) Salve is not only helpful for cuts, burns, bruises, bites, stings, and rashes, but it can also help you avoid picking up the latest cold or flu bug. I rub a small amount of the salve on the inside of my nose for this purpose. It has antibacterial, anti-fungal, antiviral, and anti-inflammatory properties with a wide range of uses.
"HELPS WITH ALMOST EVERYTHING YOU PUT IT ON: We love this salve. For stings, burns, rashes of any kind. We also use it in our noses when we travel by plane (even pre-covid) to help keep nasal passages moist and protected. Thank-you for this wonderful salve!"

– Robin U.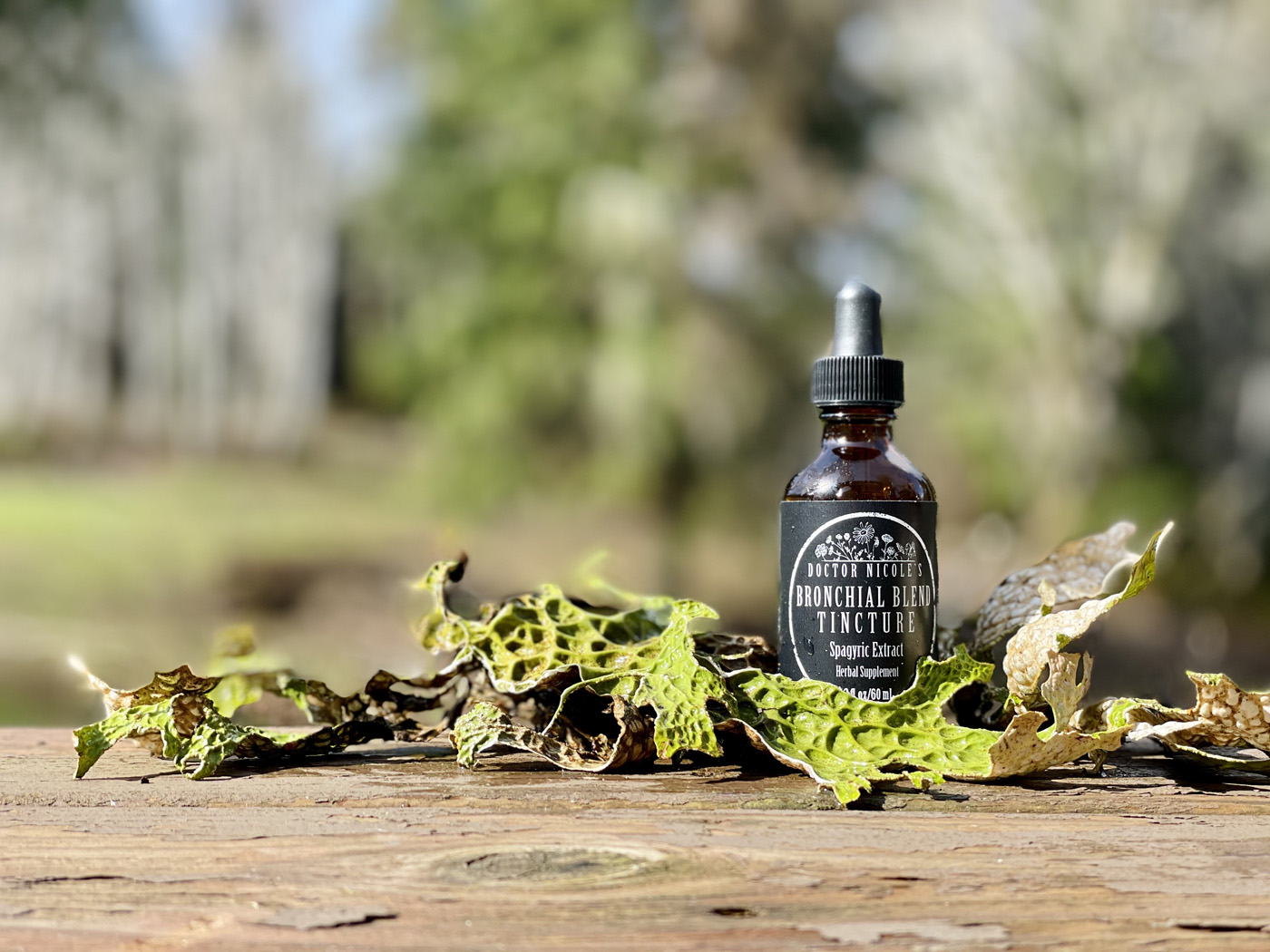 My Bronchial Blend contains Lungwort Lichen and Mullein, two exceptional herbs for bronchitis, colds, influenza, COPD, asthma, and other respiratory issues. Both herbs are particularly effective for clearing mucus from the bronchial passages and reducing inflammation in the airways. Lungwort Lichen is also a natural antibiotic and is helpful for treating chest infections like whooping cough, tuberculosis, bacterial pneumonia, and bronchitis.
"YOUR PRODUCTS HAVE CHANGED MY LIFE! I've been using your Bronchial tincture since May and it has been a miracle!! I have asthma and have been using inhalers everyday of my life for 30 years!! I can't remember the last time I've used my inhaler! So grateful to have found your products, changed my life!! This last year has been a journey of finding healthy solutions."

– Holly N.
Eastern Blend – my latest go-to blend for today's times! Containing Chinese Skullcap, Japanese Honeysuckle, Japanese Knotweed, and Cordyceps Mushroom, my Eastern Blend is outstanding for viral, respiratory, and inflammation support. It's antibacterial, antioxidant, antiviral and antifungal. Additionally, it's helpful for GI support, insomnia, urinary tract issues, Lyme disease, diabetes, and depression. My new additional go-to if I'm around the public!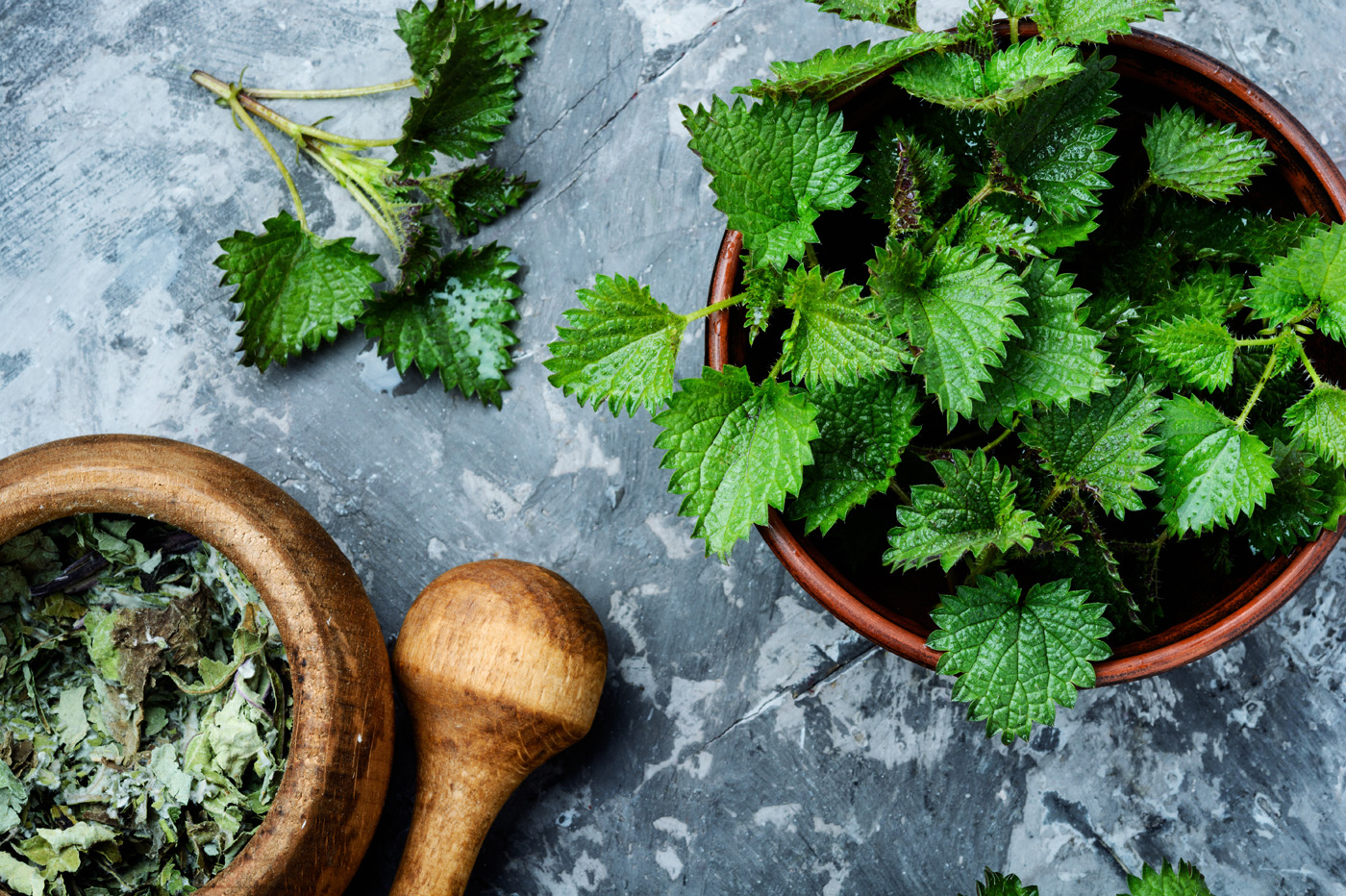 Allergies Don't Take a Vacation
Many times, allergies aren't only experienced in the springtime. They also don't take a break just because you're on vacation. Don't let allergies dampen your summer fun. My Allergy & Asthma Support Bundle contains Bronchial Blend, Cordyceps, Reishi, Stinging Nettle, and Yerba Santa. If you prefer powerful relief from stand-alone tinctures, I can't recommend Stinging Nettle and Yerba Santa enough.
Stinging Nettle is my number one recommendation for allergies because it typically alleviates the problem completely. It's also a terrific anti-inflammatory. I like to pair it with local raw honey for maximum effect. If you find you need a little extra support, Yerba Santa helps to alleviate and loosen mucus in the chest due to infections, colds, and allergies.
"I couldn't believe how fast your Stinging Nettle tincture worked for my hay fever, One dose and my symptoms went away. I now take it daily during allergy season! Thank you!"

-Jaclyn K.
Staying Healthy During Seasons of Illness
Even if you are staying close to home this summer, the above remedies are helpful in keeping you healthy at any time of the year. With serious respiratory ailments becoming increasingly common, an ounce of prevention can help to avoid the severity of lung ailments and other health problems associated with contagious illness. Learn more about my Travel Pack, Bronchial Blend, Eastern Blend, and allergy support by tapping the links.
Here's to a healthy and happy travel season!