A Positive Shift in Mood and Perspective
We all know how good it feels to have a hearty belly laugh. It immediately shifts our mood, relaxes our body, and stops stress in its tracks. And most of us have had the experience where we suddenly see the humor in a situation that would normally frustrate us (parents of young children, I'm looking at you). Instead of succumbing to the stressful event, we laugh — and feel a whole lot better because of it. So do those around us. This uplifting feeling isn't just happenstance. Researchers have found that laughter truly is the best medicine for our physical and mental health. Here's why.
The Science Behind Laughter and Improved Health
When we speak of the therapeutic benefit of laughter, we're talking about the good-natured guffaw that is often accompanied with snorting sounds and shoulder shaking. Rollicking belly laughs and more subdued chuckles are great too, sarcastic or hostile laughter at someone else's expense is not. Positive laughter stimulates our heart, lungs, muscles, and lymphatic system; increases feel-good endorphins; and enhances the amount of oxygen-rich air we take in. Laughter is a well-known tension tamer – it temporarily stimulates the stress response, then cools it down, which decreases our blood pressure and heart rate. The result? A wonderful, semi-blissful feeling of relaxation. These are the short-term benefits.
Over time, when we see the humorous side of life, we can experience even more benefits. Since laughter soothes stress and lessens negative thinking, it can improve your immune system by releasing stress-fighting neuropeptides. It also relieves pain by triggering the production of natural pain killers; combats mood disorders such as anxiety and depression; and helps you to cope with difficult situations and people, which in turn encourages better relationships and connection with those around us. Interestingly, laughter can also boost your self-esteem.
"Laughter does not mean happiness. It is a way to relieve tension," explains Sebastien Gendry, head of faculty at the Laughter Online University at the Laughter Wellness Institute. "It is a simple and impactful way to improve immune function by increasing cardiovascular activity and improving lymphatic function with deep breathing and increased oxygen."
Laughter can also help people with multiple sclerosis (MS) lead better lives. Considered aerobic exercise, laughter therapy doesn't require the use of your legs or hands, and yet it can help those struggling with MS or other neurological disorders like Parkinson's build up core and facial muscles with a 50 minute session of laughter. It can also help to alleviate the depression and anxiety associated with MS by enhancing dopamine and serotonin activity. Moreover, laughter improves cognitive function and decreases inflammation.
Simple Ways to Find More Humor in Life
If we find that laughter is lacking in our lives, not to worry! Here are a few simple ways we can introduce more humor into our lives:
Listen to humorous podcasts or audio books.
Keep funny comics, cards, or magazines on hand for when you need a boost.
Try laughter yoga, there are many good resources available online.
Be silly with your kids. Before you know it, everyone will be sharing a good laugh together.
Play like a child would – roll down a hill, spin until you're dizzy, do a cartwheel (even if you do it badly it's OK – even funner and funnier!).
Laugh about your life situations, even if it feels a bit forced at first.
Read books that make you laugh.
Spend time with friends and family who tickle your funny bone.
Watch comedies or funny YouTube videos.
Take time to spend with your pets. Many times our beloved animals make us laugh by their antics.
Take a break from the news (seriously). It will help to lighten your mood and see more of the positive in life. Who knows, you may even find yourself chuckling more.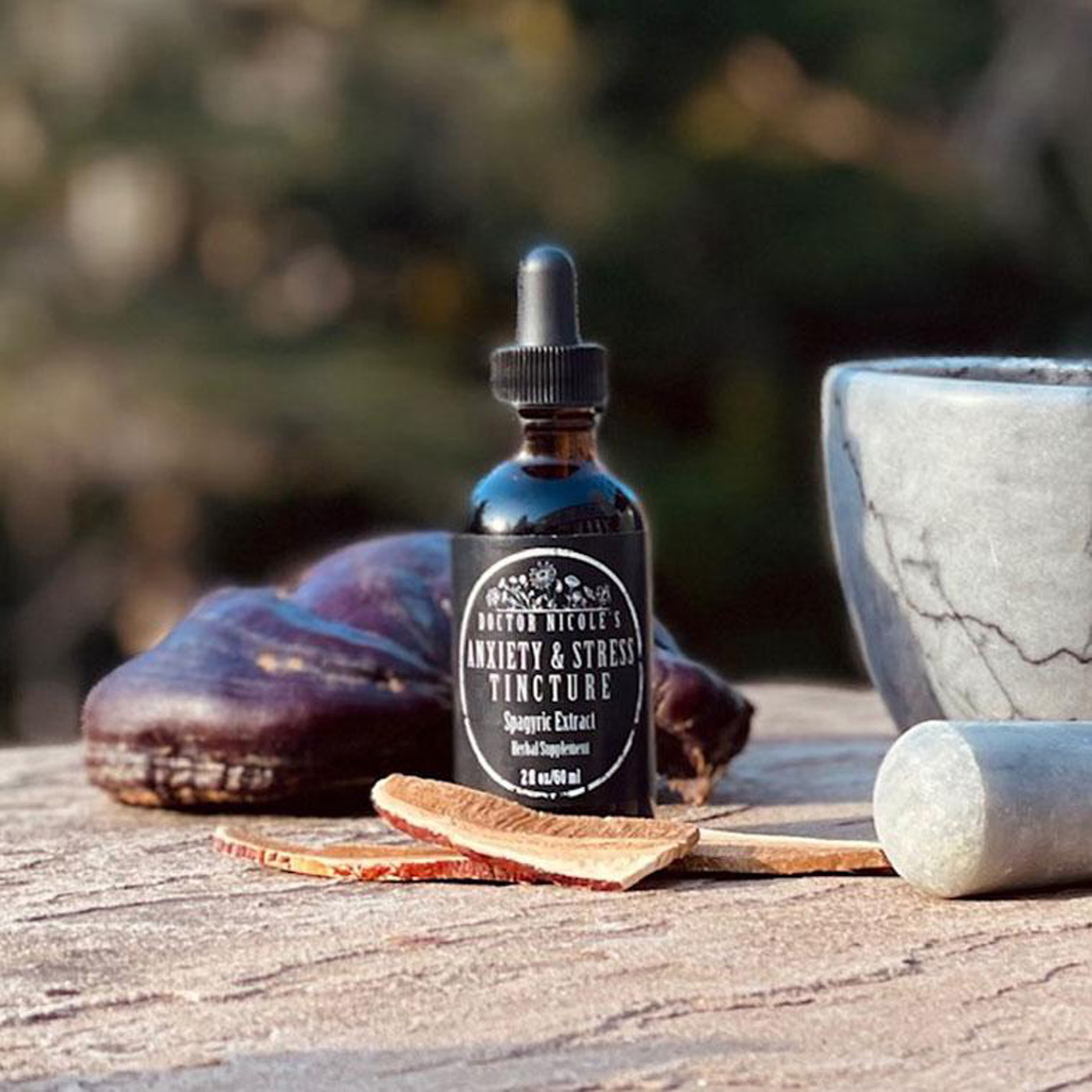 Herbal Stress and Anxiety Relief
If you are in a particularly intense season of life and need a little extra support, my Anxiety & Stress tincture can help. It contains a blend of effective botanicals that soothe the stress response and fortify the nervous system, including: lion's mane and reishi mushrooms, ashwagandha, and lemon balm. Additionally, these herbs calm anxiety and depression, while also helping to enhance mood and boost cognitive health. Interested in learning more? Visit my apothecary today!