Unique in Appearance, Mighty in Medicinal Properties
Unmistakable in appearance, lion's mane is a striking medicinal mushroom with shaggy, cascading white tendrils. Highly bioactive, it has been shown to fight cancer, reduce inflammation, regulate the immune system, and manage diabetes symptoms. The mushroom is also helpful for reducing heart disease risk, protecting against dementia, and addressing depression, anxiety, and other mood disorders. And now researchers have found lion's mane doubles neuron growth and dramatically improves memory.
The Many Benefits of Lion's Mane
Most associate lion's mane mushroom with its ability to protect against and treat neurological conditions such as dementia, multiple sclerosis, Alzheimer's, and Parkinson's disease.1,2,3 I personally use it every day as part of a protocol to manage my MS.
But this powerful mushroom offers much more. It has been shown to reduce the severity of damage after a stroke; protect against and heal stomach and intestinal ulcers; and significantly boost and modulate the immune system so that infectious illness, cancer, and autoimmune conditions are kept in check.4,5,6,7 Several studies have also found that the mushroom is helpful for treating neuropathy and reversing nerve damage.8,9 Additionally, lion's mane reduced anxiety and irritability in menopausal women in one small study.10
And now, a 2023 study has found that lion's mane mushroom is much more effective than previously thought in promoting brain health.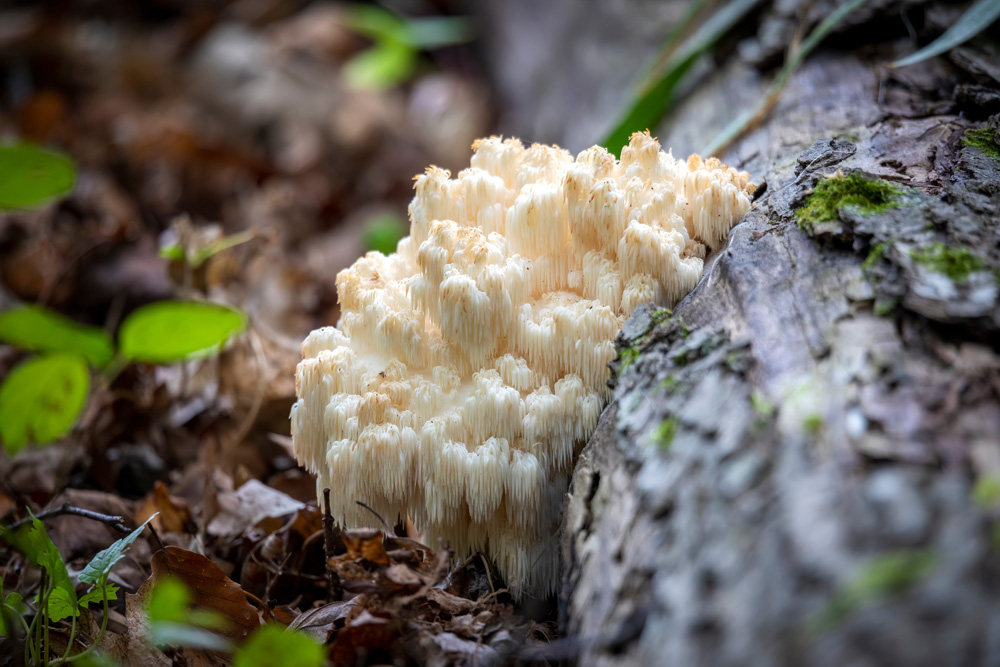 Significant Neuron Growth and Memory Improvement
Published in the Journal of Neurochemistry, researchers at the Queensland Brain Institute in Australia found that neurons from animal models that were exposed to lion's mane extract grew twice as long compared to those not exposed.11 The isolated molecules N-dephenylethyl isohericerin (NDPIH) and its derivative hericene A extracted from lion's mane promoted the most growth. What's more, the mushroom extract "significantly enhanced mice's recognition memory."12
While not involved in the study, Kalipada Pahan, PhD, professor of neurology, biochemistry and pharmacology at the Rush University Medical Center in Chicago, notes that "Lion's mane mushroom is good for stimulating neural nerve growth. It has been widely studied, and a number of studies have shown it is good for cerebral and sensory development and neurite outgrowth." Pahan adds, "It has been shown to be useful for spinal cord injuries, traumatic brain injuries, as well as some diseases such as Alzheimer's and Huntington's."13
Neurons are shaped somewhat like a tree with dendrite and axons branching out. They allow neurological cells to communicate. The growth cone is a group of fine filaments at the end of these branches and they are designed to pick up on signals from other neurons. When this happens, they grow towards each other, instead of haphazardly. In the study it was shown that when exposed to lion's mane extract, the growth cone not only became larger, but also grew more efficiently and established more neural connections. The implications of the findings are groundbreaking for those who would like to enhance brain health or treat a neurological condition.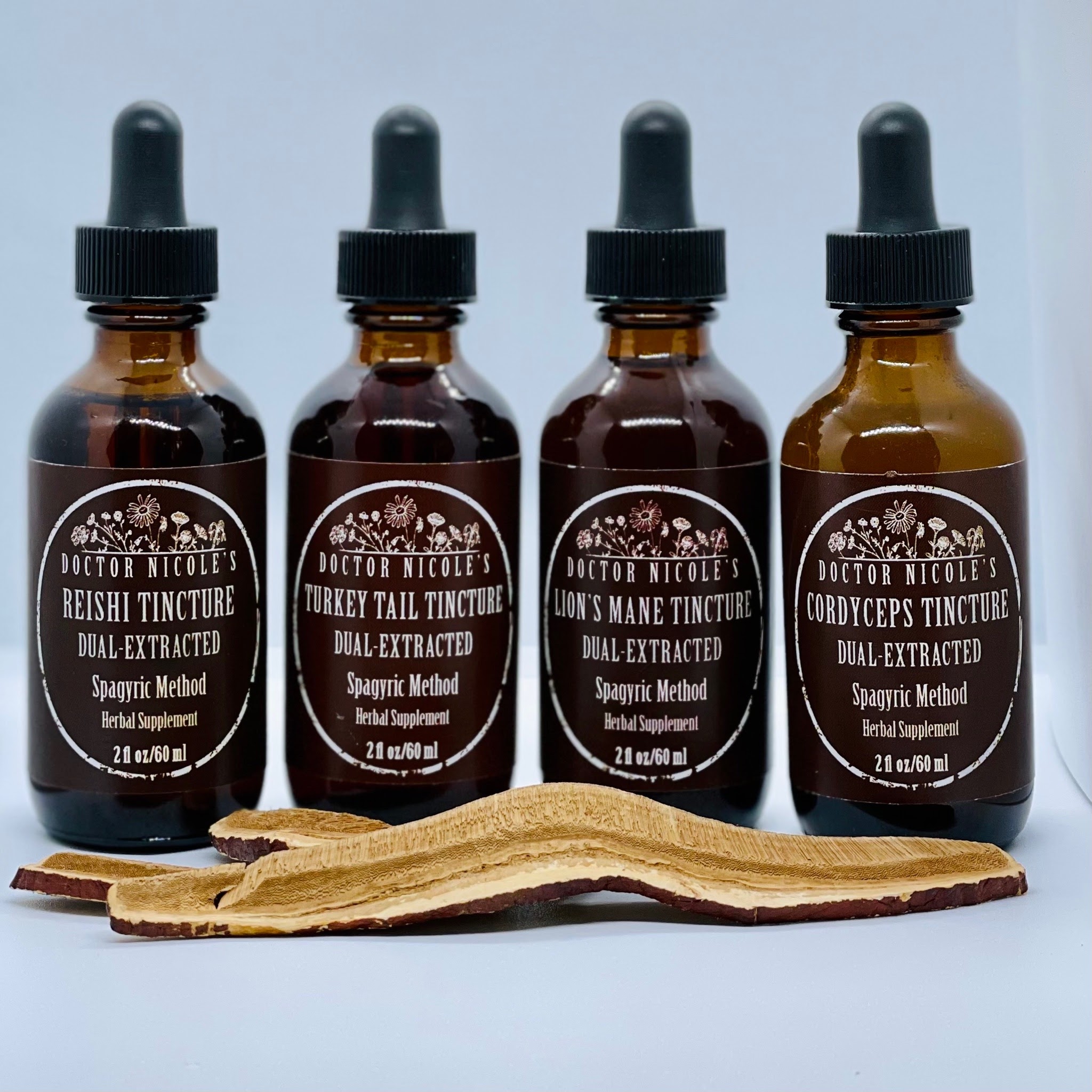 The Gold Standard of Medicinal Mushroom Extracts
Lion's mane, along with reishi, turkey tail, and cordyceps medicinal mushrooms are an integral part of my MS healing journey. In fact, medicinal mushrooms are what allowed me to regain my health and get out of my wheelchair. But simply drinking mushroom tea or eating it fresh wasn't enough.
There is a precise extraction process that is necessary to access the full spectrum of beneficial compounds. Medicinal mushrooms and lichens require a double-extraction in both water and alcohol. For highest potency, a third step is applied called spagyric extraction method where the spent herb is processed with pressure and heat to produce a mineral-rich ash. This is added back to create a tincture that includes a range of intracellular minerals and plant cell salts. These tinctures are highly energized and concentrate the full medicinal properties, nutrients, and enzymes of the herb.
It is also important to use extracts that are derived from the fruiting bodies of the mushroom without fillers. Fruiting body extracts contain 30 to 40 percent beta-glucans, compared to mycelium extracts, which typically have only 5 to 7 percent. These compounds are known to boost and regulate the immune system, improve glucose tolerance, support heart health, and more. In short, if you are seeking the most potent medicinal mushroom extract, tinctures that utilize the whole fruiting mushroom body are essential.
At Nicole's Apothecary, our tinctures are the gold standard of medicinal extracts as we employ each of these methods to produce the most potent and effective products on the market. If you are seeking the highest quality lion's mane medicinal mushroom tincture available, tap here to learn more.
Nicole's Apothecary Products in this Post
References
Tsai-Teng, T., Chin-Chu, C., Li-Ya, L., Wan-Ping, C., Chung-Kuang, L., Chien-Chang, S., Chi-Ying, H. F., Chien-Chih, C., & Shiao, Y. J. (2016). Erinacine A-enriched Hericium erinaceus mycelium ameliorates Alzheimer's disease-related pathologies in APPswe/PS1dE9 transgenic mice. Journal of biomedical science, 23(1), 49. https://doi.org/10.1186/s12929-016-0266-z

Li, I. C., Chang, H. H., Lin, C. H., Chen, W. P., Lu, T. H., Lee, L. Y., Chen, Y. W., Chen, Y. P., Chen, C. C., & Lin, D. P. (2020). Prevention of Early Alzheimer's Disease by Erinacine A-Enriched Hericium erinaceus Mycelia Pilot Double-Blind Placebo-Controlled Study. Frontiers in aging neuroscience, 12, 155. https://doi.org/10.3389/fnagi.2020.00155

Samberkar, S., Gandhi, S., Naidu, M., Wong, K. H., Raman, J., & Sabaratnam, V. (2015). Lion's Mane, Hericium erinaceus and Tiger Milk, Lignosus rhinocerotis (Higher Basidiomycetes) Medicinal Mushrooms Stimulate Neurite Outgrowth in Dissociated Cells of Brain, Spinal Cord, and Retina: An In Vitro Study. International journal of medicinal mushrooms, 17(11), 1047–1054. https://doi.org/10.1615/intjmedmushrooms.v17.i11.40

Hsu, P. C., Lan, Y. J., Chen, C. C., Lee, L. Y., Chen, W. P., Wang, Y. C., & Lee, Y. H. (2022). Erinacine A attenuates glutamate transporter 1 downregulation and protects against ischemic brain injury. Life sciences, 306, 120833. https://doi.org/10.1016/j.lfs.2022.120833

Diling, C., Xin, Y., Chaoqun, Z., Jian, Y., Xiaocui, T., Jun, C., Ou, S., & Yizhen, X. (2017). Extracts from Hericium erinaceus relieve inflammatory bowel disease by regulating immunity and gut microbiota. Oncotarget, 8(49), 85838–85857. https://doi.org/10.18632/oncotarget.20689

Wong, J. Y., Abdulla, M. A., Raman, J., Phan, C. W., Kuppusamy, U. R., Golbabapour, S., & Sabaratnam, V. (2013). Gastroprotective Effects of Lion's Mane Mushroom Hericium erinaceus (Bull.:Fr.) Pers. (Aphyllophoromycetideae) Extract against Ethanol-Induced Ulcer in Rats. Evidence-based complementary and alternative medicine : eCAM, 2013, 492976. https://doi.org/10.1155/2013/492976

Diling, C., Chaoqun, Z., Jian, Y., Jian, L., Jiyan, S., Yizhen, X., & Guoxiao, L. (2017). Immunomodulatory Activities of a Fungal Protein Extracted from Hericium erinaceus through Regulating the Gut Microbiota. Frontiers in immunology, 8, 666. https://doi.org/10.3389/fimmu.2017.00666

Functional Recovery Enhancement Following Injury to Rodent Peroneal Nerve by Lion's Mane Mushroom, Hericium erinaceus (Bull.: Fr.) Pers. (Aphyllophoromycetideae). Volume 11, Issue 3, 2009, pp. 225-236. DOI: 10.1615/IntJMedMushr.v11.i3.20

Zhang, C. C., Cao, C. Y., Kubo, M., Harada, K., Yan, X. T., Fukuyama, Y., & Gao, J. M. (2017). Chemical Constituents from Hericium erinaceus Promote Neuronal Survival and Potentiate Neurite Outgrowth via the TrkA/Erk1/2 Pathway. International journal of molecular sciences, 18(8), 1659. https://doi.org/10.3390/ijms18081659

Nagano, M., Shimizu, K., Kondo, R., Hayashi, C., Sato, D., Kitagawa, K., & Ohnuki, K. (2010). Reduction of depression and anxiety by 4 weeks Hericium erinaceus intake. Biomedical research (Tokyo, Japan), 31(4), 231–237. https://doi.org/10.2220/biomedres.31.231

Martínez-Mármol, R., Chai, Y., Conroy, J. N., Khan, Z., Hong, S. M., Kim, S. B., Gormal, R. S., Lee, D. H., Lee, J. K., Coulson, E. J., Lee, M. K., Kim, S. Y., & Meunier, F. A. (2023). Hericerin derivatives activates a pan-neurotrophic pathway in central hippocampal neurons converging to ERK1/2 signaling enhancing spatial memory. Journal of neurochemistry, 10.1111/jnc.15767. Advance online publication. https://doi.org/10.1111/jnc.15767

"Improving memory: Lion's mane mushrooms may double neuron growth", Hannah Flynn, Alexandra Sanfins, Ph.D., Medical News Today, February 17, 2023. https://www.medicalnewstoday.com/articles/improving-memory-lions-mane-mushrooms-may-double-neuron-growth

"Latest Study Suggests Lion's Mane Mushrooms May Boost Brain Health", David Rossiaky, Jill Seladi-Schulman, PhD, Healthline, February 22, 2013. https://www.healthline.com/health-news/latest-study-suggests-lions-mane-mushrooms-may-boost-brain-heath

"9 Health Benefits of Lion's Mane Mushroom (Plus Side Effects)", Erica Julson, MS, RDN, CLT, medically reviewed by Alexandra Perez, PharmD, MBA, BCGP, Healthline, February 7, 2023. https://www.healthline.com/nutrition/lions-mane-mushroom