Improving Well-Being, Naturally
If you love gardening as much as I do, you know that it's not only a means to grow a bounty of healthy food and cultivate beauty, but is also an outstanding form of exercise, relieves stress, and boosts overall physical and mental well-being. And now researchers have found another reason to embrace this pleasurable activity: it improves cardiovascular health, reduces the risk of stroke, and prolongs life by as much as 30 percent. Let's have a closer look at their findings and explore creative ways you can introduce the health-boosting benefits of gardening into your life.
The Study
Published in the British Journal of Sports Medicine, researchers tracked the cardiovascular health of almost 4,000 sixty year olds in Stockholm, Sweden over the course of 12.5 years.1 At the beginning of the study, participants were asked to take part in a health evaluation that documented information about their diet, smoking, alcohol intake, and physical activity level. Included in the survey were a variety of daily life activities, such as DIY projects, car maintenance, gardening, and blackberry picking, along with if they had participated in any type of formal exercise in the past year. Their cardiovascular health was determined through a series of lab tests and physical examinations that analyzed blood sugar and fat levels, as well as blood clotting factors that indicate heart attack and stroke risk if elevated.
At the beginning of the study, the researchers found that those who were more active in their daily life — regardless of if they took part in formal exercise regularly — had a much lower risk of cardiovascular problems than those who had more sedentary lives. The same was true of those who formally exercised regularly, but were not very physically active in their day-to-day routine. Not surprisingly, participants that exercised regularly and were also physically active throughout the day had the lowest risk.
"Our findings are particularly important for older adults, because individuals in this age group tend, compared to other age groups, to spend a relatively greater proportion of their active day performing [routine activities] as they often find it difficult to achieve recommended exercise intensity levels," concluded the authors.2
Among these routine activities, gardening is an outstanding choice. It not only has physical benefits, but can also boost happiness, relieve stress, and lower anxiety and depression.7,8 It works every major muscle group and is classified by the Centers for Disease Control as medium-intensity exercise. Gardening can also reduce age-related weight gain as well as childhood obesity.3,4 What's more, researchers have found that those who regularly garden tend to have better sleep and cognitive health.5,6
Interested in the additional benefits of this pleasurable activity? Have a look at my post, "Can Gardening Improve Your Health & Happiness? You Bet! Here's Why".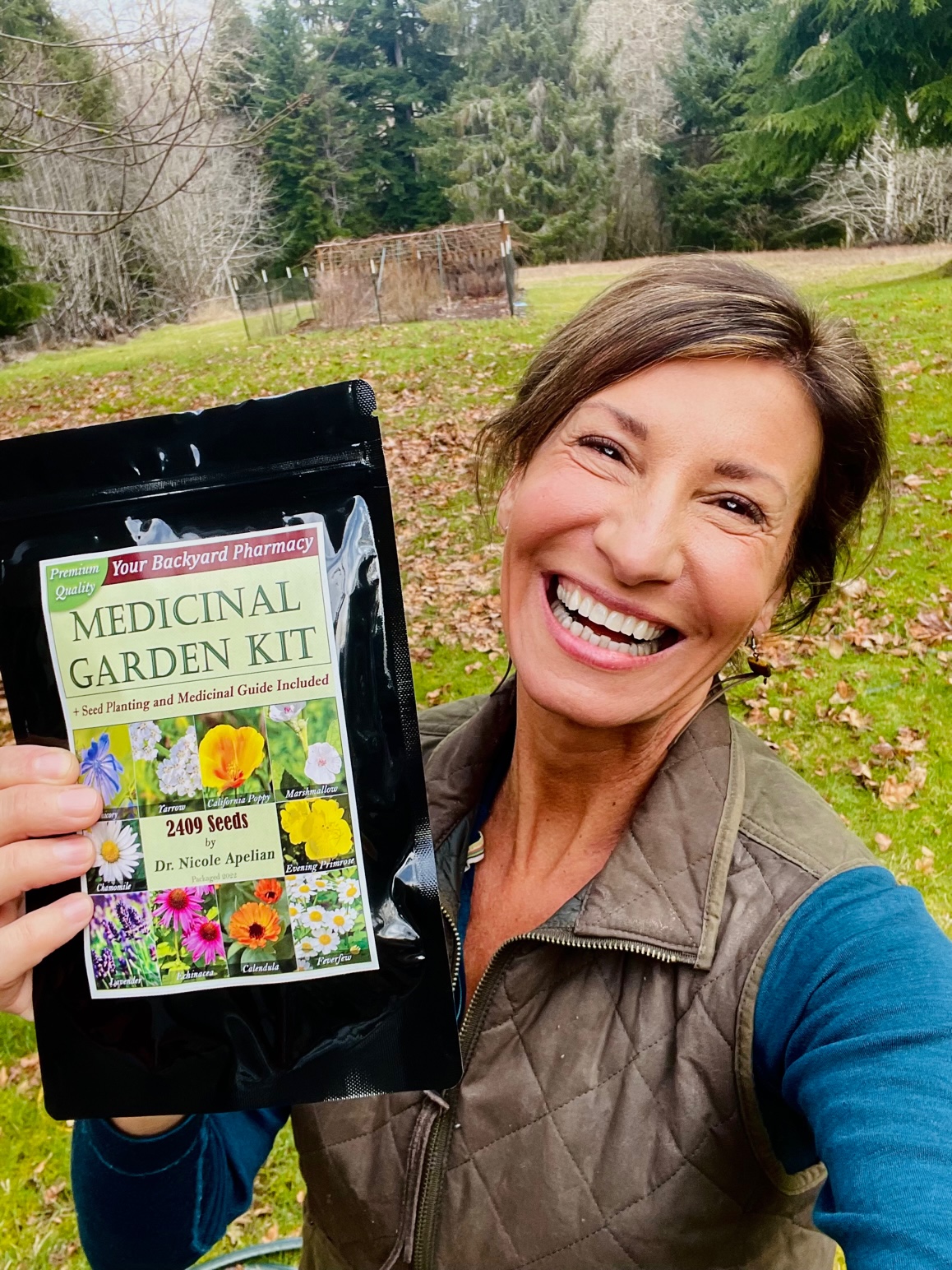 Growing Health & Happiness
Needless to say, growing a garden is one of the best ways to increase your daily activity level, improve health, and infuse joy into your day. Don't know where to begin? How about involving your little ones and growing a children's garden. This can be anything from a gardening space set aside just for them to including colorful elements such as painted rocks and pots, wind catchers, or handmade mosaic stepping stones. Sunflower "houses" with climbing morning glory vines are usually a delight for children as well.
Another idea is cultivating a giving garden. This is where you designate a section of your vegetable garden for the purpose of giving away fresh produce to a food bank, church, or family in need.
Additionally, I always make space for growing medicinal plants that will be useful for my herbal medicine chest. Not only does this give me peace of mind that I will have herbal medicines on hand during times of uncertainty, but it is also just plain fun! My favorite, easy-to-grow herbs for this include:
Chicory — Pain relief, improved digestion, adrenal fatigue, sinus health, antifungal, and liver protecting.
Yarrow — Stops internal and external bleeding, swelling, varicose veins, toothaches, burns, cuts, bruises, insect bites, menstrual cramps, heartburn, and digestive upset.
California Poppy — Sleep, stress-relief, PTSD, insomnia, analgesic.
Marshmallow — Gut inflammation, stomach ulcers, Crohn's disease, antibacterial, irritable bowel syndrome, constipation, indigestion, heartburn.
Chamomile — Sciatica, rheumatic pain, eczema, hemorrhoids, irritated eyes, upset stomach, sore muscles and joints, wounds, nervous tension.
Evening Primrose — Skin health, bruises, digestive upset, mood swings, coughs, sore throat, rashes, hormonal imbalance, nerve pain.
Lavender — Anxiety, depression, hair loss, insomnia, fungal infections, acne, dry skin, psoriasis, cracked skin, insect repellant, calming.
Echinacea — Immune stimulating, antiseptic, inflammation, aches and pains, antimicrobial.
Calendula — Cleanses the lymphatic system, wounds, scars, rashes, sore throat, mouth ulcers, burns, irritated eyes and stomach, skin ulcers, eczema, anti-inflammatory.
Feverfew — Migraines, headaches, anti-inflammatory, painful joints, neuropathy, insect repellant, eczema, rosacea, acne, bruised skin.
Since I would like to share the incredible healing benefits of these plants with others, I have put together a Medicinal Garden Kit for those living in the United States with high-quality seeds handpicked from the very best stock.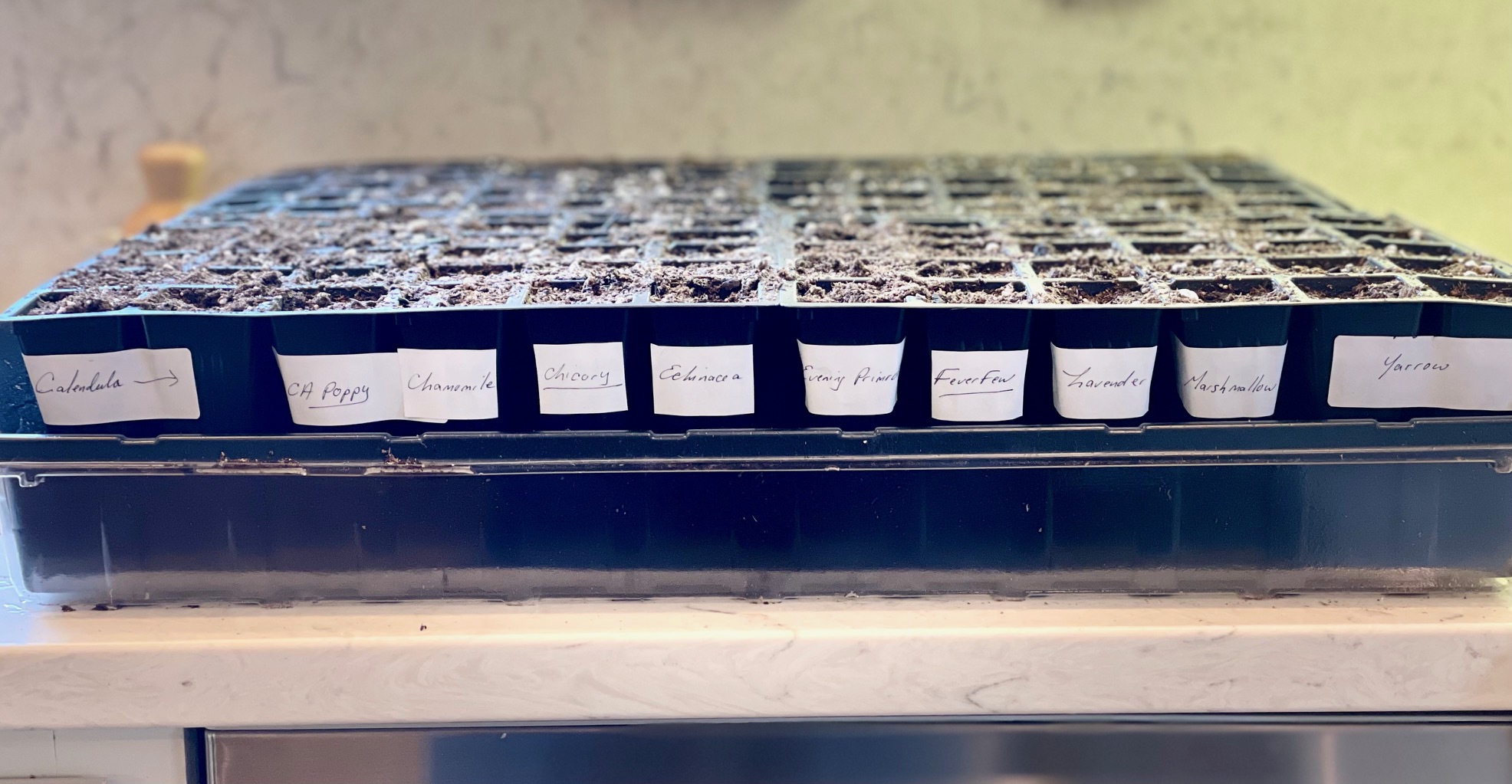 Even if you've never cultivated a garden before, you'll have no trouble growing the plants in this kit.
The seeds are open pollinated, non-GMO, heirloom, and grown/packaged in the USA. Detailed instructions for planting, growing, and harvesting are included. You will also receive a guide that shows you how to turn your medicinal plants into tinctures, ointments, salves, poultices, decoctions, infusions, and essential oils.
If you live in the USA, try it and see. Tap here to learn more!
References
E. Ekblom-Bak, B. Ekblom, M. Vikstrom, U. de Faire, M.-L. Hellenius. The importance of non-exercise physical activity for cardiovascular health and longevity. British Journal of Sports Medicine, 2013; DOI: 10.1136/bjsports-2012-092038

BMJ-British Medical Journal. (2013, October 28). DIY, gardening can cut heart attack/stroke risk by 30 percent, prolong life for seniors. ScienceDaily. Retrieved March 15, 2023 from www.sciencedaily.com/releases/2013/10/131028184948.htm

Litt, J. S., Lambert, J. R., & Glueck, D. H. (2017). Gardening and age-related weight gain: Results from a cross-sectional survey of Denver residents. Preventive medicine reports, 8, 221–225. https://doi.org/10.1016/j.pmedr.2017.10.018

Spears-Lanoix, E. C., McKyer, E. L., Evans, A., McIntosh, W. A., Ory, M., Whittlesey, L., Kirk, A., Hoelscher, D. M., & Warren, J. L. (2015). Using Family-Focused Garden, Nutrition, and Physical Activity Programs To Reduce Childhood Obesity: The Texas! Go! Eat! Grow! Pilot Study. Childhood obesity (Print), 11(6), 707–714. https://doi.org/10.1089/chi.2015.0032

"Yoga, Running, Weight Lifting, and Gardening: Penn Study Maps the Types of Physical Activity Associated with Better Sleep Habits", Penn Medicine News. June 04, 2015. https://www.pennmedicine.org/news/news-releases/2015/june/yoga-running-weight-lifting-an

Park, S. A., Lee, A. Y., Park, H. G., & Lee, W. L. (2019). Benefits of Gardening Activities for Cognitive Function According to Measurement of Brain Nerve Growth Factor Levels. International journal of environmental research and public health, 16(5), 760. https://doi.org/10.3390/ijerph16050760

Gonzalez, M. T., Hartig, T., Patil, G. G., Martinsen, E. W., & Kirkevold, M. (2011). A prospective study of group cohesiveness in therapeutic horticulture for clinical depression. International journal of mental health nursing, 20(2), 119–129. https://doi.org/10.1111/j.1447-0349.2010.00689.x

Van Den Berg, A. E., & Custers, M. H. (2011). Gardening promotes neuroendocrine and affective restoration from stress. Journal of health psychology, 16(1), 3–11. https://doi.org/10.1177/1359105310365577