Non-Alcoholic Fatty Liver Disease
Affecting approximately 20-40% of the US population, diagnosis of non-alcoholic fatty liver disease (NAFLD) is on the rise. Known as an accumulation of extra fat in the liver that generally doesn't cause symptoms until it becomes severe, the condition is typically associated with diabetes and obesity. It can also increase cardiovascular risk. Indicators are usually discovered by accident via abdominal imaging, such as an ultrasound, CT scan or MRI, while investigating another health issue.
You are more at-risk for developing NAFLD if you have metabolic syndrome, high blood pressure, Hispanic, middle aged or older, infected with hepatitis C, or taking corticosteroids. Symptoms include fatigue, loss of appetite, nausea, abdominal pain, jaundice, swelling in the upper abdomen, and edema in the legs.
There are two types of NAFLD: non-alcoholic simple fatty liver and non-alcoholic steatohepatitis (NASH). It is important to know which type you have because simple fatty liver generally doesn't impact the health of the liver, whereas NASH can lead to fibrosis, cirrhosis, and liver cancer. About 3-7% of the US population has NASH. For our purposes here we will be looking at non-alcoholic simple fatty liver disease.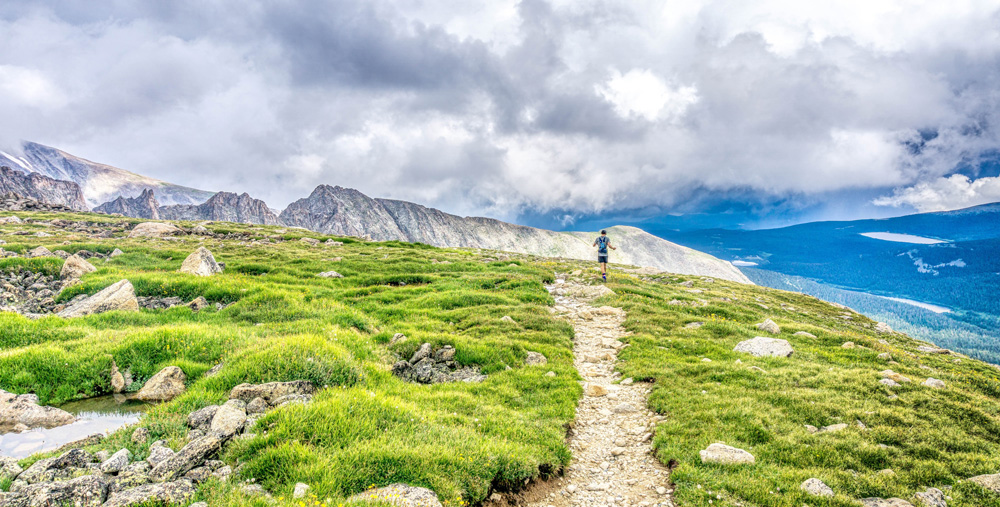 Best Practices for Minimizing the Risk
One of the most effective ways to prevent or treat fatty liver is to shift your lifestyle habits. Number one is to lose weight. According to Harvard Health, losing 5% of your body weight can help to improve abnormal liver tests and decrease fat in the liver. Better yet, reducing body weight by 7-10% may be enough to cool inflammation and heal damaged liver cells. It may even help to reverse fibrosis damage to a certain extent. However, rapid weight loss is not recommended as it can worsen fibrosis and inflammation. One to two pounds a week is ideal.1
Managing high blood sugar, insulin resistance, or type 2 diabetes is crucial as these are closely linked to fatty liver disease. My Heart & Blood Sugar Support Bundle can help. Learn more at the apothecary.
Next is revamping your diet. Eating well is key for liver health and reducing excess fat stores. Some research has found that a whole-food, high-fiber Mediterranean diet helps to lower fatty deposits in the liver. This type of eating focuses on plenty of fruits, vegetables, whole grains, legumes, nuts, olive oil, and fish/lean poultry in lieu of red meat. Interestingly, studies have shown that diets rich in olive oil decrease the accumulation of triglycerides in the blood and liver.2 This is important as high levels of triglycerides in the blood can lead to fatty liver disease.
Specific foods that help to protect and regenerate the liver include:
Egg yolks, due to their high choline content. Some research suggests it may help to prevent NAFLD.5
Blueberries may have protective properties against liver injury.6
Walnuts contain compounds that assist with liver detoxification of ammonia.7
Broccoli, onions, cabbage, Brussels sprouts, leafy greens, and cauliflower are all outstanding for cleansing the liver.
Avocado oil was shown in one study to protect the liver.10
Garlic and ginger both help to protect the liver from toxicity.8,9
Moreover, nutrient-dense and antioxidant-rich foods that decrease inflammation and help to regulate insulin are also important, such as sunflower seeds, almonds, leafy greens (spinach, mustard greens, chicory, arugula, kale), flaxseeds, chia seeds, and green tea.
Additionally, aerobic exercise — such as high-intensity interval training (HIIT), running, swimming, bicycling, etc. — is important for treating or preventing NAFLD. Not only does it assist with weight loss, but vigorous physical activity also helps to lower inflammation. See my post on HIIT for more details about this specific type of exercise.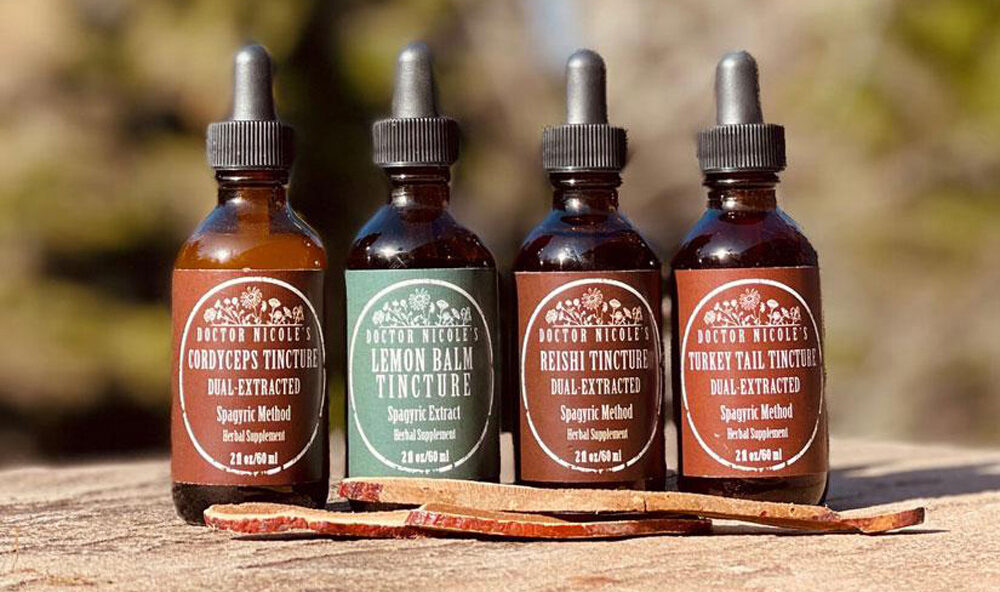 Herbal Solutions
Herbal medicine is also a powerful option for healing fatty liver disease. Dandelion and milk thistle are two of the very best botanicals for encouraging liver health and addressing NAFLD. Both provide vitamins and antioxidants that support a healthy liver. What's more, they protect against toxins, help to heal hemorrhages of the liver, and treat cirrhosis and hepatitis.3,4 In fact, using both these herbs as a tincture blend reversed one woman's liver disease to the point where she no longer needed a liver transplant. Dandelion and milk thistle are that effective!
Of course, managing blood sugar levels and insulin resistance is crucial for reducing the risk of fatty liver disease. Visit the apothecary today and learn how the extracts of cordyceps, reishi, turkey tail, and lemon balm found in my Heart & Blood Sugar Support Bundle can help.
Nicole's Apothecary Products in this Post
Medicinal Herbs and Supplements to Use with Caution
Some studies have found that the following herbs and supplements are protective when used in small amounts, but become toxic to the liver in animal trials with large doses. Currently, it is unknown what the impact is on human liver health. Until more research is done, proceed with caution when using licorice, oregano oil, andrographis, resveratrol, and melatonin.
References
Wynne Armand, MD, "Fatty liver disease: What it is and what to do about it". Harvard Health Publishing, Harvard Medical School, April 14, 2020. https://www.health.harvard.edu/blog/fatty-liver-disease-what-it-is-and-what-to-do-about-it-2019011015746

Assy, N., Nassar, F., Nasser, G., & Grosovski, M. (2009). Olive oil consumption and non-alcoholic fatty liver disease. World journal of gastroenterology, 15(15), 1809–1815. https://doi.org/10.3748/wjg.15.1809

Bijak M. (2017). Silybin, a Major Bioactive Component of Milk Thistle (Silybum marianum L. Gaernt.)-Chemistry, Bioavailability, and Metabolism. Molecules (Basel, Switzerland), 22(11), 1942. https://doi.org/10.3390/molecules22111942

Karimi, G., Vahabzadeh, M., Lari, P., Rashedinia, M., & Moshiri, M. (2011). "Silymarin", a promising pharmacological agent for treatment of diseases. Iranian journal of basic medical sciences, 14(4), 308–317.

Corbin, K. D., & Zeisel, S. H. (2012). Choline metabolism provides novel insights into nonalcoholic fatty liver disease and its progression. Current opinion in gastroenterology, 28(2), 159–165. https://doi.org/10.1097/MOG.0b013e32834e7b4b

Osman, N., Adawi, D., Ahrné, S., Jeppsson, B., & Molin, G. (2007). Endotoxin- and D-galactosamine-induced liver injury improved by the administration of Lactobacillus, Bifidobacterium and blueberry. Digestive and liver disease : official journal of the Italian Society of Gastroenterology and the Italian Association for the Study of the Liver, 39(9), 849–856. https://doi.org/10.1016/j.dld.2007.06.001

Gupta, V., Mah, X. J., Garcia, M. C., Antonypillai, C., & van der Poorten, D. (2015). Oily fish, coffee and walnuts: Dietary treatment for nonalcoholic fatty liver disease. World journal of gastroenterology, 21(37), 10621–10635. https://doi.org/10.3748/wjg.v21.i37.10621

Mashhadi, N. S., Ghiasvand, R., Askari, G., Hariri, M., Darvishi, L., & Mofid, M. R. (2013). Anti-oxidative and anti-inflammatory effects of ginger in health and physical activity: review of current evidence. International journal of preventive medicine, 4(Suppl 1), S36–S42.

Luo, P., Zheng, M., Zhang, R., Zhang, H., Liu, Y., Li, W., Sun, X., Yu, Q., Tipoe, G. L., & Xiao, J. (2021). S-Allylmercaptocysteine improves alcoholic liver disease partly through a direct modulation of insulin receptor signaling. Acta pharmaceutica Sinica. B, 11(3), 668–679. https://doi.org/10.1016/j.apsb.2020.11.006

Garcia-Berumen, C.I., Olmos-Orizaba, B.E., Márquez-Ramírez, C.A., Orozco, A.R.R., González-Cortez, A., Saavedra-Molina, A., Montoya-Pérez, R. and Cortés-Rojo, C. (2019), Avocado Oil Ameliorates Non-Alcoholic Fatty Liver Disease by Down-Regulating Inflammatory Cytokines and Improving Mitochondrial Dynamics. The FASEB Journal, 33: 660.6-660.6. https://doi.org/10.1096/fasebj.2019.33.1_supplement.660.6

Sørensen, M., Jensen, B. R., Poulsen, H. E., Deng, X., Tygstrup, N., Dalhoff, K., & Loft, S. (2001). Effects of a Brussels sprouts extract on oxidative DNA damage and metabolizing enzymes in rat liver. Food and chemical toxicology : an international journal published for the British Industrial Biological Research Association, 39(6), 533–540. https://doi.org/10.1016/s0278-6915(00)00170-8