An Ancient Botanical for Modern Health
While many of us know of the outstanding benefits of elderberry (Sambucus nigra/canadensis) for preventing and reducing the symptoms of influenza, what may come as a surprise is how truly versatile this herb is for a range of health concerns. Ancient Egyptians used elderflowers for healing burns and improving the complexion — and Native Americans found the plant helpful for infections, coughs, and various skin conditions.1 In fact, the use of elderberry dates as far back as 400 BC with Hippocrates ( the "Father of Medicine") calling the plant his "medicine chest".2
Of course, the herb has been long-used in European herbal medicine for centuries and is recognized in modern times as a powerful defense against a host of illnesses. Today, it is often utilized for headaches, joint and muscle pain, severe acute respiratory syndrome, stress, and HIV and AIDS.
But that's not all. Because of the bioactive compounds in this superfruit, it can tame inflammation, protect your heart, fight aging, and reduce the risk of cancer. That is quite the list of beneficial qualities! Let's dig deeper into the research of this multipurpose botanical below.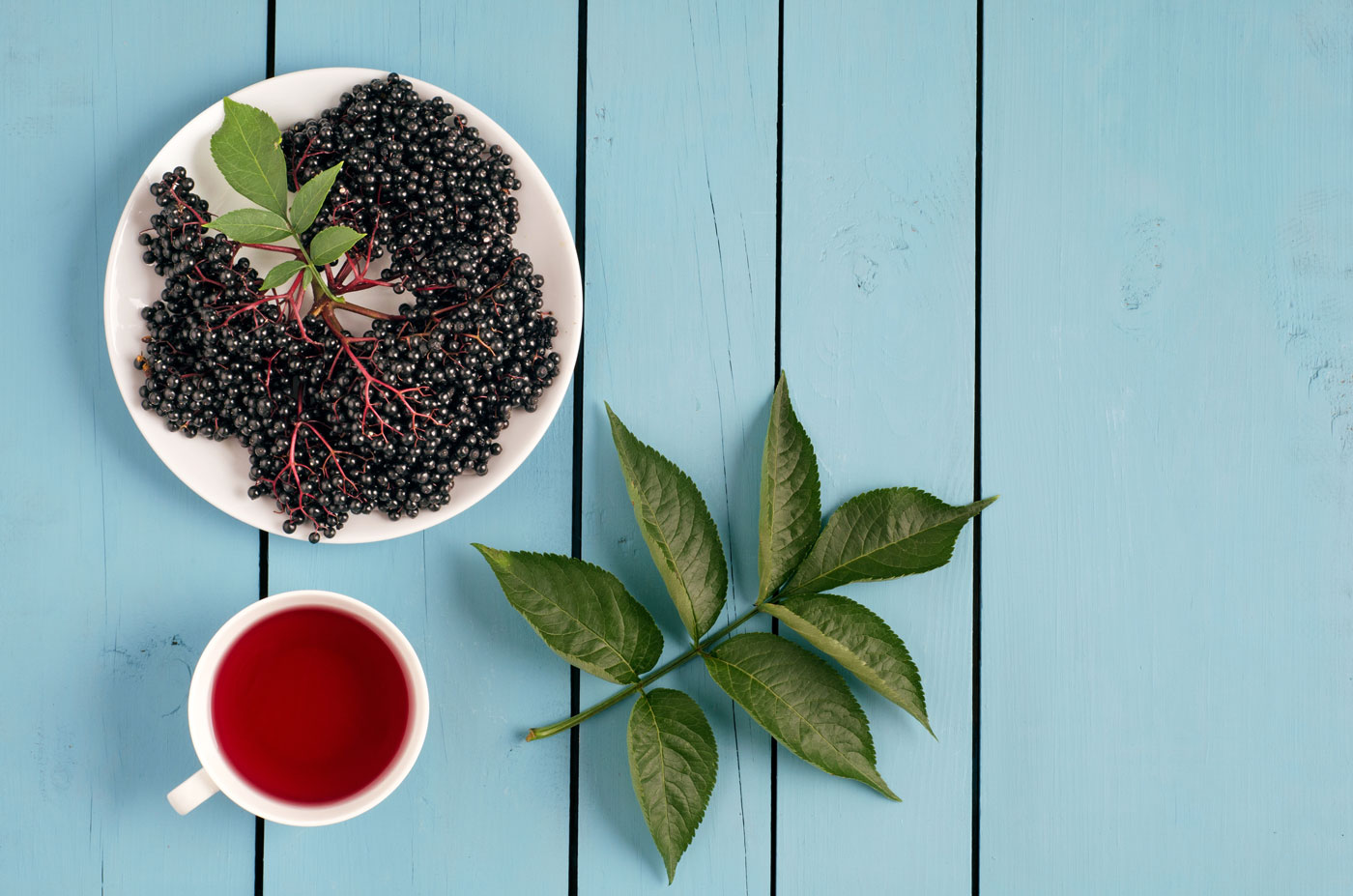 An Anti-Aging Powerhouse
If you are seeking a natural solution to slow aging, elderberry is your plant. Due to its high antioxidant, anthocyanin, and flavonoid profile, elderberry is an outstanding option for fortifying your skin from the inside out. A study published in the journal Cytotechnology found that elderberry protects against UVB-induced skin photoaging and inflammation by providing overall oxidative defense.3 Interestingly, the anthocyanins found in elderberry are 3.5 more powerful than vitamin E in antioxidant capability.4 An extract of the flowers can also be used topically as an extra layer of support to soothe the skin, calm inflammation, and combat free radicals.
Heart-Protective Properties
Elderberry is also helpful for heart health. Research has shown that it can lower the levels of cholesterol and fat in the bloodstream, which in turn reduces the risk of heart disease.5 Moreover, animal studies found that the berry lowers uric acid levels, thereby helping to normalize blood pressure.6 It significantly improves glucose metabolism as well to support cardiovascular health.1
Lowers Cancer Risk
A study published in the Journal of Medicinal Food noted that both European and American elderberry "demonstrated significant chemopreventive potential".8 The team attributed this anti-carcinogenic action to the flavonoids and lipophilic compounds found within the berry. Rich in anthocyanins, elderberry not only helps to protect DNA integrity but is also effective against Helicobacter pylori, a pathogen that can lead to gastric cancer.10 Additionally, researchers found the berry "markedly decreased EOMA cell-induced tumor growth in an in vivo model."10
What's more, elderberry extract has been found to reduce gingivitis, promote weight loss, act as a natural diuretic, decrease HIV viral load, improve mood, alleviate nerve pain and sciatica, and address acute sinus infections.1 It also has immunomodulatory effects.1,9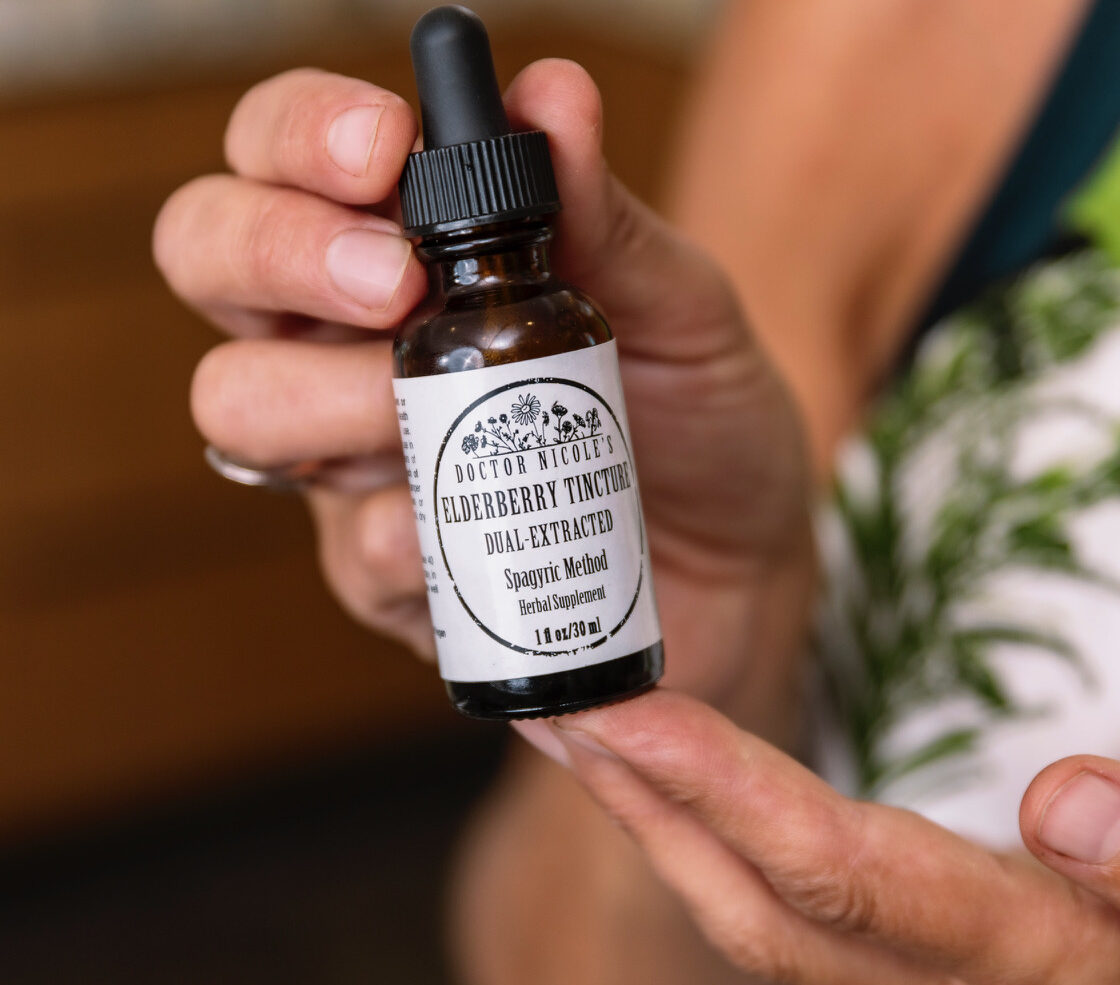 AMAZING IMMUNE BOOSTER AND 'COLD BOMB'

"Whenever I had a trace of starting to feel ill, I started taking [elderberry], and most of the time, the sickness never took hold. The few times it did, it shortened the duration significantly. Now I take it practically every day, because I work in a hospital. I attribute so much of my immune system's new resilience to this tincture, and the Mushroom Fourtress tinctures.

My autoimmune symptoms are lessened, my energy levels are up, and the near-constant brain fog that I grew so accustomed to has become absolutely minimal. When I get sick, this helps me kick it in record time, and it never leaves me feeling sicker, like so many other herbal remedies I've tried in the past." -Jay D Zeitler
Interested in giving elderberry a try? Have a look at our powerful, dual-extracted elderberry tincture in the apothecary.
Nicole's Apothecary Products in this Post
Safety
Unripe or uncooked berries or flowers can cause diarrhea, nausea, and vomiting. Do not use other parts of the tree, including branches, twigs, leaves, roots, and seeds as they contain glycoside, a type of cyanogen that is toxic. Avoid use if you are on diuretic medication. Discontinue if you develop a rash or have difficulties breathing after you have taken elderberry as this may indicate an allergic reaction. Safety during pregnancy or while nursing is unknown. Consult with your healthcare provider before using elderberry if you are undergoing chemotherapy or using immunosuppressant drugs, diuretics, or laxatives.
References
Ulbricht, C., Basch, E., Cheung, L., Goldberg, H., Hammerness, P., Isaac, R., Khalsa, K. P., Romm, A., Rychlik, I., Varghese, M., Weissner, W., Windsor, R. C., & Wortley, J. (2014). An evidence-based systematic review of elderberry and elderflower (Sambucus nigra) by the Natural Standard Research Collaboration. Journal of dietary supplements, 11(1), 80–120. https://www.researchgate.net/publication/259696401_An_Evidence-Based_Systematic_Review_of_Elderberry_and_Elderflower_Sambucus_nigra_by_the_Natural_Standard_Research_Collaboration

"Elderberry", WebMD Editorial Contributors, Medically Reviewed by Neha Pathak, MD, WebMD, September 21, 2022. https://www.webmd.com/diet/elderberry-health-benefits

Lin, P., Hwang, E., Ngo, H. T. T., Seo, S. A., & Yi, T. H. (2019). Sambucus nigra L. ameliorates UVB-induced photoaging and inflammatory response in human skin keratinocytes. Cytotechnology, 71(5), 1003–1017. https://doi.org/10.1007/s10616-019-00342-1

Loizzo, M. R., Pugliese, A., Bonesi, M., Tenuta, M. C., Menichini, F., Xiao, J., & Tundis, R. (2016). Edible Flowers: A Rich Source of Phytochemicals with Antioxidant and Hypoglycemic Properties. Journal of agricultural and food chemistry, 64(12), 2467–2474. https://doi.org/10.1021/acs.jafc.5b03092

Wang, X., Ouyang, Y. Y., Liu, J., & Zhao, G. (2014). Flavonoid intake and risk of CVD: a systematic review and meta-analysis of prospective cohort studies. The British journal of nutrition, 111(1), 1–11. https://doi.org/10.1017/S000711451300278X

Kuwabara M. (2016). Hyperuricemia, Cardiovascular Disease, and Hypertension. Pulse (Basel, Switzerland), 3(3-4), 242–252. https://doi.org/10.1159/000443769

Andrzej Sidor, Anna Gramza-Michałowska. Advanced research on the antioxidant and health benefit of elderberry (Sambucus nigra) in food – a review, Journal of Functional Foods, Volume 18, Part B, 2015. https://doi.org/10.1016/j.jff.2014.07.012.

Thole, J. M., Kraft, T. F., Sueiro, L. A., Kang, Y. H., Gills, J. J., Cuendet, M., Pezzuto, J. M., Seigler, D. S., & Lila, M. A. (2006). A comparative evaluation of the anticancer properties of European and American elderberry fruits. Journal of medicinal food, 9(4), 498–504. https://doi.org/10.1089/jmf.2006.9.498

Mahmoudi, M., Ebrahimzadeh, M. A., Dooshan, A., Arimi, A., Ghasemi, N., & Fathiazad, F. (2014). Antidepressant activities of Sambucus ebulus and Sambucus nigra. European review for medical and pharmacological sciences, 18(22), 3350–3353.

Zafra-Stone, S., Yasmin, T., Bagchi, M., Chatterjee, A., Vinson, J. A., & Bagchi, D. (2007). Berry anthocyanins as novel antioxidants in human health and disease prevention. Molecular nutrition & food research, 51(6), 675–683. https://doi.org/10.1002/mnfr.200700002