White Pine: The "Tree of Peace" for Respiratory Health, Arthritis, and More!
Basic Identification
Known as eastern white pine, northern white pine, white pine, and soft pine, the Native American tribe Haudenosaunee called it the "Tree of Peace". It is a large conifer that can grow 150 feet (45.7 meters) high and up to 40 inches (100 cm) in diameter. White pine has a triangular-shaped crown and plate-like branching. The bark is thin, smooth and greenish-brown when the tree is young, but becomes deeply fissured and dark grayish-brown as it becomes older. The evergreen needles are bluish-green, soft and flexible and grow in bundles of five, 2.5 to 5 inches (6.25 cm to 12.5 cm) long. The cones range from 4 to 8 inches (10 cm to 20 cm) long and around one inch (2.5 cm) thick.
Where Does It Grow? White pine is native to Eastern North America and parts of the midwest.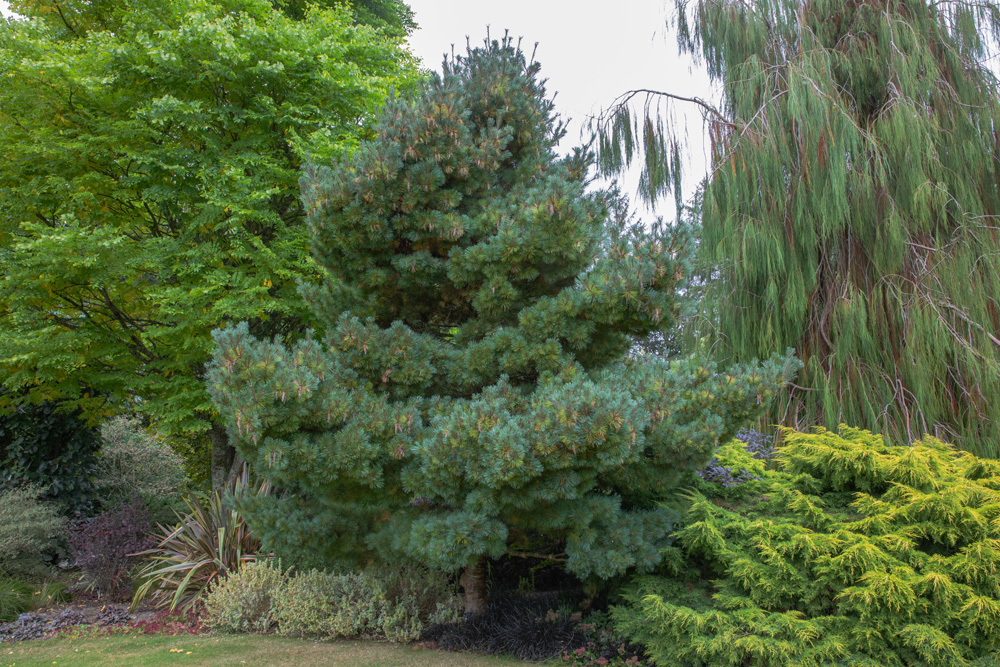 Harvesting Advice
For white pine fruit, collect the cone in autumn just as the scales begin to open, but before they have released their small winged seeds. Allow the cones to dry, then pull them apart to harvest the seeds. Store in an airtight container in the refrigerator.
In the spring, harvest the inner bark when new growth is starting. Select a young branch that is around 2-3 years old. Remove it from the tree and peel off the outer bark, then dry the inner bark for later use.
The resin can be collected by locating a tree where there is sap dripping down. You can also "wound" the tree and return to harvest the pitch later — just make sure you ask the owner of the property first. Always be mindful to leave plenty of sap for the tree.
Edible Use: The young shoots, inner bark, needles, and seeds are edible and can be consumed as a tea or condiment. When the inner bark is dried, it can be ground into a flour and used in baking or as a thickener.
Recipe. White Pine Tea: You will need one cup filtered water and one handful of fresh pine needles. Make sure you collect needles that are vibrant green and flexible. Finely chop the needles and bring the water to a boil. Add the needles and reduce heat to a simmer. Cover and let steep for 3-4 minutes. Remove from heat and keep covered. The tea is ready when the needles have sunk to the bottom and the tea has cooled. Strain and enjoy!
Alternatively, you can brew your tea in an espresso maker. The advantages of this process is that it will help to extract the highest amount of beneficial compounds from the needles. Simply grind the needles in a spice grinder with enough to fill the espresso basket, then brew according to your machine's instructions.
Medicinal Uses: The inner bark, needles, and sap/pitch can be used for medicine. Due to its high tannin level and other medicinal compounds, the inner bark is considered the most valuable. Pine resin is a powerful antibiotic and can be used internally or externally by applying it to wounds and inflammations.You can read more about the medicinal benefits of white pine in this post.
Here are my top 3 uses for white pine:
Addressing Respiratory Complaints. Containing mucilage and other helpful medicinal compounds, the inner bark of white pine helps to relax the mucous membranes and open the respiratory tract. It is an effective expectorant that reduces phlegm so that it can be expelled. You can add white pine bark to a steam bath to relieve congestion. Do not use with dry coughs.
Preventative for Colds and Influenza. During the winter months when viral illness is making the rounds, I like to consume white pine needle or bark tea as an extra layer of protection. Traditionally, white pine is used to boost immunity as it is a good source of vitamins A and C. I combine the tea with blue elderberry for best results. A convenient dual-extracted elderberry tincture is available in the apothecary.
Soothing Arthritis and Joint Pain. An excellent remedy for relieving arthritis and joint pain, white pine pitch/sap can be boiled in water to use internally. For external applications, mix the resin with oil or fat, then apply topically to the joint.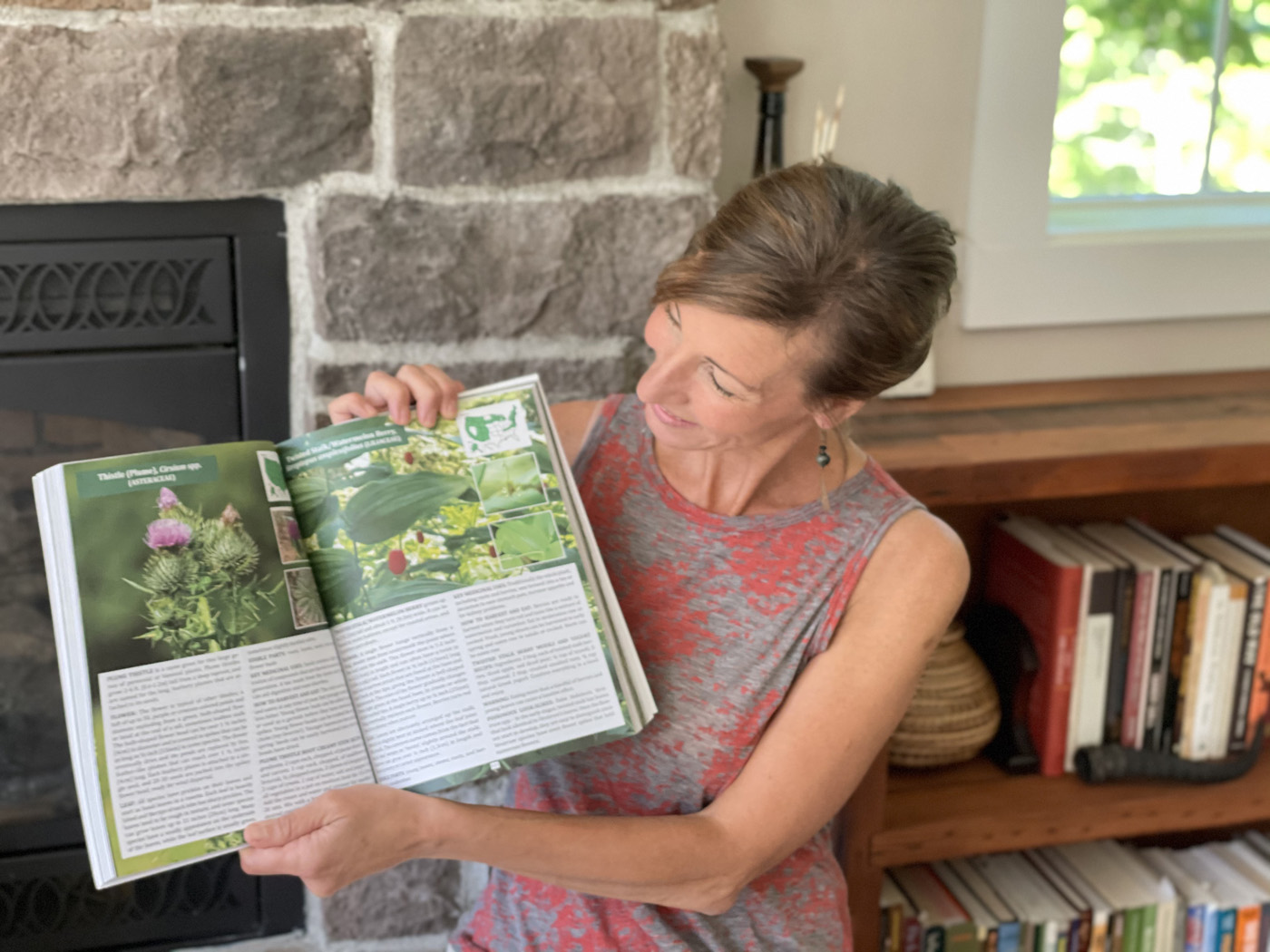 The Ultimate Guide to Wild Foods
Learn more about white pine and over 400 medicinal and edible wild foods in my new book, "The Forager's Guide to Wild Foods: Edible Plants, Lichens, Mushrooms, and Seaweeds".
This wild food guide covers a wide-range of plants across North America. Each entry has an introduction, a range map, edible uses, common medicinal uses, poisonous look-alikes, a description of the flowers and leaves for ID, excellent color photos, harvesting instructions, and a simple recipe. We went through great lengths to print this book in color with HUGE pictures for each plant to make it easy to identify.
To purchase, tap here and scroll to the bottom of the page, then select "Physical & Digital Product" – the middle button – to get your copy today!
Nicole's Apothecary Products in this Post
Safety
Some are sensitive to pine resin and can develop dermatitis — discontinue use if a reaction occurs. Poisonous look-alikes to keep an eye out for are American Yew, Taxus canadensis, Yew Pine, and Podocarpus macrophyllus.