An All-Around Herbal Wonder, Oregon Grape Tackles Cancer, Infectious Illness, and Much More!
On my property we have Oregon Grape growing in the backyard and use it often — it is an exceptionally versatile plant! UTI's, skin infections, severe respiratory syndrome, the flu — Oregon Grape has you covered. What's more, it is also effective against cancer, HIV, inflammation, blood sugar issues, and difficult to treat MRSA infections. If you want to stay healthy during the cold and influenza season and beyond, this is certainly one herb you will want to get to know!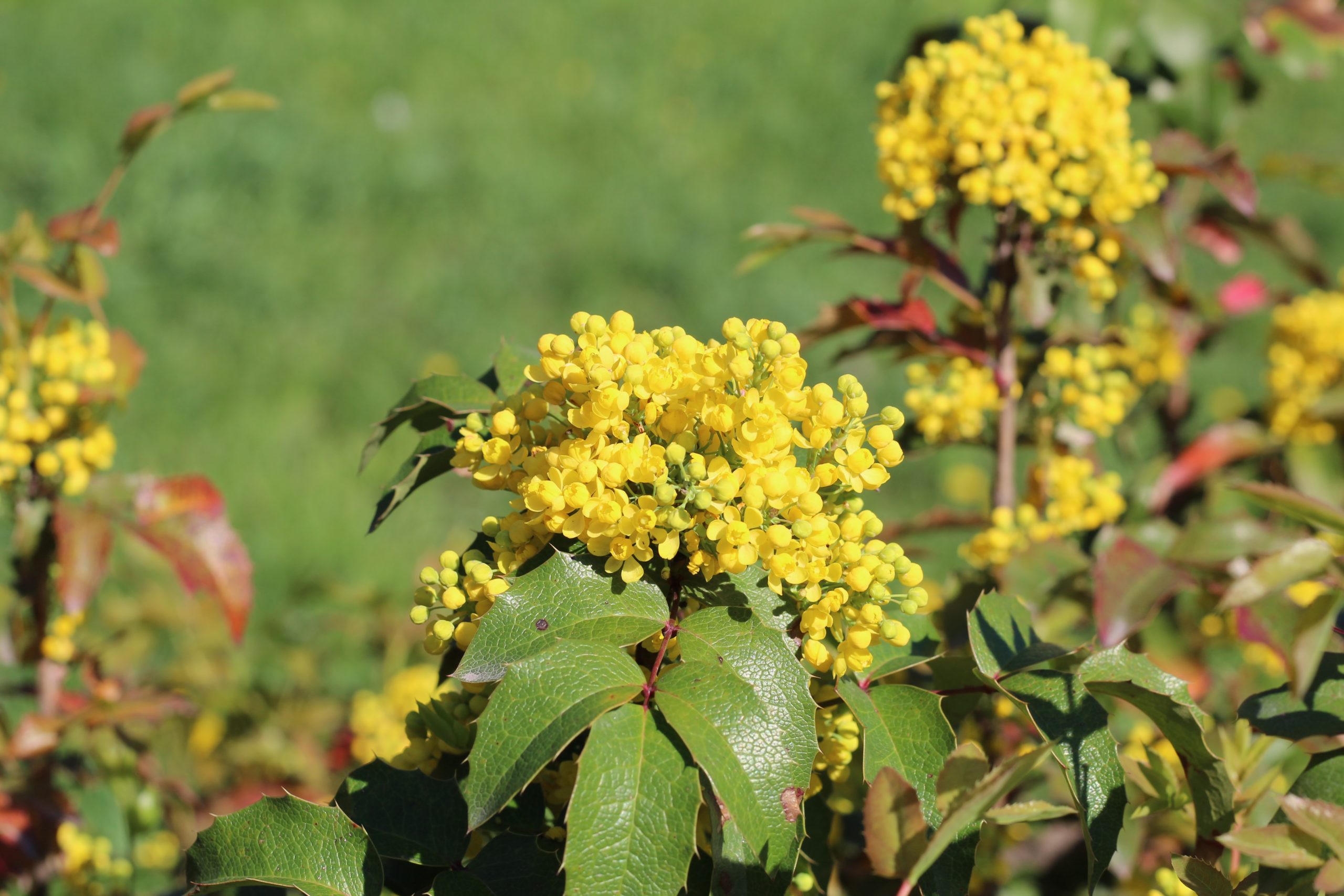 Basic Identification
Sometimes called Oregon grape holly, mountain grape, or hollyleaved barberry, this upright shrub grows up to 6 feet (1.8 meters) high and has dark green, shiny leaflets that resemble spiky holly leaves. They have compound pinnate leaves that measure about 12 inches (30 cm) long with 7-9 leaflets. New leaves begin as bronze colored before turning bright green. In autumn the leaves often take on beautiful red and burgundy hues. Small yellow flowers are grouped at the tips of the branches and produce dark blue berries as they mature that grow in small, grape-like clusters. The root of the plant is yellow in color.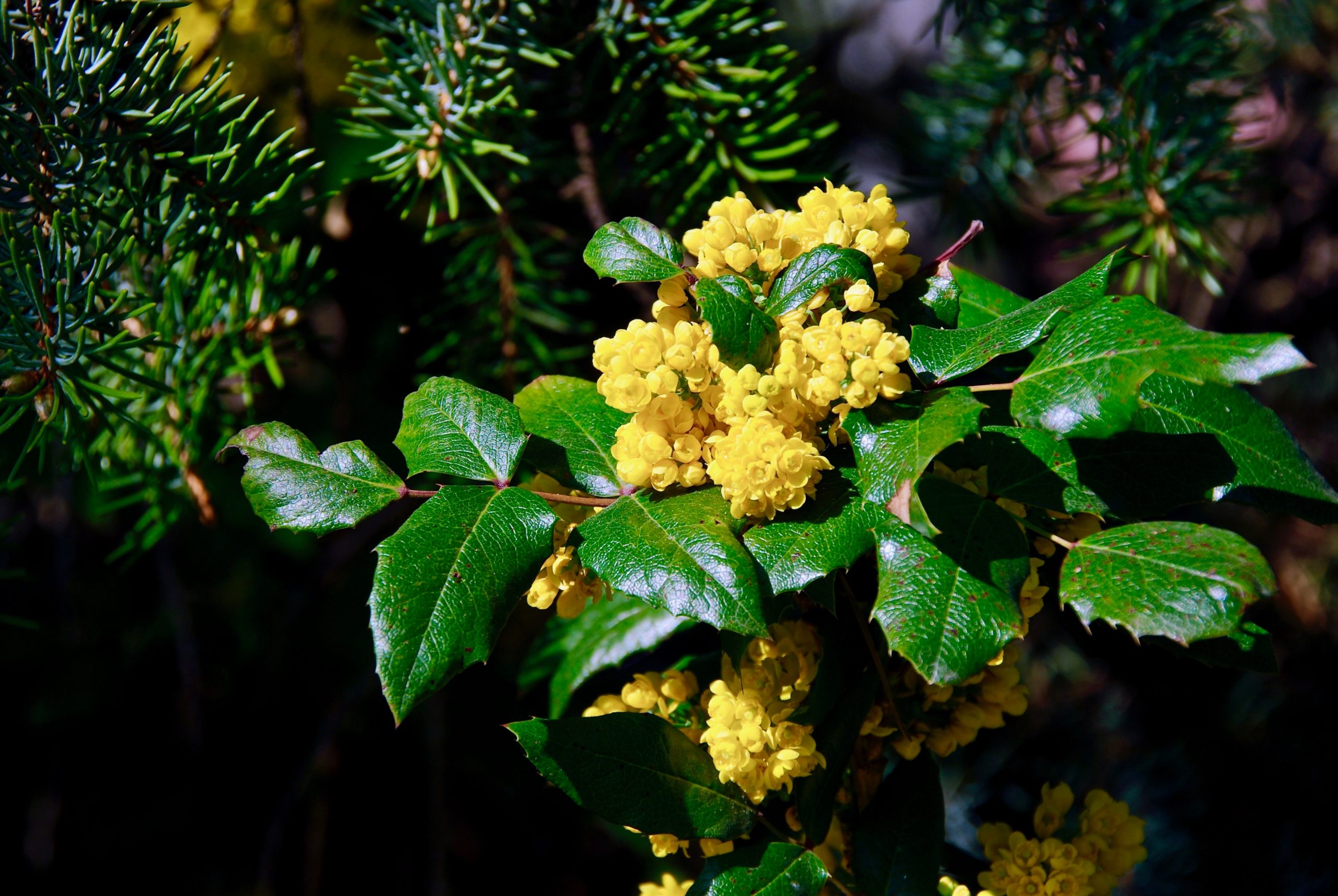 Where Does It Grow?
Oregon Grape grows in California and throughout the forest understory of the Pacific NW in North America.
Harvesting
Yellow flowers emerge in spring and are lightly scented. The deep blue berries are typically ready for harvest between July and September. Seek out older plants that are at least a year old where they have attained their full height and produced fruit. Harvest the roots in the fall by digging up the entire root system. Then replant the crown roots and any other unused parts so that they can grow again.
Edible Uses
The exceptionally tart berries are edible, although they contain large seeds. They are useful for making jelly or wine. The flowers are edible as well.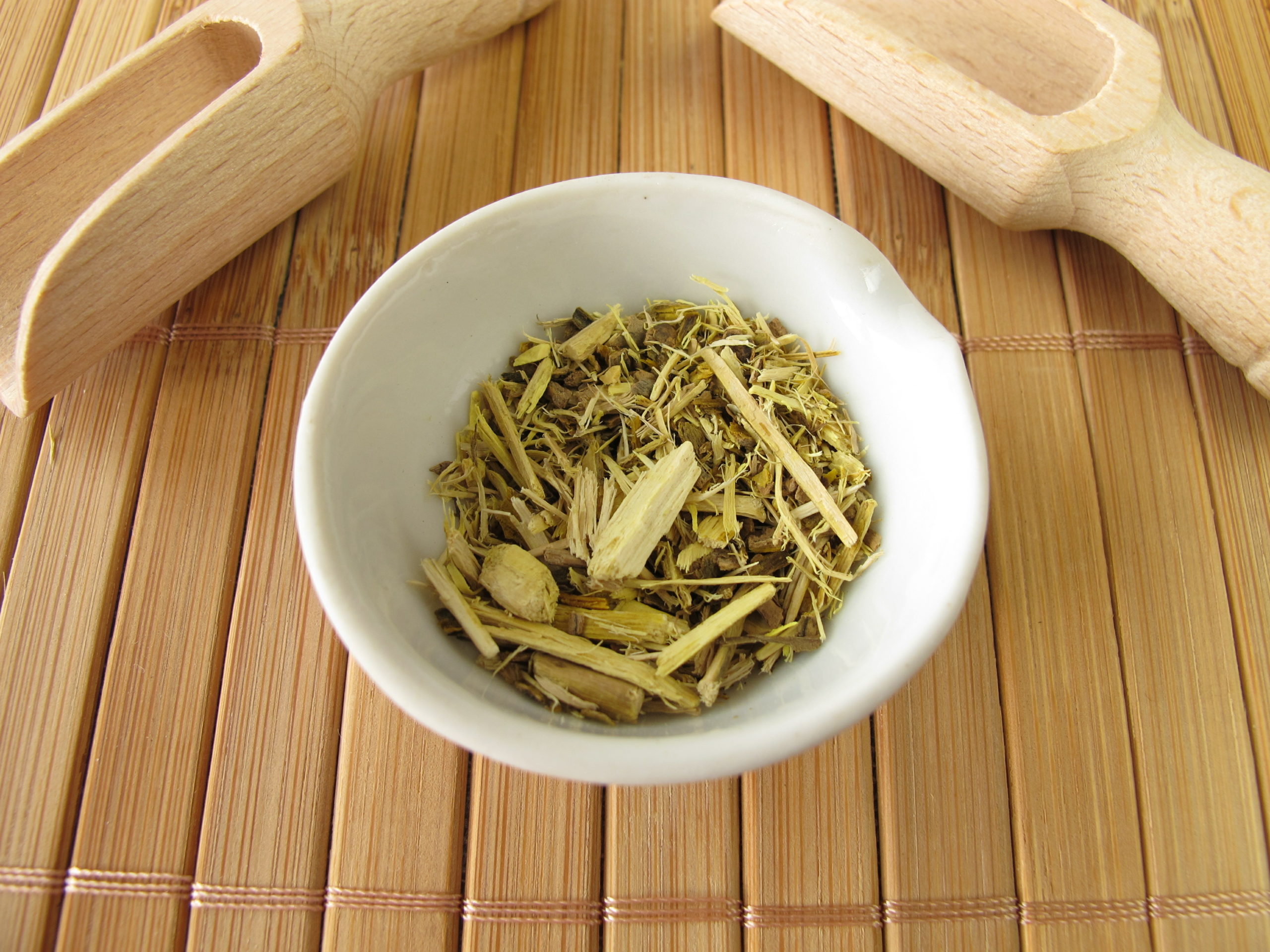 Medicinal Uses
The root of Oregon Grape is used medicinally as it contains berberine. This alkaloid is anti fungal, antibacterial, and antiviral. It also regulates blood sugar and metabolism, lowers cholesterol, is neuroprotective, an ACE inhibitor, anti-parasite, and anti-cancer. Additionally, berberine is an ACE inhibitor.
Recipe. Oregon Grape Root Tea. 1/2-ounce Oregon Grape root, dried and crushed, 1-quart (1 L) water. Combine the root and water in a pot with a tight-fitting lid. Bring to a boil and turn the heat down to a slow simmer. Simmer the tea for 10 to 15 minutes. Strain out the root and enjoy!
Here are my top 3 uses for Oregon Grape:
Antibacterial, Antiviral, Anti-Inflammatory. As an antimicrobial powerhouse, Oregon Grape truly shines. It helps to clear urinary tract, bladder, and lung infections, as well as staph, strep, MRSA, and more. The berberine in the herb acts as a neuraminidase inhibitor, which interferes with viral replication and the inflammatory response due to infection, thereby decreasing the production of inflammatory cytokines. It is known to be effective against herpes, Zika, HIV, and influenza A (including H1N1/Swine Flu). Importantly, studies over the last several years have shown that berberine is helpful against severe acute respiratory syndrome as it helps to modulate the immune system, inhibits viral replication, and calms hyper inflammatory "cytokine storms".1,2,3
Fungal Infections, Wounds, and Skin Conditions. Oregon Grape can be used both internally and externally to treat a range of skin issues — including acne, psoriasis, eczema, herpes, fungal infections, and wounds.
Anti-Cancer/Tumor. Helping to inhibit tumor growth, Oregon Grape can be used in conjunction with modern cancer therapies as it has a similar effect as the drug Metformin in activating AMPK-AMP protein kinase.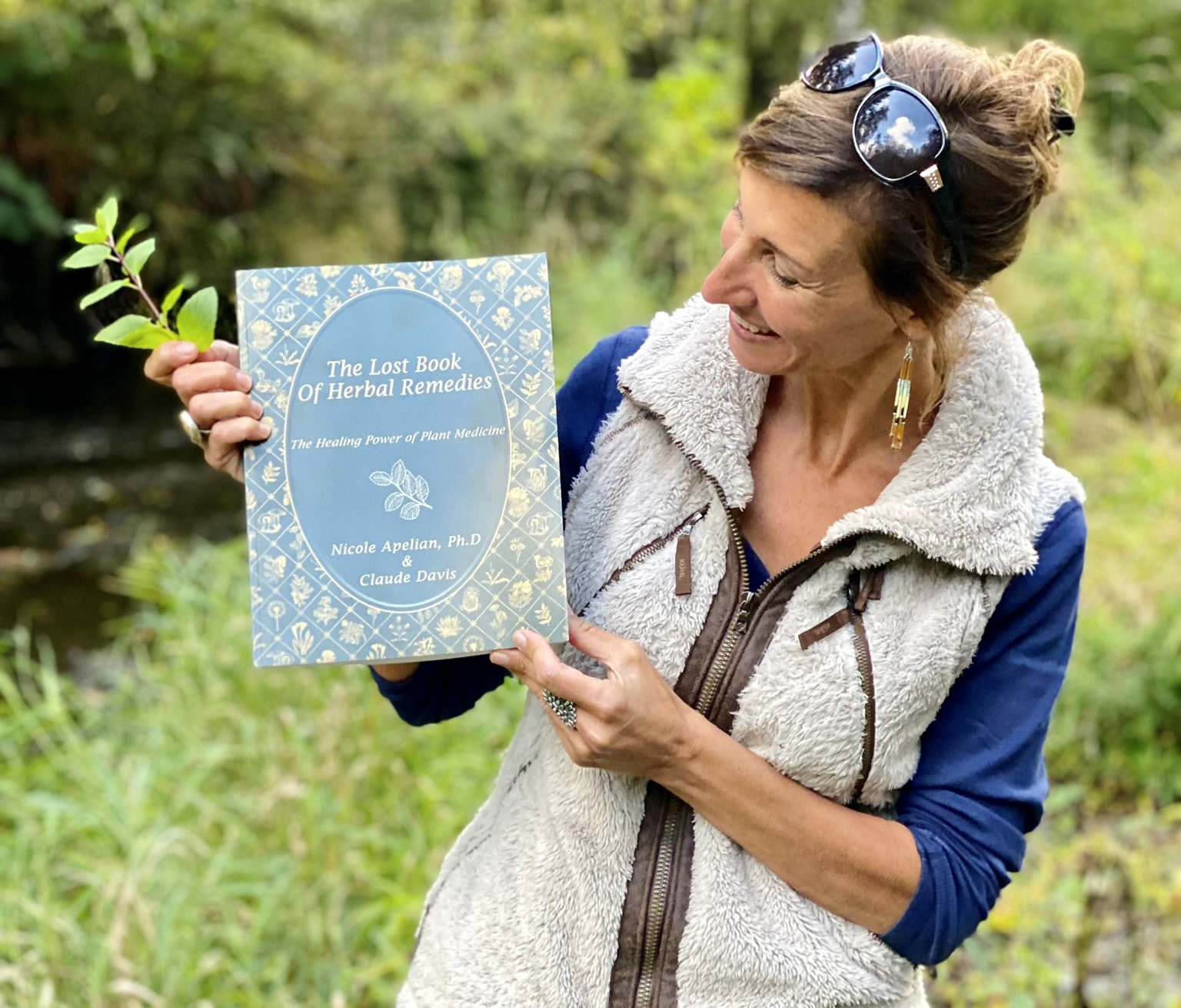 Deepen Your Knowledge of Herbal Medicine
But that's not all. There are over 37 medicinal uses for Oregon Grape in my book, The Lost Book of Herbal Remedies: The Healing Power of Plant Medicine. Detailed harvesting advice for this herb and many other easy to find plants are included. What's more, it shows you how to make tinctures, decoctions, oil infusions, salves, poultices and more right in your own home. Nature does indeed provide!
Safety
Do not use supplements that contain berberine, including Oregon Grape, during pregnancy or nursing. Limit berries to reasonable servings and be careful not to over consume.
References
Babalghith, A. O., Al-Kuraishy, H. M., Al-Gareeb, A. I., De Waard, M., Al-Hamash, S. M., Jean-Marc, S., Negm, W. A., & Batiha, G. E. (2022). The role of berberine in Covid-19: potential adjunct therapy. Inflammopharmacology, 30(6), 2003–2016. https://doi.org/10.1007/s10787-022-01080-1
Wang, Z. Z., Li, K., Maskey, A. R., Huang, W., Toutov, A. A., Yang, N., Srivastava, K., Geliebter, J., Tiwari, R., Miao, M., & Li, X. M. (2021). A small molecule compound berberine as an orally active therapeutic candidate against COVID-19 and SARS: A computational and mechanistic study. FASEB journal : official publication of the Federation of American Societies for Experimental Biology, 35(4), e21360. https://doi.org/10.1096/fj.202001792R
Majdalawieh, A. F., Yousef, S. M., Abu-Yousef, I. A., & Nasrallah, G. K. (2022). Immunomodulatory and Anti-Inflammatory Effects of Berberine in Lung Tissue and its Potential Application in Prophylaxis and Treatment of COVID-19. Frontiers in bioscience (Landmark edition), 27(5), 166. https://doi.org/10.31083/j.fbl2705166