The Path of Healing
When I began the journey into herbalism for managing my multiple sclerosis, I didn't know where the path would take me. Today I'm enjoying exceptional health and my MS has stopped progressing. I credit this to lifestyle, diet, exercise, reducing stress, medicinal herbs, and specific supplements. All play an important role in managing my MS.
One of the wonderful surprises of this healing journey is how often I hear from readers who have experienced remarkable healing from autoimmunity and other health issues through the products in my Apothecary and the information on my blog.
I can't tell you how happy this makes me.
It brings me great joy to know that others have benefited from my own journey of healing. Recently I received a message that confirmed the transformative power of herbal remedies. I hope you find it helpful and inspiring!
Life-Changing for Me
"Nicole, I've been meaning to message you for weeks. Your tinctures have literally changed my life in only the month or so I've been taking them.

I had been going through nearly a year of daily morning panic attacks. Within a week, my panic attacks (and anxiety in general) were GONE, which was a miracle to me in itself. I can't tell you how grateful I am for you and your products.

We have both ordered your book [The Lost Book of Herbal Remedies] and I've told everyone I know.

You are 100% an answer to prayers.

I've also got my uncle on the Anxiety & Stress Tincture, two friends and now my dad just purchased some yesterday. My uncle also uses the pain salve [Joint & Movement Salve] for his shoulder and told me the first night he slept better than he has in months. I'm a walking billboard now!"

– Amanda L.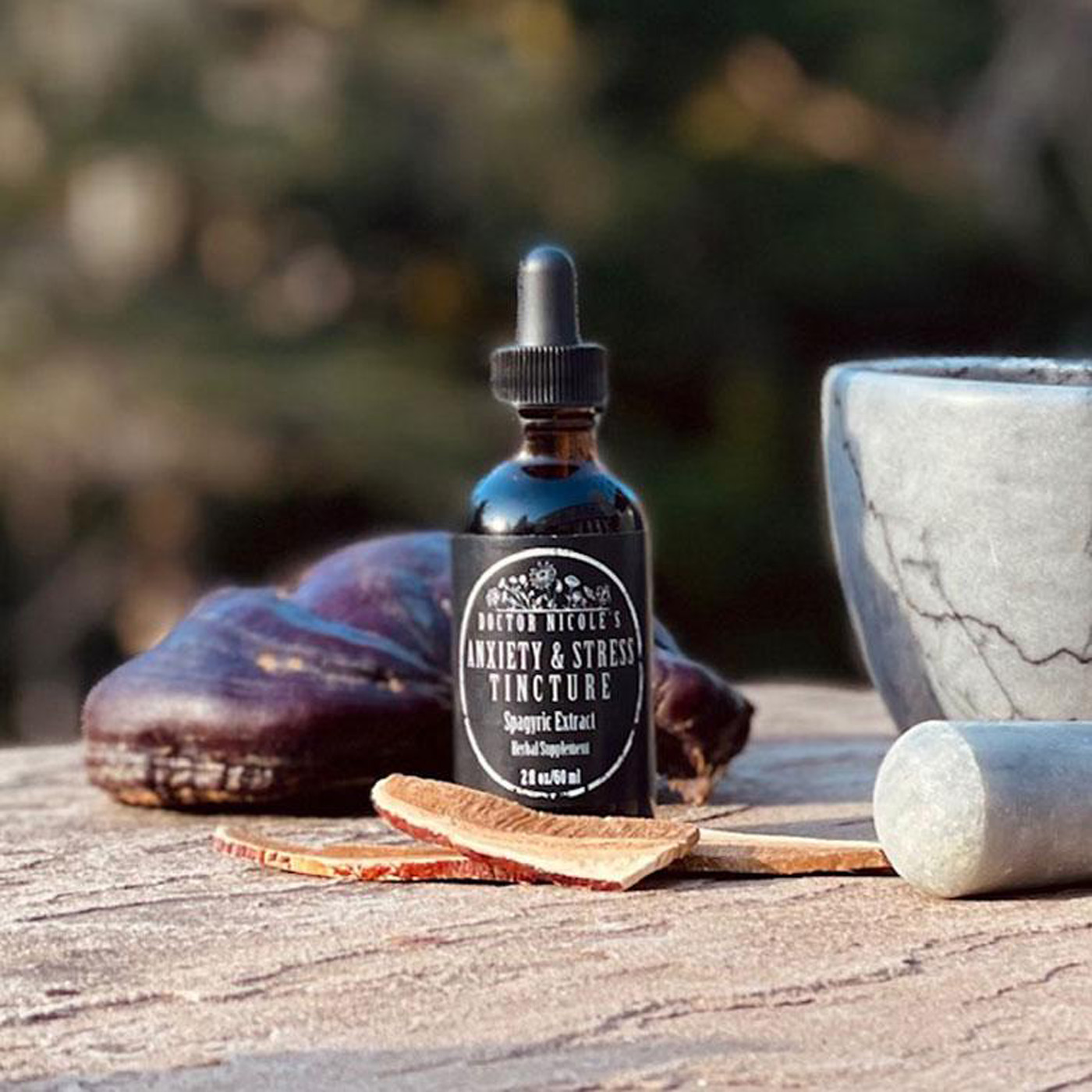 Healing Herbal Formulations
I specifically formulated my Anxiety & Stress Tincture to not only ease the mental and emotional pressures of modern living, but also to help us adapt to stress in a healthy way. Many studies have shown that chronic stress—whether physical, mental, or emotional—can devastate health over time. This is why I have included two powerful adaptogens—ashwagandha and reishi mushroom—to help fortify you against the negative health effects of stress.
I also included lemon balm as it assists with calming the nervous system and encourages a sense of serenity, while lion's mane mushroom addresses a number of mental health issues, including: insomnia, anxiety, depression, dementia, and irritation. It's an exceptional medicinal herb for improving concentration and overall brain function too.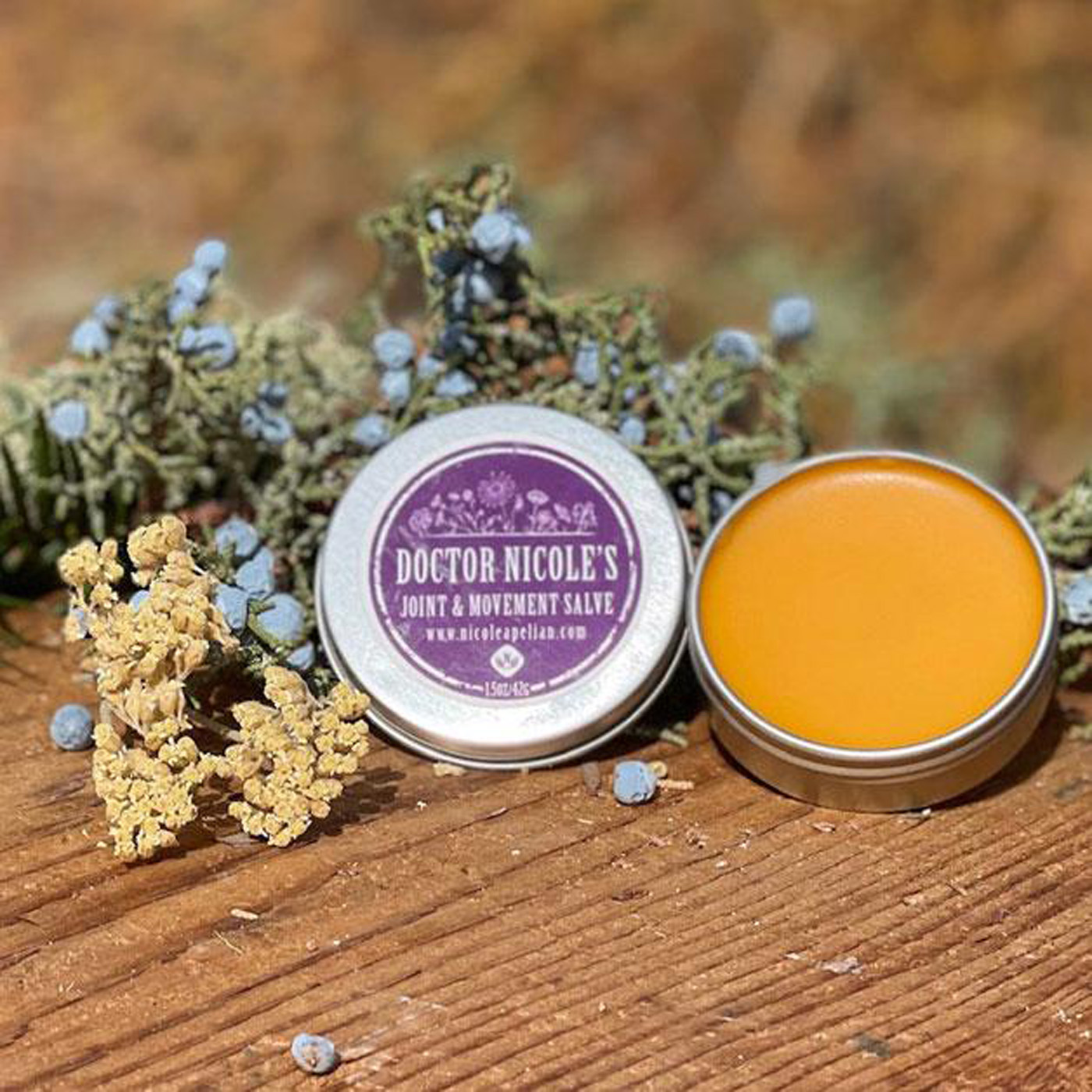 When I created my Joint & Movement Salve, I knew that it needed to incorporate herbs that were known for their strong pain-relieving and anti-inflammatory qualities. I chose calendula for this reason. Arnica also assists with muscle aches, as well as sprains, inflammation, and swelling. St. John's wort is excellent for back, muscle, and nerve pain along with general aches.
Additionally, I included Balm of Gilead, which is made from the buds of the cottonwood tree and are high in salicylic acids. It is very effective for easing pain and inflammation in joints, muscles, arthritis, and carpal tunnel. Cayenne is another useful herb for achy muscles and joints. It increases blood circulation, creates warmth, and is an outstanding botanical for relaxing the muscles and relieving pain. I also selected frankincense and helichrysum to lower inflammation. The former calms pain as well.
You can read more about the additional health benefits of these botanicals by tapping the linked text. Many of these herbs are also detailed in my book, The Lost Book of Herbal Remedies: The Healing Power of Plant Medicine.
A Deeper Knowledge of Medicinal Plants
For those of you interested in gaining a deeper knowledge of herbal remedies, I encourage you to subscribe to my newsletter, in which I talk about different plants, their medicinal properties and uses as well as updates about my apothecary and classes. Please visit my homepage at nicoleapelian.com to sign up.
Wishing you the best in health!