Not Just for Parasites. Black Walnut Improves Brain Health, Tackles Viruses, and Much More!
Black walnut is well-known as an anti-parasitic herb and yet it offers so much more! Not only is it a tasty and nutritious food in its own right, but it also helps to protect against neurological diseases such as Parkinson's, Alzheimer's, and Lou Gehrig's disease (ALS); fortifies cardiovascular health; reduces the risk of some forms of cancer; treats skin conditions — including warts, eczema, psoriasis, and acne; assists with weight loss; and inhibits the replication of viruses such as HPV and HIV. If you live in the eastern region of North America or in Europe, there is a very good chance you have a black walnut tree growing nearby — and autumn is when these nuts are ripe for harvest!
Basic Identification
Black Walnut trees grow to an impressive 100 feet (30 meters) tall and have a straight trunk with bark that is grayish-black with deep ridges in a diamond pattern. It typically does not have lower branching, only an oval-shaped top crown. Leaves are dark green and smooth on the topside, while the underside is hairy. The terminal buds are 1/4 inch (0.75 cm) long and have an oval shape. The male flowers appear first and drop catkins from the previous year's growth. Female flowers appear on new growth. The fruit (nuts) begin to ripen in the autumn and fall to the ground in October or November, making for an easy harvest. The outer husk is greenish-brown. The nut generally doesn't have an odor, unlike the rest of the parts of the tree, which are spicy to pungent in scent.
Where Does It Grow? Black Walnut is found abundantly throughout the Eastern region of North America and in Europe.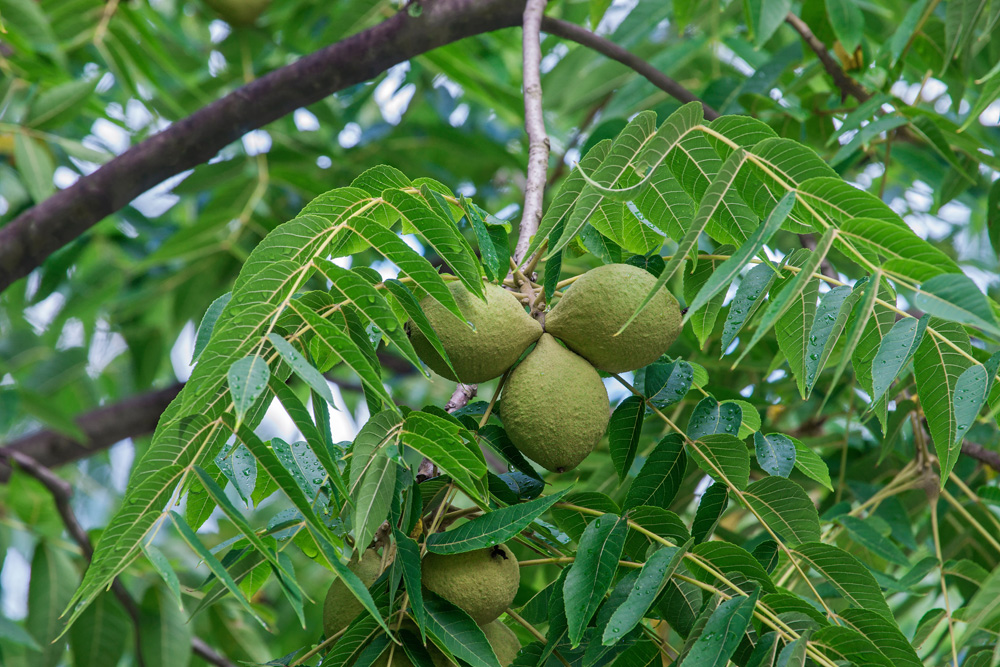 Harvesting
Since black walnuts stain your hands, it's best to wear gloves when harvesting or shelling. Only collect nuts that have fallen to the ground as those that are still on the tree are unripe. Remove the hull and eat fresh or you can dry them for later use. Make sure to save the husk for use in poultices, tinctures, or as a powder.
To store in their shells, let the nuts dry in a single layer for a few days after harvest. It's important the space is dry and squirrel-proof. To crack the shells, use a hammer or nut cracker, then remove the nut meat. Black walnut leaves can be harvested and used year round.
Edible Uses
Black walnuts can be eaten raw or toasted. The nut has a wonderfully rich and sweet flavor. You can tap the trunk for sap, which can be drunk as is or boiled into a concentrated syrup or sugar. The hulls can be used as a dark dye.
Medicinal Uses
Black walnut is anti fungal, anti-inflammatory, astringent, laxative, antiviral, a pain killer, and anti-parasitic. I use the green hulls medicinally, instead of the mature black hulls, as they are more potent.
Recipe. Black Walnut Hull Tincture. Ingredients: Ground walnut hulls and vodka or another 80 proof or higher alcohol. Fill a clean, dry jar with a tight fighting lid ⅓ full with ground walnut hulls. Pour 80 proof or higher vodka or other alcohol over the hulls to within 1⁄2 inch (1.25 cm) of the top. Cover tightly and place the jar in a cool, dark place. Shake the jar every few days. Watch the alcohol level and add more if needed. Soak the hulls for 6 to 8 weeks. When ready, strain the mixture through a fine sieve or cheesecloth. Squeeze out all the liquid. Discard the hulls. Place the covered alcohol extract in a cool place undisturbed overnight. The following morning, strain again through a coffee filter or decant to remove any remaining hull residue. Store the tincture in a tightly capped glass bottle in a cool, dark place. When properly stored, it will last five years or more.
Here are my top 3 uses for Black Walnut:
Protective against neurological disorders. Rich in ellagitannins, a type of polyphenol, black walnut extract has demonstrated significant anti-inflammatory and free-radical fighting properties. A study in the journal Critical Reviews in Food Science and Nutrition found that these compounds helps to protect against the onset and progression of neurological disorders, including Parkinson's, Alzheimer's, and ALS.1
Reduces the risk of cancer. Research has shown that black walnut lowers the risk of liver, stomach, and prostate cancer. Rich in a bioactive compound called juglone, several studies have shown that it significantly reduces tumor growth.4,5,6 In vivo studies found the extract effectively prevented cancer cells from multiplying. The team discovered that two compounds, chloroform and ethyl acetate, were particularly effective in hindering the proliferation of liver cancer cells.2 Another study published in the International Journal of Food Properties identified y-tocopherol in black walnuts, which is known to inhibit the tumor growth of prostate cancer cells.3
Anti-viral properties. Black walnut shows promise in defeating viral infections and illness — including difficult to treat human papillomavirus (HPV), herpes, and human immunodeficiency virus (HIV). A study published in Phytotherapy Research found that juglone slows the multiplication of the HIV virus. If you've been exposed to or infected by HIV try black walnut hull tincture. The roots and buds also contain juglone, although it is not soluble in water, so you will need to use an 80-proof or higher alcohol to extract the compound.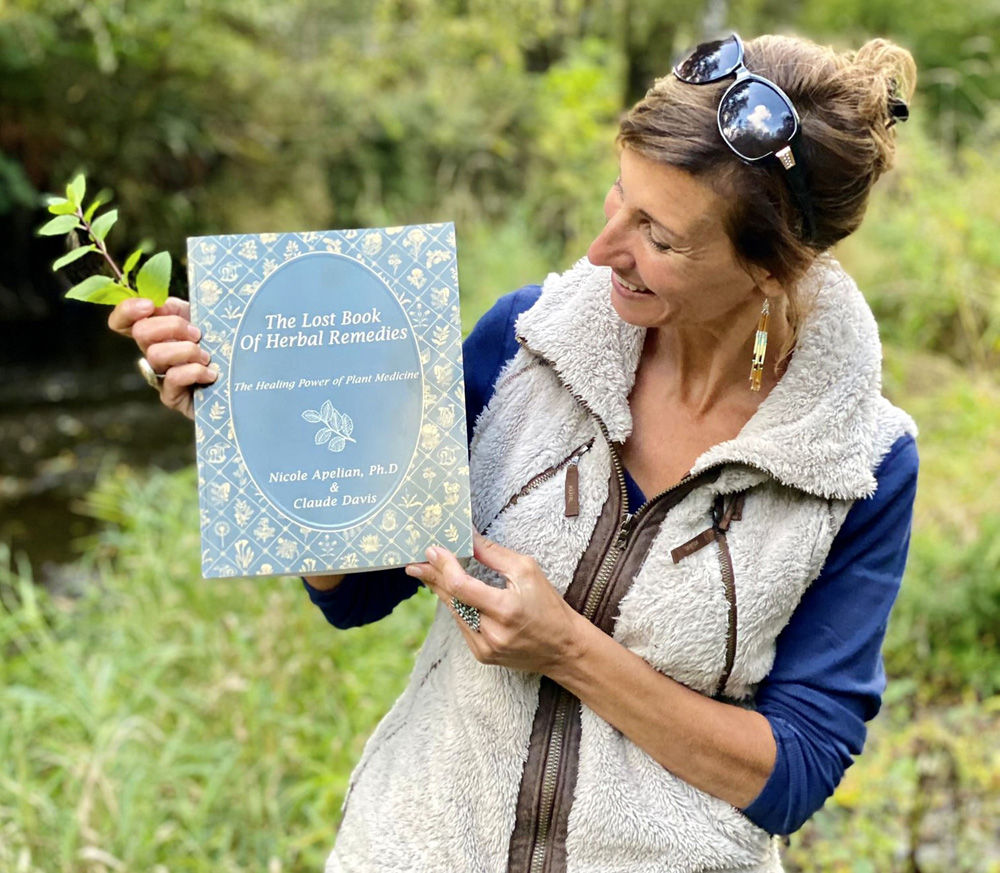 Deepen Your Knowledge of Herbal Remedies
But that's not all. There are over 10 medicinal uses for black walnut in my book, The Lost Book of Herbal Remedies: The Healing Power of Plant Medicine. Detailed harvesting advice for this herb and many other easy to find plants are included. What's more, it shows you how to make tinctures, decoctions, infusions, and much more right in your own home. Nature does indeed provide!
Safety
While side effects are rare with black walnut, nut allergies are common. Black walnut should not be used by those allergic to tree nuts. Since safety has not been established, do not use it if pregnant or nursing.
References
Claudia Sánchez-González, Carlos J. Ciudad, Véronique Noé & Maria Izquierdo-Pulido

(2017)

Health benefits of walnut polyphenols: An exploration beyond their lipid profile,

Critical Reviews in Food Science and Nutrition,

57:16,3373-3383,

DOI: 10.1080/10408398.2015.1126218

Arvind Singh Negi, Suaib Luqman, Suchita Srivastava, Vinay Krishna, Namita Gupta & Mahendra Pandurang Darokar(2011)

Antiproliferative and antioxidant activities of

Juglans regia

fruit extracts,

Pharmaceutical Biology,

49:6,

669-673,

DOI: 10.3109/13880209.2010.537666

Cristiane Rodrigues Silva Câmara & Vicki Schlegel

(2016)

A Review on the Potential Human Health Benefits of the Black Walnut: A Comparison with the English Walnuts and Other Tree Nuts,

International Journal of Food Properties,

19:10,

2175-2189,

DOI: 10.1080/10942912.2015.1114951

Xu, H. L., Yu, X. F., Qu, S. C., Qu, X. R., Jiang, Y. F., & Sui, d. (2012). Juglone, from Juglans mandshruica Maxim, inhibits growth and induces apoptosis in human leukemia cell HL-60 through a reactive oxygen species-dependent mechanism.

Food and chemical toxicology : an international journal published for the British Industrial Biological Research Association

,

50

(3-4), 590–596. https://doi.org/10.1016/j.fct.2012.01.002

Aithal, B. K., Kumar, M. R., Rao, B. N., Udupa, N., & Rao, B. S. (2009). Juglone, a naphthoquinone from walnut, exerts cytotoxic and genotoxic effects against cultured melanoma tumor cells.

Cell biology international

,

33

(10), 1039–1049. https://doi.org/10.1016/j.cellbi.2009.06.018

Aithal, B. K., Sunil Kumar, M. R., Rao, B. N., Upadhya, R., Prabhu, V., Shavi, G., Arumugam, K., Sajankila, S. P., Udupa, N., Satyamoorthy, K., & Satish Rao, B. S. (2011). Evaluation of pharmacokinetic, biodistribution, pharmacodynamic, and toxicity profile of free juglone and its sterically stabilized liposomes.

Journal of pharmaceutical sciences

,

100

(8), 3517–3528. https://doi.org/10.1002/jps.22573