The Surprising Benefits of Chai Tea
As the weather shifts to the crisp days of autumn, I find myself reaching for more warming drinks during this time. And one of my favorites is non-dairy chai tea. Not only is this drink a delicious way to enjoy the season, but it is also brimming with beneficial herbs that can help ease joint pain and muscle aches that often go hand-in-hand with cooler weather. What's more, if you struggle with chronic inflammation, chai tea can help! In this post we will explore some of the best herbs to use in autumn — plus, I will share a simple chai recipe so you can reap all of the impressive health benefits for yourself.
My 6 Favorite Spices for Autumn
Licorice root. A wonderful adaptogenic herb, licorice root contains coumarins, triterpenoids, glabrene, and polyphenols that are antibacterial, antiviral, anti-inflammatory, and natural steroids.17 It is an excellent herb for colds, influenza, coughs, leaky gut, acid reflux, heartburn, menopause symptoms, reducing inflammation, and much more. 18,19,20
Cardamom. Rich in beneficial compounds that fight inflammation, this sweet spice is an outstanding addition to your diet. Studies have show that eating cardamom powder decreased liver inflammation and cooled the overall inflammatory response due to the abundant antioxidants found in the spice.1,2 Research has found it may also be helpful for protecting the liver, reducing anxiety, encouraging weight loss, lowering blood pressure and blood sugar levels, and fighting cancer.3,4,5,6,7
Ginger. As a potent anti-inflammatory, ginger has been found to help reduce the pain and stiffness of osteoarthritis.21 It can also help to fight infections, prevent cognitive decline, reduce cancer risk, and soothe indigestion.22,23,24,25
Star anise. Containing an array of beneficial compounds, such as linalool, quercetin, anethole, shikimic acid, gallic acid, and limonene, star anise truly shines as a health-promoting spice. It has strong anti-inflammatory, antiviral, anti-fungal, and antibacterial properties.27 What's more, some research has found it helps to protect against cancer.26
Cinnamon. One of our most beloved spices, cinnamon is loaded with antioxidants and anti-inflammatory compounds that help to lower your risk of disease.8 It is also antibacterial, anti-fungal, antiviral, and protects the brain.11,12,13 Moreover, cinnamon is well-known for its ability to improve insulin sensitivity and lower blood sugar levels.15,16 Additionally, it may help guard against heart disease and cancer.9,10 Look for Ceylon ("true" cinnamon) instead of the more common cassia variety as it has lower levels of a compound called coumarin, which can be harmful in large doses.14
Cloves. Considered a warming herb in Ayurveda, cloves are brimming with antioxidants and other compounds that may protect against cancer, regulate blood sugar levels, destroy bacteria, reduce inflammation, and improve liver health.28,29,30,31 The inflammation-taming properties of cloves are attributed to eugenol, a compound that has been shown to calm the inflammatory response.
Black tea also has several beneficial properties. With high antioxidant values, black tea may help to reduce the risk of diabetes, obesity, high cholesterol, and high blood sugar.32 Interestingly, black tea can also help you to focus — without the same jittery effect as coffee. Researchers attribute this to the calming neurotransmitter L-theanine found in tea.33
For additional inspiration on how to boost health during the autumn season, see this post.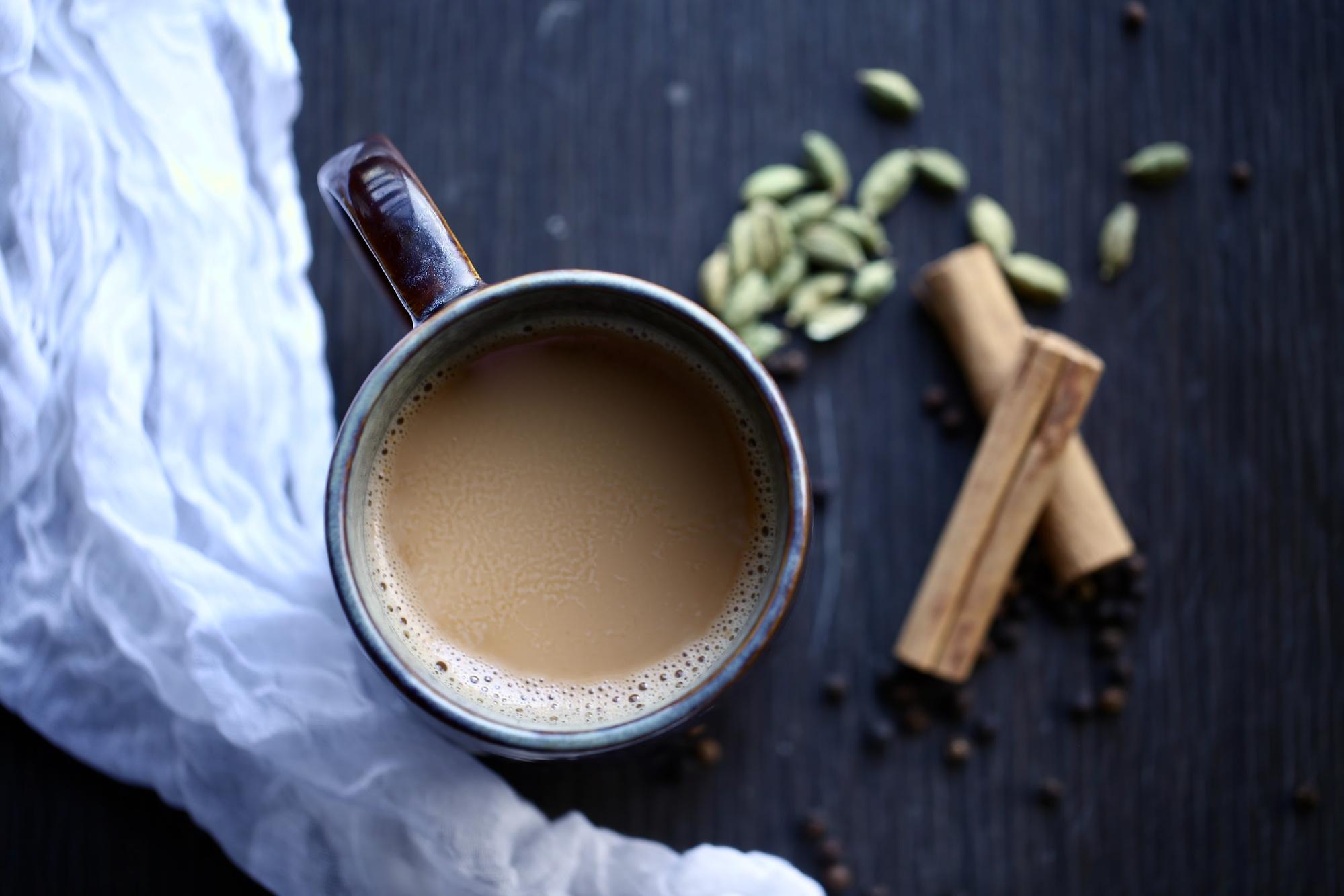 Anti-Inflammatory Chai Tea Recipe
I like to make a big pot of this chai and keep it on a low simmer throughout the day. As the ultimate anti-inflammatory tea, this chai keeps me going during the brisk, busy days of autumn.
4 cups filtered water
2 tablespoons dried licorice root, shredded or chopped
5 crushed cardamom pods
2-inch piece of fresh ginger, peeled and chopped
3 whole star anise
1 stick of cinnamon
1/2 tablespoon whole cloves
4 tablespoons loose black tea or loose red rooibos tea
2 cups unsweetened almond, hemp, or coconut milk
Stevia or monk fruit to taste
Simmer licorice, cardamon, ginger, anise, cinnamon, and cloves in the water for 15-20 minutes, covered. Remove from heat, add black tea, cover, and allow to steep for 3 minutes. Strain and return the brew to the pot. Add non-dairy milk of choice, plus stevia or monk fruit to taste. Warm over medium heat for a minute or two before enjoying.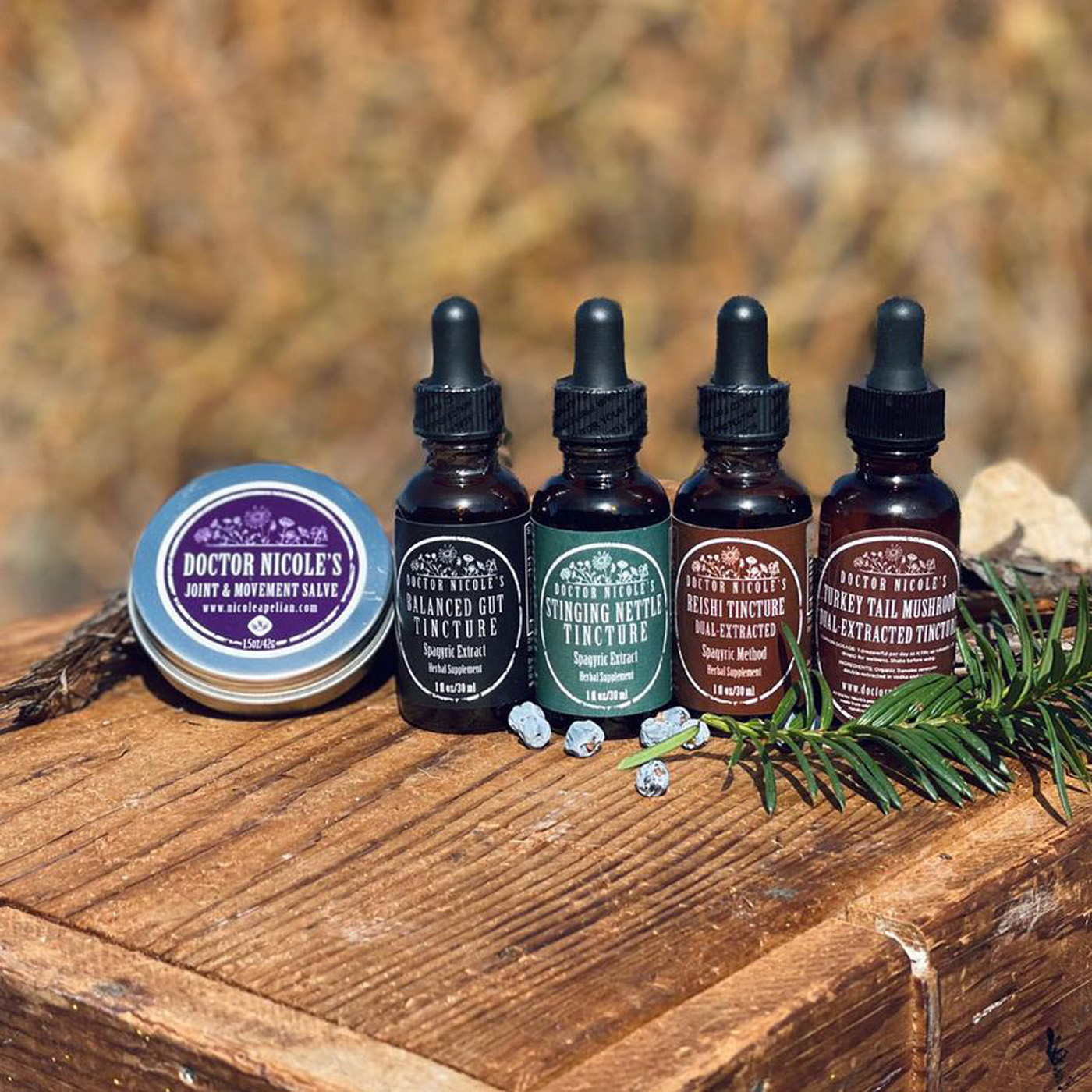 Inflammation: The Hidden Enemy and How to (Naturally) Defeat It
In addition to enjoying a mug of steaming-hot chai tea, there is no better all-natural option than our Joint & Movement Bundle for powerful relief from inflammation, pain, and arthritis.
If you suffer from mobility and pain issues due to an autoimmune condition or another health concern, this bundle can help alleviate discomfort, inflammation, and an overactive immune system. It contains dual-extracted Reishi and Turkey Tail medicinal mushroom tinctures to calm autoimmunity and inflammation; a Balanced Gut formulation to help heal a compromised gut and reduce stress on autoimmune systems; as well as Stinging Nettle tincture to cool inflammation, lower the histamine response, and improve circulation.
Additionally, this bundle includes our popular Joint & Movement Salve that's considered a miracle worker by many of our happy customers. It contains powerful herbs that support pain relief and reduce inflammation from sore and inflamed muscles, tendons, and joints.
RELIEF FROM BURNING FEET

"I also have MS – and use this [Joint & Movement Salve] on my burning feet and it takes away the sensation immediately!!! Definitely recommending it to others I know with MS!!!" -Stephanie D.
If you are seeking plant-based solutions for inflammation, pain, arthritis, and more, visit the apothecary today and experience for yourself the power of herbal remedies!
Safety
Licorice: Long-term use or high doses can have serious side effects. Most of the side effects are due to the presence of glycyrrhizin, so using DGL licorice reduces the risks.
Watch for these symptoms: low levels of potassium in the body, hypokalemia, muscle weakness, fluid retention and swelling, metabolism abnormalities, high blood pressure, heart rhythm irregularities, erectile dysfunction, potential drug interactions.
Pregnant or breastfeeding women should avoid licorice in all forms. Patients who are prone to hypertension should also avoid licorice root.
Also avoid use of licorice root if you have heart, liver, or kidney problems. Stop taking licorice root at least two weeks before surgery.
Cinnamon: Coumarin may increase cancer risk in animals. More research in needed for humans. Coumarin may also cause liver damage in large amounts. Some people have an allergy to cinnamaldehyde, a compound found in cinnamon. The reaction usually presents as mouth sores. As always, please check with your doctor for possible medication interactions.
Cardamom: While generally recognized as safe when used in cooking, children and women who are pregnant or breastfeeding should consult with their healthcare professional before using cardamom supplements as safety has not been established.
Ginger: For most, ginger is safe to consume in moderation. If ingesting large doses, it can cause diarrhea, heartburn, abdominal upset, and mouth and throat irritation.
Star anise: It is crucial to make sure you are sourcing pure Chinese star anise, as Japanese star anise contains potent neurotoxins that can lead to seizures, hallucinations, and nausea. Both varieties look identical, so it is important to trust your source. There have been cases of commercially available Chinese star anise being contaminated with the Japanese variety, so if you are not 100% certain of the purity, it is best to only use small amounts at a time to avoid possible toxicity. For this reason, do not give star anise to infants or children.
Cloves: Excessive amounts of clove oil (roughly 2-6 teaspoons) can be toxic to your liver. Some are allergic to eugenol, resulting in a rash or welts. Moderation is key.
Nicole's Apothecary Products in this Post
References
Conner, E. M., & Grisham, M. B. (1996). Inflammation, free radicals, and antioxidants. Nutrition (Burbank, Los Angeles County, Calif.), 12(4), 274–277. https://doi.org/10.1016/s0899-9007(96)00000-8

Rahman, M. M., Alam, M. N., Ulla, A., Sumi, F. A., Subhan, N., Khan, T., Sikder, B., Hossain, H., Reza, H. M., & Alam, M. A. (2017). Cardamom powder supplementation prevents obesity, improves glucose intolerance, inflammation and oxidative stress in liver of high carbohydrate high fat diet induced obese rats. Lipids in health and disease, 16(1), 151. https://doi.org/10.1186/s12944-017-0539-x

Rahman, M. M., Alam, M. N., Ulla, A., Sumi, F. A., Subhan, N., Khan, T., Sikder, B., Hossain, H., Reza, H. M., & Alam, M. A. (2017). Cardamom powder supplementation prevents obesity, improves glucose intolerance, inflammation and oxidative stress in liver of high carbohydrate high fat diet induced obese rats. Lipids in health and disease, 16(1), 151. https://doi.org/10.1186/s12944-017-0539-x

Nitasha Bhat, G. M., Nayak, N., Vinodraj, K., Chandralekha, N., Mathai, P., & Cherian, J. (2015). Comparison of the efficacy of cardamom (Elettaria cardamomum) with pioglitazone on dexamethasone-induced hepatic steatosis, dyslipidemia, and hyperglycemia in albino rats. Journal of advanced pharmaceutical technology & research, 6(3), 136–140. https://doi.org/10.4103/2231-4040.157981

Fatemeh, Y., Siassi, F., Rahimi, A., Koohdani, F., Doostan, F., Qorbani, M., & Sotoudeh, G. (2017). The effect of cardamom supplementation on serum lipids, glycemic indices and blood pressure in overweight and obese pre-diabetic women: a randomized controlled trial. Journal of diabetes and metabolic disorders, 16, 40. https://doi.org/10.1186/s40200-017-0320-8

Rahman, M. M., Alam, M. N., Ulla, A., Sumi, F. A., Subhan, N., Khan, T., Sikder, B., Hossain, H., Reza, H. M., & Alam, M. A. (2017). Cardamom powder supplementation prevents obesity, improves glucose intolerance, inflammation and oxidative stress in liver of high carbohydrate high fat diet induced obese rats. Lipids in health and disease, 16(1), 151. https://doi.org/10.1186/s12944-017-0539-x

Majdalawieh, A. F., & Carr, R. I. (2010). In vitro investigation of the potential immunomodulatory and anti-cancer activities of black pepper (Piper nigrum) and cardamom (Elettaria cardamomum). Journal of medicinal food, 13(2), 371–381. https://doi.org/10.1089/jmf.2009.1131

Zhu, C., Yan, H., Zheng, Y., Santos, H. O., Macit, M. S., & Zhao, K. (2020). Impact of Cinnamon Supplementation on cardiometabolic Biomarkers of Inflammation and Oxidative Stress: A Systematic Review and Meta-Analysis of Randomized Controlled Trials. Complementary therapies in medicine, 53, 102517. https://doi.org/10.1016/j.ctim.2020.102517

Nakayama, J., Konno, Y., Maruyama, A., Tomita, M., & Makinoshima, H. (2022). Cinnamon bark extract suppresses metastatic dissemination of cancer cells through inhibition of glycolytic metabolism. Journal of natural medicines, 76(3), 686–692. https://doi.org/10.1007/s11418-022-01624-3

Nakayama, J., Konno, Y., Maruyama, A., Tomita, M., & Makinoshima, H. (2022). Cinnamon bark extract suppresses metastatic dissemination of cancer cells through inhibition of glycolytic metabolism. Journal of natural medicines, 76(3), 686–692. https://doi.org/10.1007/s11418-022-01624-3

Nakayama, J., Konno, Y., Maruyama, A., Tomita, M., & Makinoshima, H. (2022). Cinnamon bark extract suppresses metastatic dissemination of cancer cells through inhibition of glycolytic metabolism. Journal of natural medicines, 76(3), 686–692. https://doi.org/10.1007/s11418-022-01624-3

Oriola, A. O., & Oyedeji, A. O. (2022). Plant-Derived Natural Products as Lead Agents against Common Respiratory Diseases. Molecules (Basel, Switzerland), 27(10), 3054. https://doi.org/10.3390/molecules27103054

Rahman, M. M., Mosaddik, A., & Alam, A. K. (2021). Traditional foods with their constituent's antiviral and immune system modulating properties. Heliyon, 7(1), e05957. https://doi.org/10.1016/j.heliyon.2021.e05957

Lončar, M., Jakovljević, M., Šubarić, D., Pavlić, M., Buzjak Služek, V., Cindrić, I., & Molnar, M. (2020). Coumarins in Food and Methods of Their Determination. Foods (Basel, Switzerland), 9(5), 645. https://doi.org/10.3390/foods9050645

Silva, M. L., Bernardo, M. A., Singh, J., & de Mesquita, M. F. (2022). Cinnamon as a Complementary Therapeutic Approach for Dysglycemia and Dyslipidemia Control in Type 2 Diabetes Mellitus and Its Molecular Mechanism of Action: A Review. Nutrients, 14(13), 2773. https://doi.org/10.3390/nu14132773

Santos, H. O., & da Silva, G. A. R. (2018). To what extent does cinnamon administration improve the glycemic and lipid profiles?. Clinical nutrition ESPEN, 27, 1–9. https://doi.org/10.1016/j.clnesp.2018.07.011

Wang, L., Yang, R., Yuan, B., Liu, Y., & Liu, C. (2015). The antiviral and antimicrobial activities of licorice, a widely-used Chinese herb. Acta pharmaceutica Sinica. B, 5(4), 310–315. https://doi.org/10.1016/j.apsb.2015.05.005

Di Pierro, F., Gatti, M., Rapacioli, G., & Ivaldi, L. (2013). Outcomes in patients with nonerosive reflux disease treated with a proton pump inhibitor and alginic acid ± glycyrrhetinic acid and anthocyanosides. Clinical and experimental gastroenterology, 6, 27–33. https://doi.org/10.2147/CEG.S42512

Nahidi, F., Zare, E., Mojab, F., & Alavi-Majd, H. (2012). Effects of licorice on relief and recurrence of menopausal hot flashes. Iranian journal of pharmaceutical research : IJPR, 11(2), 541–548.

Yang, Y., Shi, Q., Liu, Z., Li, R. J., Pan, P. W., Hou, Y. Y., Lu, W. G., & Bai, G. (2010). The synergistic anti-asthmatic effects of glycyrrhizin and salbutamol. Acta pharmacologica Sinica, 31(4), 443–449. https://doi.org/10.1038/aps.2009.207

Bartels, E. M., Folmer, V. N., Bliddal, H., Altman, R. D., Juhl, C., Tarp, S., Zhang, W., & Christensen, R. (2015). Efficacy and safety of ginger in osteoarthritis patients: a meta-analysis of randomized placebo-controlled trials. Osteoarthritis and cartilage, 23(1), 13–21. https://doi.org/10.1016/j.joca.2014.09.024

Akullo, J. O., Kiage, B., Nakimbugwe, D., & Kinyuru, J. (2022). Effect of aqueous and organic solvent extraction on in-vitro antimicrobial activity of two varieties of fresh ginger (Zingiber officinale) and garlic (Allium sativum). Heliyon, 8(9), e10457. https://doi.org/10.1016/j.heliyon.2022.e10457

Azam, F., Amer, A. M., Abulifa, A. R., & Elzwawi, M. M. (2014). Ginger components as new leads for the design and development of novel multi-targeted anti-Alzheimer's drugs: a computational investigation. Drug design, development and therapy, 8, 2045–2059. https://doi.org/10.2147/DDDT.S67778

Prasad, S., & Tyagi, A. K. (2015). Ginger and its constituents: role in prevention and treatment of gastrointestinal cancer. Gastroenterology research and practice, 2015, 142979. https://doi.org/10.1155/2015/142979

Giacosa, A., Guido, D., Grassi, M., Riva, A., Morazzoni, P., Bombardelli, E., Perna, S., Faliva, M. A., & Rondanelli, M. (2015). The Effect of Ginger (Zingiber officinalis) and Artichoke (Cynara cardunculus) Extract Supplementation on Functional Dyspepsia: A Randomised, Double-Blind, and Placebo-Controlled Clinical Trial. Evidence-based complementary and alternative medicine : eCAM, 2015, 915087. https://doi.org/10.1155/2015/915087

Butt, M. S., Naz, A., Sultan, M. T., & Qayyum, M. M. (2013). Anti-oncogenic perspectives of spices/herbs: A comprehensive review. EXCLI journal, 12, 1043–1065.

Soher E. Aly, Bassem A. Sabry, Mohamed S. Shaheen, Amal S. Hathout, Assessment of antimycotoxigenic and antioxidant activity of star anise (Illicium verum) in vitro, Journal of the Saudi Society of Agricultural Sciences,Volume 15, Issue 1, 2016, Pages 20-27. https://doi.org/10.1016/j.jssas.2014.05.003.

Al-Okbi, S. Y., Mohamed, D. A., Hamed, T. E., & Edris, A. E. (2014). Protective effect of clove oil and eugenol microemulsions on fatty liver and dyslipidemia as components of metabolic syndrome. Journal of medicinal food, 17(7), 764–771. https://doi.org/10.1089/jmf.2013.0033

Nzeako, B. C., Al-Kharousi, Z. S., & Al-Mahrooqui, Z. (2006). Antimicrobial activities of clove and thyme extracts. Sultan Qaboos University medical journal, 6(1), 33–39.

Liu, H., Schmitz, J. C., Wei, J., Cao, S., Beumer, J. H., Strychor, S., Cheng, L., Liu, M., Wang, C., Wu, N., Zhao, X., Zhang, Y., Liao, J., Chu, E., & Lin, X. (2014). Clove extract inhibits tumor growth and promotes cell cycle arrest and apoptosis. Oncology research, 21(5), 247–259. https://doi.org/10.3727/096504014X13946388748910

Ghaffar, S., Afridi, S. K., Aftab, M. F., Murtaza, M., Hafizur, R. M., Sara, S., Begum, S., & Waraich, R. S. (2017). Clove and Its Active Compound Attenuate Free Fatty Acid-Mediated Insulin Resistance in Skeletal Muscle Cells and in Mice. Journal of medicinal food, 20(4), 335–344. https://doi.org/10.1089/jmf.2016.3835

Imran, A., Butt, M. S., Arshad, M. S., Arshad, M. U., Saeed, F., Sohaib, M., & Munir, R. (2018). Exploring the potential of black tea based flavonoids against hyperlipidemia related disorders. Lipids in health and disease, 17(1), 57. https://doi.org/10.1186/s12944-018-0688-6

Hidese, S., Ogawa, S., Ota, M., Ishida, I., Yasukawa, Z., Ozeki, M., & Kunugi, H. (2019). Effects of L-Theanine Administration on Stress-Related Symptoms and Cognitive Functions in Healthy Adults: A Randomized Controlled Trial. Nutrients, 11(10), 2362. https://doi.org/10.3390/nu11102362