A Season to be Embraced
With the winter season now upon us, it is important that we pay extra attention to maintaining our health and well being. The busyness of the holidays, along with infectious illness making the rounds, is the perfect storm for encouraging frazzled nerves, compromised immunity, and poor health. But it doesn't have to be this way! We can take active steps that are fun (and spicy) to fortify ourselves and those we love. This is a season to be embraced! Here's how.
Enjoy the Outdoors
While there is a tendency towards rooting yourself in front of the fireplace with an absorbing book during the frigid days of winter, I encourage you to spend time outdoors whenever possible. Why?
Connecting with nature during wintertime heightens relaxation, improves focus, reduces stress, increases productivity, and boosts creativity. It also helps to alleviate seasonal affective disorder (SAD) by maximizing natural light, even if it is overcast. The good news is it doesn't need to be a large time commitment — as little as twenty minutes outdoors in a natural environment is all it takes.
Cold therapy is also exceedingly healthy and can help to boost your immune system, encourage weight loss, brighten your mood, and reduce fatigue, both mental and physical.
Need another reason to venture outdoors for a stroll in less than ideal weather? Discomfort is good for you! It boosts energy, encourages a positive mental state, refreshes the mind, and cultivates grit and determination. Even better, take a walk in the forest this winter. It will help to reduce depression, anxiety, stress, and anger. Additionally, spending time in the forest supports robust immunity, improves cardiovascular and metabolic health, and promotes better sleep. See this post for further inspiration.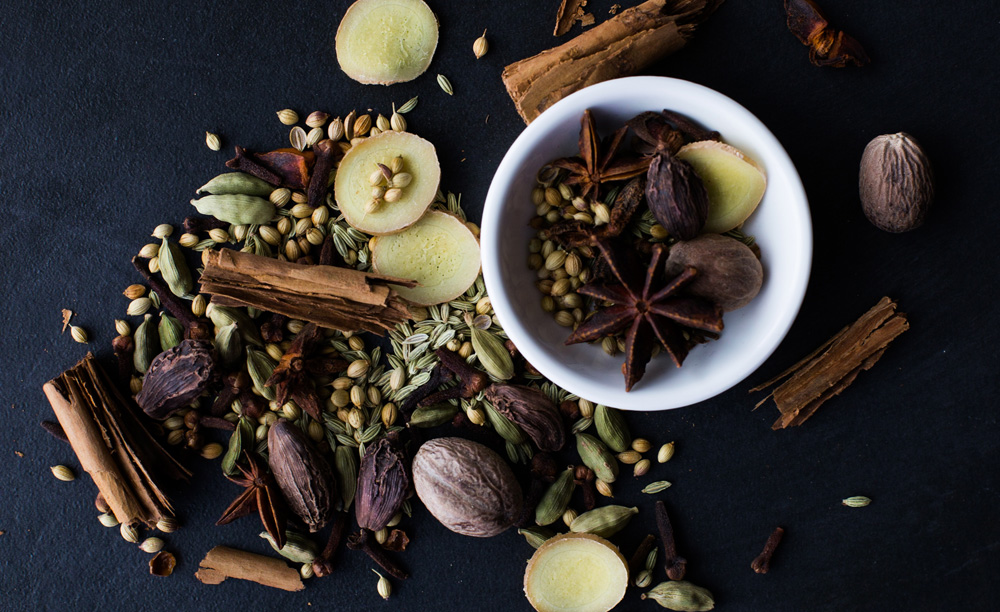 Warming Spices
Several warming herbs are associated with winter as they are not only fragrant and delicious in hot tea and baked goods, but also have a host of medicinal benefits that are a perfect pairing for the season.
Ginger — Well-known for its anti-nausea effects, ginger is also an outstanding herb for taming inflammation, reducing pain, and protecting against diabetes, heart disease, and cancer.9,10 It is hands down one of the best spices to enjoy during freezing weather — particularly if you have a condition that worsens in cold climates, such as arthritis.
Cardamom — Traditionally used for controlling asthma, nausea, diarrhea, cataracts, tooth and gum infection, as well as cardiac, digestive, and kidney disorders, cardamom is a powerful herb that is delicious to boot.11 It is also highly effective against ulcers caused by Helicobacter pylori bacteria. In fact, it may reduce the size of ulcers by at least 50% or eradicate them altogether.12 Cardamom is called the "queen of spices" for good reason!
Cinnamon — Rich in antioxidants and other protective compounds , research has shown cinnamon can help to guard against Parkinson's and Alzheimer's, cancer, cardiovascular disease, and high blood sugar/diabetes. Additionally, it has been shown to protect neurons against oxidative stress and inflammation. What's more, it is antimicrobial, antibiotic, anti- fungal, and antiviral. Cinnamon may also boost immunity.13,14,15,16, 17,18,19
Star Anise — With its sweet, licorice-like flavor, this beloved spice is also a powerhouse of medicinal benefits. Containing compounds that fend off bacterial and viral infections, it is an outstanding herb to use during the cold and flu season.20,21 It can also help to regulate blood sugar and promote cardiovascular health.22,23
While not used in culinary applications, ashwagandha is worth mentioning as an important supplement. An exceptional herb for winter, this adaptogen is considered warming in Ayurvedic medicine. It is famously known for helping your body adapt to stress in a healthy way and reducing high levels of cortisol.1 This mighty botanical also calms anxiety, improves sleep, enhances muscle growth, boosts memory, and reduces blood sugar levels.2,3,4,5 Research has shown it may also cool inflammation and support your immune system.7,8
Seeking a powerful remedy to calm the nervous system?
My potent Anxiety & Stress Tincture is for you!
It contains extracts of ashwagandha along with several additional herbs.
Fortifying Against Seasonal Illness
No post about winter health would be complete without including herbal remedies that help to protect against and treat contagious illness. My favorite herbal medicines in this regard are found in our Winter Defense Bundle.
It contains a powerful collection of herbal remedies that include my All-Purpose (First-Aid) Salve, Bronchial Blend, Elderberry, Yarrow, and Yerba Santa tinctures, plus an antiviral/antibacterial Usnea Throat Spray.
Usnea and the All-Purpose Salve help to prevent catching the latest bug making the rounds, while Elderberry boosts immune function and shortens the duration of illness.24,26
Our Bronchial Blend contains lungwort lichen and mullein to help clear the lungs of congestion. Yarrow is antibacterial and reduces fevers, and Yerba Santa is effective for alleviating mucus build-up.25
Interested in learning more? Visit the apothecary today!
I hope you have found this post helpful. Next up in this series: Spring. Stay tuned!
Nicole's Apothecary Products in this Post
References
Chandrasekhar, K., Kapoor, J., & Anishetty, S. (2012). A prospective, randomized double-blind, placebo-controlled study of safety and efficacy of a high-concentration full-spectrum extract of ashwagandha root in reducing stress and anxiety in adults. Indian journal of psychological medicine, 34(3), 255–262. https://doi.org/10.4103/0253-7176.106022

Agnihotri, A. P., Sontakke, S. D., Thawani, V. R., Saoji, A., & Goswami, V. S. (2013). Effects of Withania somnifera in patients of schizophrenia: a randomized, double blind, placebo controlled pilot trial study. Indian journal of pharmacology, 45(4), 417–418. https://doi.org/10.4103/0253-7613.115012

Chandrasekhar, K., Kapoor, J., & Anishetty, S. (2012). A prospective, randomized double-blind, placebo-controlled study of safety and efficacy of a high-concentration full-spectrum extract of ashwagandha root in reducing stress and anxiety in adults. Indian journal of psychological medicine, 34(3), 255–262. https://doi.org/10.4103/0253-7176.106022

Andallu, B., & Radhika, B. (2000). Hypoglycemic, diuretic and hypocholesterolemic effect of winter cherry (Withania somnifera, Dunal) root. Indian journal of experimental biology, 38(6), 607–609.

Wankhede, S., Langade, D., Joshi, K., Sinha, S. R., & Bhattacharyya, S. (2015). Examining the effect of Withania somnifera supplementation on muscle strength and recovery: a randomized controlled trial. Journal of the International Society of Sports Nutrition, 12, 43. https://doi.org/10.1186/s12970-015-0104-9

Agnihotri, A. P., Sontakke, S. D., Thawani, V. R., Saoji, A., & Goswami, V. S. (2013). Effects of Withania somnifera in patients of schizophrenia: a randomized, double blind, placebo controlled pilot trial study. Indian journal of pharmacology, 45(4), 417–418. https://doi.org/10.4103/0253-7613.115012

Auddy, B., Hazra, J., Mitra, A., Abedon, B.G., Ghosal, S., & Nagar, B. (2008). A Standardized Withania Somnifera Extract Significantly Reduces Stress-Related Parameters in Chronically Stressed Humans: A Double-Blind, Randomized, Placebo-Controlled Study. https://www.semanticscholar.org/paper/A-Standardized-Withania-Somnifera-Extract-Reduces-A-Auddy-Hazra/46bdaebfcf4f00730ad217fd6bb88228964e4c2e

Mikolai, J., Erlandsen, A., Murison, A., Brown, K. A., Gregory, W. L., Raman-Caplan, P., & Zwickey, H. L. (2009). In vivo effects of Ashwagandha (Withania somnifera) extract on the activation of lymphocytes. Journal of alternative and complementary medicine (New York, N.Y.), 15(4), 423–430. https://doi.org/10.1089/acm.2008.0215

Semwal, R. B., Semwal, D. K., Combrinck, S., & Viljoen, A. M. (2015). Gingerols and shogaols: Important nutraceutical principles from ginger. Phytochemistry, 117, 554–568. https://doi.org/10.1016/j.phytochem.2015.07.012

Fakhri, S., Patra, J. K., Das, S. K., Das, G., Majnooni, M. B., & Farzaei, M. H. (2021). Ginger and Heart Health: From Mechanisms to Therapeutics. Current molecular pharmacology, 14(6), 943–959. https://doi.org/10.2174/1874467213666201209105005

Ashokkumar, K., Murugan, M., Dhanya, M. K., & Warkentin, T. D. (2020). Botany, traditional uses, phytochemistry and biological activities of cardamom [Elettaria cardamomum (L.) Maton] – A critical review. Journal of ethnopharmacology, 246, 112244. https://doi.org/10.1016/j.jep.2019.112244

Jamal, A., Javed, K., Aslam, M., & Jafri, M. A. (2006). Gastroprotective effect of cardamom, Elettaria cardamomum Maton. fruits in rats. Journal of ethnopharmacology, 103(2), 149–153. https://doi.org/10.1016/j.jep.2005.07.016

Ka, H., Park, H. J., Jung, H. J., Choi, J. W., Cho, K. S., Ha, J., & Lee, K. T. (2003). Cinnamaldehyde induces apoptosis by ROS-mediated mitochondrial permeability transition in human promyelocytic leukemia HL-60 cells. Cancer letters, 196(2), 143–152. https://doi.org/10.1016/s0304-3835(03)00238-6

Urbaniak, A., Głowacka, A., Kowalczyk, E., Lysakowska, M., & Sienkiewicz, M. (2014). Przeciwbakteryjne działanie olejku cynamonowego na wybrane bakterie gram-dodatnie i gram-ujemne [The antibacterial activity of cinnamon oil on the selected gram-positive and gram-negative bacteria]. Medycyna doswiadczalna i mikrobiologia, 66(2), 131–141.

Peterson, D. W., George, R. C., Scaramozzino, F., LaPointe, N. E., Anderson, R. A., Graves, D. J., & Lew, J. (2009). Cinnamon extract inhibits tau aggregation associated with Alzheimer's disease in vitro. Journal of Alzheimer's disease : JAD, 17(3), 585–597. https://doi.org/10.3233/JAD-2009-1083

Khasnavis, S., & Pahan, K. (2014). Cinnamon treatment upregulates neuroprotective proteins Parkin and DJ-1 and protects dopaminergic neurons in a mouse model of Parkinson's disease. Journal of neuroimmune pharmacology : the official journal of the Society on NeuroImmune Pharmacology, 9(4), 569–581. https://doi.org/10.1007/s11481-014-9552-2

Adisakwattana, S., Lerdsuwankij, O., Poputtachai, U., Minipun, A., & Suparpprom, C. (2011). Inhibitory activity of cinnamon bark species and their combination effect with acarbose against intestinal α-glucosidase and pancreatic α-amylase. Plant foods for human nutrition (Dordrecht, Netherlands), 66(2), 143–148. https://doi.org/10.1007/s11130-011-0226-4

Gunawardena, D., Karunaweera, N., Lee, S., van Der Kooy, F., Harman, D. G., Raju, R., Bennett, L., Gyengesi, E., Sucher, N. J., & Münch, G. (2015). Anti-inflammatory activity of cinnamon (C. zeylanicum and C. cassia) extracts – identification of E-cinnamaldehyde and o-methoxy cinnamaldehyde as the most potent bioactive compounds. Food & function, 6(3), 910–919. https://doi.org/10.1039/c4fo00680a

Akilen, R., Tsiami, A., Devendra, D., & Robinson, N. (2010). Glycated haemoglobin and blood pressure-lowering effect of cinnamon in multi-ethnic Type 2 diabetic patients in the UK: a randomized, placebo-controlled, double-blind clinical trial. Diabetic medicine : a journal of the British Diabetic Association, 27(10), 1159–1167. https://doi.org/10.1111/j.1464-5491.2010.03079.x

De, M., De, A. K., Sen, P., & Banerjee, A. B. (2002). Antimicrobial properties of star anise (Illicium verum Hook f). Phytotherapy research : PTR, 16(1), 94–95. https://doi.org/10.1002/ptr.989

Bertelli, A. A., Mannari, C., Santi, S., Filippi, C., Migliori, M., & Giovannini, L. (2008). Immunomodulatory activity of shikimic acid and quercitin in comparison with oseltamivir (Tamiflu) in an in vitro model. Journal of medical virology, 80(4), 741–745. https://doi.org/10.1002/jmv.21072

Park, S. H., Sung, Y. Y., Nho, K. J., & Kim, H. K. (2015). Protective activity ethanol extract of the fruits of Illicium verum against atherogenesis in apolipoprotein E knockout mice. BMC complementary and alternative medicine, 15, 232. https://doi.org/10.1186/s12906-015-0750-0

Sheikh, B. A., Pari, L., Rathinam, A., & Chandramohan, R. (2015). Trans-anethole, a terpenoid ameliorates hyperglycemia by regulating key enzymes of carbohydrate metabolism in streptozotocin induced diabetic rats. Biochimie, 112, 57–65. https://doi.org/10.1016/j.biochi.2015.02.008

Kronbichler, A., Effenberger, M., Eisenhut, M., Lee, K. H., & Shin, J. I. (2020). Seven recommendations to rescue the patients and reduce the mortality from COVID-19 infection: An immunological point of view. Autoimmunity reviews, 19(7), 102570. https://doi.org/10.1016/j.autrev.2020.102570

Khan, A. U., & Gilani, A. H. (2011). Blood pressure lowering, cardiovascular inhibitory and bronchodilatory actions of Achillea millefolium. Phytotherapy research : PTR, 25(4), 577–583. https://doi.org/10.1002/ptr.3303

Yu, X., Guo, Q., Su, G., Yang, A., Hu, Z., Qu, C., Wan, Z., Li, R., Tu, P., & Chai, X. (2016). Usnic Acid Derivatives with Cytotoxic and Antifungal Activities from the Lichen Usnea longissima. Journal of natural products, 79(5), 1373–1380. https://doi.org/10.1021/acs.jnatprod.6b00109